As a result of five years of conflict, an estimated 5.4million Syrians have fled their home country. An estimated 250,000 Syrian refugees have found some security in the semi-autonomous Kurdistan Region of Iraq (KRI), and this figure increases daily. Combined with an influx of internally displaced people (IDPs) fleeing the violence in Iraq, the KRI has seen a population increase of nearly 28% (UNHCR). Although the host community has extended a hand of welcome to those seeking refuge, the World Bank is warning that this has placed unsustainable strains on the resources of the region.
But these figures and the enormity of the crisis detract from the daily struggle and fear faced by women, who make up the majority of refugees and IDPs. Recent research by UN Women found that 82% of Syrian women refugees in the KRI lived in fear of abuse inside and outside the home. When asked how they could feel safer, 30% said if they could earn an income to relieve financial pressures; 16% said men's behaviour needed to change; and 14% said they would feel safer if their household needs were met.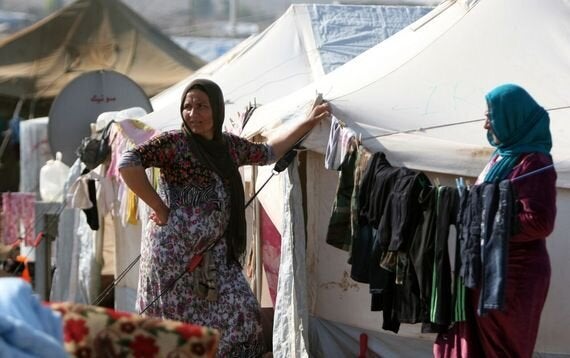 A Syrian-Kurdish refugee stands outside a tent provided by the United Nations High Commissioner for Refugees (UNHCR) at the Kawergosk refugee camp, Kurdistan Region of Iraq.Photo: SAFIN HAMED/AFP/Getty Images
Last month, the UK hosted an international conference to mobilise funds to support Syrians affected by the conflict. Before the main conference, we heard from Syrian civil society groups about just how desperate the situation is. Women's groups told us of parents who sent their boys to join armed opposition groups because they felt it was less risky than staying at home waiting for bombs to drop. They told us of the 'meat markets' in border towns where young Syrian brides are 'sold; by hopeless parents trying to get their daughters over the border' as well as by traffickers.
This mirrors the scenes we see on our TV screens - too many people in tiny boats crossing dangerous waters, with more and more doors being shut in their faces. On the eve of the London conference, the peace talks in Geneva were suspended.
It is easy to look at what is happening in Syria and lose hope.
This dark hour for Syria is a crucial moment for a more inclusive and equal future after peace comes, however late. Peace negotiations are windows of opportunity to build space for women's voices - ensuring greater representation and diversity in the peace talks that move beyond men and guns and borders to include social issues. As a result of conflict, women become heads of households, responsible for protecting and providing for themselves and their children with next to nothing in hand. Yet they bring enormous resilience to the task of survival, stepping courageously outside traditional roles to keep their families afloat.
In response to the crisis and the needs of women, Women for Women International is supporting local women's organisations in the KRI to work with Syrian refugees, Iraqi IDPs and Yezidi women to provide psycho-social support and start up kits for business women. We are also working with men to support them to become advocates for gender equality and reach other men in the communities where they live. With more than twenty years' of experience, we know how important it is to listen to women, adapt to their needs and reach out to them when there is sufficient stability to begin more long-term work. Women do not wait for peace agreements to start rebuilding their lives so why should we wait to support them?
The women we are working with in the KRI, and in the other conflict-affected countries where we work, are inspiring - they are determined women who deserve our respect and our support.
They also deserve to be heard - in their local communities and at the peace talks. In the same week of the London conference, and just before the talks were suspended, the UN Special Envoy for Syria established an independent Women's Advisory Board to be composed of a group of 12 women chosen by several Syrian women organisations via their own consultative process. The Special Envoy also issued invitations to Syrian women and civil society organisations to attend the peace talks in Geneva. The ceasefire that began in late February is the fragile foundation for the new round of talks expected to begin imminently. It is vital that the women's civil society organisations and the Women's Advisory Board promised last month are present, effective and supported so that they are heard in the discussions and not just on so-called "women's issues".
Syrian women's participation in building peace is not just about seats in Geneva but must reach out to a broad and diverse range of women's groups working with Syrian women affected by the conflict, providing both humanitarian assistance and long-term support to help women's economic and social participation. Simply put, stronger women build stronger nations.
HuffPost UK is running a month-long project in March called All Women Everywhere, providing a platform to reflect the diverse mix of female experience and voices in Britain today. Through blogs, features and video, we'll be exploring the issues facing women specific to their age, ethnicity, social status, sexuality and gender identity. If you'd like to blog on our platform around these topics, email ukblogteam@huffingtonpost.com with a summary of who you are and what you'd like to blog about