After lamenting at Beyoncé being pictured in her underwear for her recent Time magazine cover, I'm about to concede that I can't stop looking at Venus Williams' bum. And I applaud her for getting her kit off.
But before you attempt to tar me with the double standards brush, let me explain.
Venus' behind appears on the cover of ESPN's annual Body Issue, which has a long history of celebrating the bodies of talented sportspeople.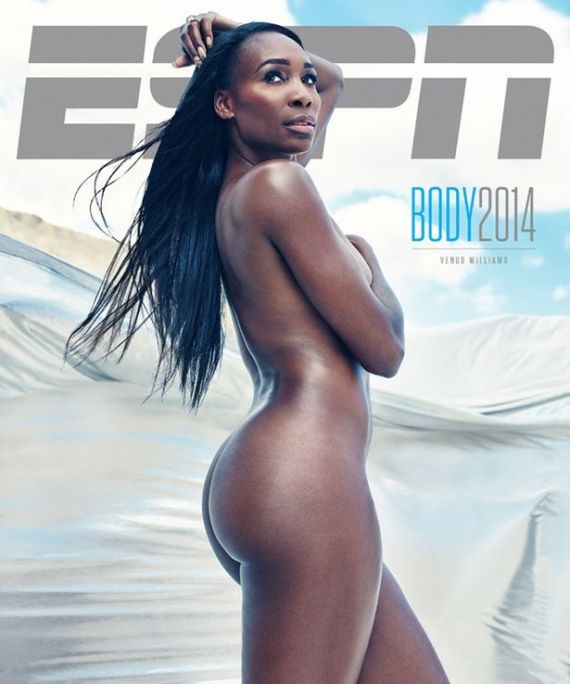 For the 2014 issue, Venus joins six other world-renowned athletes including Olympic snowboarder Jamie Anderson, Texas Ranger first baseman Prince Fielder, Olympic swimmer Michael Phelps, Oklahoma City Thunder forward Serge Ibaka and Seattle Seahawks running back Marshawn Lynch.
And what's more all of them are starkers. This isn't some lads' mag trying to sell covers by objectifying women. In fact, there more naked men and than women.
From warrior-like to more slender, ESPN champions the various physiques of athletes from different disciplines.
And there's no question to which category Venus falls into.
The former no.1 seed and seven-time Grand Slam champion is known for her strength and speed (she has the fastest serve ever recorded by a woman at 129mph), is ferocious on court and has a body to die for.
So, it's no surprise that the 34-year-old looks completely at ease in the shoot (more pictures here). The images are empowering, elegant, simple and, as I've mentioned, I just can't take my eyes off of her bottom.
And Venus isn't the only one promoting a 'fit not thin' body type.
Recently there has been a surge of fit women on social media changing the conversations around body image, linked by a range of fitness-inspired hashtags.
Their toned abs, pert bottoms and slender legs have been crafted by hard work and nutritional awareness - as opposed to cutting calories, food groups and unhealthy attitudes.
Fashion magazines are lambasted for featuring emaciated women on their covers and rightly so. According to figures, there are currently 1.6 million people in the UK affected by an eating disorder and the vast majority (89%) are female.
ESPN shows that it's possible to have a beautiful body that is also healthy.
If it's a toss up between Venus Williams or a triple zero celebrity, I know which body I'd prefer to have.