Dogs are well known as man's best friend. They offer us unconditional support, love and loyalty but so often these four-legged heroes go largely unnoticed by anyone but their loving owners.
This is why Crufts, the world's largest dog event, began celebrating the dog heroes that have gone above and beyond the call of duty and changed, or in many cases saved, the lives of their owners, through the Eukanuba Friends for Life competition.
The four dogs which have made the 2016 shortlist were selected by a panel of judges, including dog loving actor Martin Clunes, for their outstanding loyalty to their owners and for the way that they have irrevocably changed their lives. We are now calling for the public to vote for their favourite, with the winner being on the final day of Crufts, Sunday 13th March.
These dogs do so much for their owners and really deserve the recognition.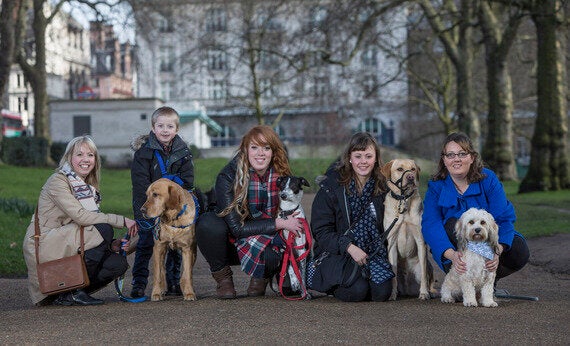 The finalists for 2016 are:
• Scooby, the Labrador Retriever, and owner Sophie Pearman - Scooby joined the Pearman family as an eight week-old puppy and has since learned to monitor diabetic Sophie's blood sugar levels, saving her twice from going into a potentially fatal diabetic coma, and acting as a constant companion to the thirteen year-old. Sophie, was born with a bleed on her brain (hydrocephalus) and spina bifida and her family were told that she would never walk, talk or read and that she may not survive. However, she proved everyone wrong and fought for her life, much to the amazement of her neurosurgeon. Sophie has had seven major brain operations and has spent the majority of her life in hospital.
• Azerley, the Golden Retriever cross, and owner Cohen Hadfield - Autism assistance dog, Azerley came in to Cohen's life just over a year ago and has changed Cohen and his family's life. The seven year old suffers from several serious medical issues including hearing impairment, complex epilepsy, and global developmental delay, and before Azerley arrived, life for the family had become very difficult. Azerley has stopped Cohen biting himself in frustration and shutting himself off in his own world. Since he and Cohen met they have been inseparable - the beloved pet has dramatically reduced Cohen's anxiety levels and encouraged him to interact with his surroundings, which has had a tremendously positive impact on his everyday life.
• Boo, the Lurcher, and owner Rosie Reid - Boo arrived during a particularly difficult time in Rosie's life. She had recently suffered a miscarriage which left her unable to have children and as a result had been diagnosed with post traumatic stress disorder (PTSD). Boo quickly learned to detect her owner's oncoming PTSD attacks and helped her with day-to-day tasks. Despite helping others through their illnesses, Boo is not without her own health problems. She suffers from a heart condition and when she recently collapsed, vets didn't expect her to last the night. Against all the odds though, the plucky Lurcher is back on her feet and by Rosie's side once more.
• Teddy Bear, the Lhasa Apso cross, and owner Louise Jacobs - Teddy Bear the little crossbreed has drastically changed Louise's life. As someone who has lived with depression for many years, as well as dealing with physical problems resulting from a car accident when she was a teenager, Louise struggles with day-to-day tasks and Teddy has been trained to help with these. Proving to be much more than just a companion, Teddy has given Louise her independence back and the pair regularly attend dog shows as well as raising funds for various charities. People have been so impressed with Teddy Bear that he now has his own official fan club.
Voting is open now and closes at 2pm on Sunday 13th March and the winner will be revealed at Crufts prior to Best in Show.
To vote for your favourite, text AZ, BOO, SCOOBY or TEDDY to 82727. Each text vote will cost £1 plus the standard network rate. All profits from votes will be donated to the Kennel Club Charitable Trust to help make a difference for dogs.
All images copyright The Kennel Club