This is what Wilson Ayala Romero tells me when I ask him about his work:
"My colleague had a fall at work; she split her head open, hurt her arm and had to be taken away in an ambulance. Not once did our employer call her. She's been at home recuperating for the last 15 days and - of course - they haven't even paid her while she's been sick."
Another one of his anecdotes goes like this:
"A young man wanted to kill himself, throw himself out of a fourth floor window. Luckily, two of my workmates saw him and caught him - virtually by the hair on his head. Our company found out what had happened and, instead of calling my colleagues and saying, 'Thank you,' they just asked them to write a report - as if they had to account for a broken piece of furniture. As if it was nothing. There wasn't even a word of thanks."
Wilson is one of London's virtually invisible workers, the ones you rarely see because they work while you're asleep or out drinking. He's one of the people who sort out the daily mess that we leave behind; Wilson is a cleaner.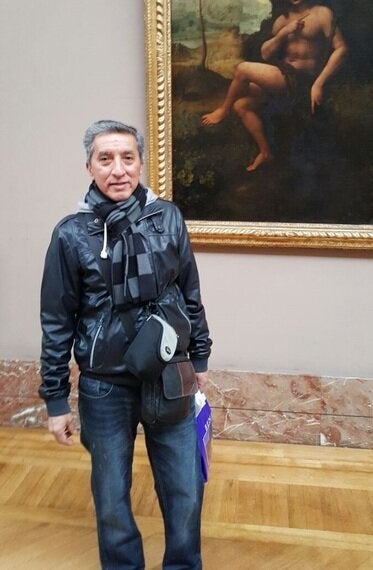 (Above: Wilson Ayala Romero. Source: Wilson Ayala Romero)
Like a lot of cleaners, Wilson is an immigrant (in this case, from Ecuador). He works for one of the many companies that provide outsourced cleaning services to offices and institutions all over London. And like many immigrant workers who work through the night - largely alongside other immigrant workers - opportunities to learn English are limited. This obviously leaves Wilson and his workmates at a distinct disadvantage when it comes to defending themselves from abuses or other kinds of exploitation in the workplace.
And in the contract cleaning sector, these abuses are frequent. Wilson says:
"We've been abused, fired without warning, left unpaid. It's actually a problem throughout the whole cleaning sector. This is how they run things: you're working one day and the next they say to you 'Ok, we don't need you anymore.' They replace good workers with their own favourites, with no respect for contracts. As for the salary, I received my first pay packet 3 months after starting work! And what was their excuse? That the client hadn't paid them. 'We'll pay you next week,' they said. Then, the following week they said the same thing....this went on for three months. You can work 40, 50, 60 hours a week and they'll pay you for 15. It's just not right. We're here to work, to raise our families."
And on top of this kind of exploitation, many of these workers are also denied the work benefits that the rest of us take for granted: decent sick pay, holidays and pensions.
Vulnerable because of both their limited English and ignorance of UK law, Wilson and his workmates found support in a small, relatively young union - the Independent Workers' Union of Great Britain (IWGB). Currently, Wilson is a union representative and Vice Chair of the University of London branch.
"The union has been our voice; it's helped us fight for our rights as workers," says Wilson. However, a major obstacle that they've encountered is the reluctance of their employer to recognise the union: "We've been having meetings with Ocean Integrated Services (Wilson's employer) since December to get them to officially recognise us." Despite agreeing to formally recognise the IWGB by the end of March 2016, Ocean has failed to do so.
For all workers, especially for vulnerable workers hindered by limited English, union recognition is a powerful tool for effective collective bargaining. Union recognition means that trained representatives negotiate on behalf of members in relation to wages and the terms and conditions of employment. Representatives of the union are also given time during their working hours to carry out union responsibilities; these can include training in employment law and health and safety, or just generally supporting individual members. Importantly, workers in unionised workplaces generally enjoy greater job security and higher wages.
Unsurprisingly, companies or institutions that aren't keen on being held to account are reluctant to recognise unions, and they're abetted in this by UK trade union legislation.
Take, for example, the University of London, where the IWGB has over 300 members. The university has still not recognised the IWGB, despite it being by far the biggest union presence on campus. This is because the university already recognises Unison and the University and College Union (the outsourced cleaning and services companies operating at the university recognise only Unison), and according to UK trade union law, if an organisation or company recognises one union, it cannot be compelled to recognise any others. Bizarrely, this means that a company can choose to recognise a union with only a handful of members and ignore one with 500.
Frustrated and handicapped by the legislation, Wilson's plucky union has decided to try to change it by taking a case to the European Court of Human Rights (ECHR). The union president, Dr. Jason Moyer-Lee explains:
"The European Convention of Human Rights says that the right to collective bargaining forms part of the Convention. Thus, our argument before the court is simply that UK law is incompatible with the Convention. And if we win this, the British government will just have to change the law. The application to the Court has already been made, but the process could take up to a few years. The next stage is for the British government to respond. Assuming that the UK does not agree with the IWGB's position, the case will then go before the court in Strasbourg."
The IWGB - represented at the ECHR by one of the UK's best known trade union barristers, John Hendy QC - has a remarkable track record of forcing change on the companies that employ its members. If it wins its ECHR case (and the union is optimistic) it will revolutionise the relationship between employers and unionised workers in the UK.
Wilson puts a human face on this is a grand, strategic ambition, reminding us of its basic, underlying motivation:
"First and foremost, we're human beings. We get sick, we get old, we work very hard for our employers, but they consider us workers of little importance. I'd just like to receive the same treatment, the same conditions as other workers."
Popular in the Community