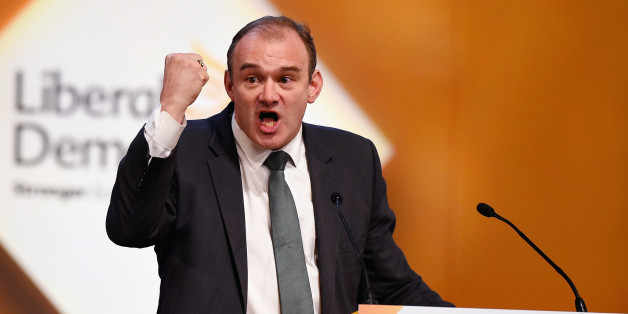 Jeff J Mitchell via Getty Images
This week I joined Tim Farron at a pre-Council lunch with leaders of the liberal family from across Europe. We discussed issues common to us all in Europe: migration, the economy and, of course, Brexit. What I had wanted to hear, but was disappointed it wasn't mentioned, was the environment. It was the hottest of Brussels days for years, and yet the cause of such heat seemed to Escape them all.
We know that last year the global average temperature was the highest ever recorded. Our climate is changing. The biodiversity that sustains life is under great threat. The environment must get more traction with those who are in a position to plan for the future. What we need is leaders who 'get' the environment.
As a Liberal Democrat I am now facing a choice of who I should be supporting as a new leader. I was sorry Jo Swinson felt she could not contest this position just now, but as a deputy leader she will do us proud. Tim Farron has led us with great passion and drive, his commitment for our place in the European Union has come from a great Liberal tradition of internationalism and I am sorry that he is standing down. But this does give us an opportunity to take stock and think about the future direction of the party. For me Ed Davey has the right credentials.
Ed has a real commitment to tackling climate change and a record of achievement in government. Like Tim he is very committed to the values and benefits of the European Union, and whilst in government convened the Environment Ministers from across the European Union to work together in order to plan how they could mitigate the effects of climate change and biodiversity loss. Ed worked with them ahead of the Paris negotiations to get coordinated answers and a committed voice from the European member states. Despite growing evidence that the environment is not getting better that voice has faded in all our political discussions. We need that voice now from the Liberal Democrats and for me, as a committed environmentalist that would be enough to support Ed Davey.
But a leader needs to have more than one issue, in a media driven world we also need someone who has a TV presence with charisma and Ed has this, but he is also the sensible confident voice of integrity with deeply Liberal roots who has proven himself as a skilled and adept negotiator.
The Liberal Democrats have shown that they still have a place on the political map of the UK - our membership has surged, young and old and the pro-Europeans have joined us. Now it's clear that the left and right are back to pulling in opposite directions the centre ground is there to be won. We will win it if we have a clear message on Europe - we want to stay; we will win if we put the environment at the heart of all our policies - to get on with mitigating the effects of climate change and the loss of biodiversity; and we will win it if we have a programme to reform society to bring openness and tolerance back to the UK and to ensure equality of opportunity for all in our communities.
The Liberal Democrats have a wealth of talent in the party but in my opinion the person to lead us forward is Ed Davey and that's why I am urging him to stand.