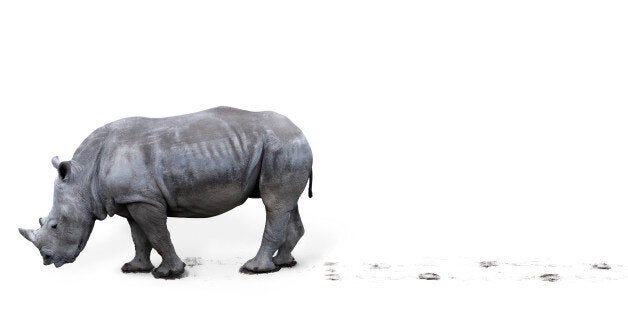 When you think of rhinos - horns, poaching and Africa - are probably conjured in your mind's eye and that's hardly surprising as these prehistoric pachyderms have been under the conservation spotlight for decades. However, Africa isn't the only continent that is inhabited by the rhinoceros. The Javan Rhino is now the rarest large mammal on earth and the Sumatran Rhino (which has lived on this planet longer than any other living mammal) now has a population of less than 100 individuals. But, before I lose you to all the doom and gloom, there's a truly uplifting tale about these horned creatures that is rarely documented.
The Indian Rhino (yes, India has rhinos!) is an example of an epic conservation success story that has seen the species rebound in just over a century. By 1904, only 12 Indian Rhinos existed in an area of Assam that was previously famous for seeing these living unicorns (Indian Rhinos have just one horn unlike their African cousins). Mary Curzon, who was wife of the Viceroy of India, visited the region and was hugely disappointed not to see a single one. She became so concerned about their dwindling numbers that she asked her husband to do everything in his power to save them. On 1 June 1905, the Kaziranga Proposed Reserve Forest was created which is now Kaziranga National Park.
Kaziranga National Park is the best place on the planet to see Indian Rhinos. There are now over 2,000 individuals living in the park which makes up about 70% of the total population. This is no mean feat considering the park's proximity to China where there is the highest demand for illegal rhino horn. Protected habitats, poaching patrols and ecotourism have been critical in reestablishing the rhino's numbers in Assam. On my visit to Kaziranga earlier this year, I saw dozens of rhinos and some pretty impressive behaviour which we captured in our film of the trip.
This national park also has the highest concentration of tigers of anywhere in Asia. However, you'll be very lucky to see one as exceedingly tall elephant grass dominates the landscape here making sightings nearly impossible. However, other impressive mammals that you can see include: the Asian Elephant, Asiatic Water Buffalo, Swamp Deer, Sambar Deer, Western Hoolock Gibbon (the only ape in India), Capped Langur, Rhesus Macaque and the Ganges River Dolphin.
The diversity and magnitude of wildlife that Kaziranga shelters is terrifyingly rare in our modern world and responsible ecotourism is essential to keep it so bountiful. By June of this year, Assam had already lost 12 of its rhinos to poachers but ecotourism can work to help local people view rhinos as being worth more alive than dead. Back in Africa, a study was completed in 2014 with elephants to prove that each individual African Elephant is worth more living. The conclusion was indisputable. In it's lifetime, a single elephant can generate $1.6 million to the local economy via attracting ecotourists versus selling the tusks for approximately $21,000. Therefore, a realistic tool to continuing the conservation efforts in Kaziranga is by promoting the national park as an ecotourism destination (which was the very reason for my trip). Get booking for the sake of the rhinos!
• How do you get there? You can fly from Delhi to Guwahati and then it's a six hour drive to the park. Don't worry though, most lodges will arrange the transfer from Guwahati.
• Where to stay? I stayed at the Diphlu River Lodge shortly before The Duke and Duchess of Cambridge and if it's good enough for them...! My guide was a hugely knowledgeable and passionate individual called Pallab Saikia. As well as guiding, Pallab works for a local NGO that rescues and rehabilitates injured animals that have been hurt by cars or people.
• When to go? The best time to visit is January to mid-April before the monsoon starts in May.
Popular in the Community