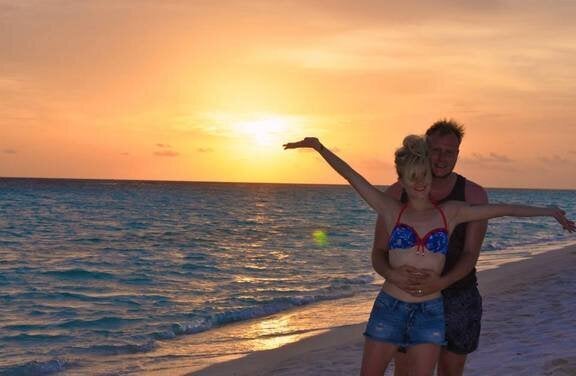 I have first-hand experience of how cheesed-off Adam and Eve felt after they were booted from the Garden of Eden, because I too was forced to leave Bounty advert perfection in The Maldives - and I never so much as looked at a Granny Smith.
It has spoiled me for the rest of the world, which will henceforth feel like the colour dial has been permanently turned down to the drab hues of a 1980's, educational film about the Potato Famine for BBC Two.
It's an ancient rite of passage that any honeymooner worth their romantic salt, must dart across the Indian Ocean to the hand-holding Mecca as soon as their confetti has met the Dyson. So I dutifully packed my husband and mosquito-repellant and headed to Kuramathi, one of five, stunning islands in the tiny Rasdhoo Atoll archipelago.
It took all my dignity reserves not to grab my ankles and perform a victory dance before the fellow newlyweds and assorted, Russian Oligarchs, who stepped off the boat with me onto the fluffy, white sand surrounded by sparkling, emerald water.
Between winding paths of tropical flowers, coconut, palm and banyan trees and parked a smug, bikini-mince away from the beach was our very own, Deluxe Beachside Villa with front and rear decks complete with Opal Fruit cushioned-loungers; outside day beds worthy of Joan Collins and a private Jacuzzi, which you could bubble yourself silly in as nude as a Jelly Baby.
The terminally-happy staff deposited ingenious and resourceful towel orgami on our beds, from swans strewn with hibiscus petals to flannel hearts, which was a welcome change from the gusset-uppermost pants and moulting cats which are normally found on my duvet.
Like Bloody Mary breakfasts, flashing fun bags in public and befriending tedious bankers with wacky shades, sunsets are something you only do on holiday. But it pulls out every stop it can find in The Maldives. We tottered along the 1.8km island, which tapers into an endless sandbank to enjoy unfettered views of the sherbet-coloured sun plunging into the turquoise ocean. Hooked on watching the sun bugger off, we also booked two sunset cruises to toast its attention-seeking departure with champagne, lying on the top of a Dhoni boat as dolphins leapt from the water around us in a scene straight from a old hippy's bedroom poster.
The wildlife on the island is the stuff of slackened jaws. At 6:30pm each day, a black cloud of enormous Stingrays jet to the shore outside the Laguna Bar with eerie punctuality, because they know that a chappie in black wellies will feed them from a large bucket. They excitedly pump up with air, thrashing the chap and water into an angry froth with their wings and loudly hissing, slobbering and rasping for morsels like asthmatic Jamie Olivers.
I enjoyed the delicious juxtaposition of huge fruit bat colonies and black Kaalhu ravens which had been removed from their gothic, Halloween setting and placed amid the blistering sunshine and coconut trees. Cheeky hermit crabs totter around your feet in ridiculous and ill-fitting shells from their mum's dressing up box; Christmas-hued geckos silently judge as you order another Disney-coloured cocktail and enormous, Grey Herons gingerly tiptoe around smooching newlyweds in the infinity pool.
The Fung, Dhoni, Laguna, Pool, Sand and Havana Club Wine and Cigar bars all have an opulent, old-colonial feel with dark wood, chocolate seating, moody lighting and large ceiling fans which are only missing Ernest Hemingway, propping them up with a frosty Mojito and fat cigar.
Nosh at most resorts generally consists of new and inventive ways to serve up cucumber, alongside sweaty omelettes and a chewy old pizza slice. So I wasn't holding my hopes aloft for the tantalising of tastebuds. But Kuramathi laughed in the face of my scepticism.
At an ungodly hour before a snorkelling excursion, we were invited to sample a traditional Maldivian breakfast at the Island Cafe. My cutlery wilted in dismay when we were presented with a fish curry, rice, naan and grated smoked fish, onions and coconuts. But it turns out that this trumps a fry-up and even my husband - who harbours a deep mistrust of most fish dishes - happily cleared his plates.
My stomach's highlight was the Steak Diane at the beachside Island Barbeque, which is lit by flickering torches. The meat was softer than Liberace in the Playboy Mansion and was dramatically flambéed beside our table in a heavenly Cognac, garlic, mustard and cream sauce.
Another win for my tum was the fancy, Mediterranean fodder at the Palm restaurant, which included a heroic amount of excellent beef carpaccio followed by Scallop Tagliatelle in lemon juice and white wine with island-grown rocket, cherry tomato, garlic and coriander. It was rude not to round this off with their homemade ice cream, made from the flowery-tasting, prickly Screw Pine fruit, grown on their palm-like trees.
A spherical tum was inevitable, after we meticulously worked our way through the nine restaurants, but fortunately, we could hide our Rennie-inducing shame in the freshwater pool - studded with waterfalls and Jacuzzis - or our favourite spot; the cool, long Infinity Pool on the beach, handily close to the Fung Bar which is strewn with juicy bean bags in the evening, to enjoy nighttime movies on the beach or local bands having a bash at Bon Jovi and occasionally mistranslating lyrics with hilarious "Living on a Pear" results.
And when our mushes weren't thrust beneath the crystal waters to cock-a-snoop at the 2,000 fish species - including eels, sharks, rays, whales, dolphins, jellyfish, lobsters and probably the odd mermaid - we were awkwardly cracking each other across the chops with oars in a glass-bottomed kayak from the chipperly-named, Aqua Sports and FUN Centre.
Fortunately, when our boat arrived to drag us away from paradise, I wasn't sobbing onto a crab and clinging a palm tree while a Kuramathi worker politely tugged at my ankles, because we were heading to the generously-vowelled Maafushivaru, for a second slice of Maldivian wow.
And my therapist has advised me to relive the subsequent honeymoon jaunt in my next post, to put off the Prozac prescriptions while I scrawl palm trees on my walls in crayon, only accept fluids if accompanied by tiny umbrellas and refuse to remove my bikini.
Kuoni (01306 747008) offers seven nights on full-board basis at the 4-star Kuramathi Island Resort, Maldives in a garden villa, including flights with SriLankan Airlines from Heathrow and group transfers in resort.
Prices for December 2013 are from £2,570 per person, based on two sharing.