Almost every day brings stories of violence against women - from partners at home, sexual abuse and mutilation, and tragic suffering in ravaged communities and war zones. One in three women suffers violence, often from those closest to them, and it takes many forms.
Shockingly, around 700 million women in the world today were married when they were under 18 (almost a third when under 15) robbing many of life chances and good health. Over 130 million girls and women have undergone some form of genital mutilation. These human rights violations are visible outcomes of a silent gender discrimination which undermines the fight against poverty, HIV/AIDS and obstructs peace and prosperity.
Gender violence is an epidemic we should all want to end. But the problems are stubbornly enduring. So we must work together, as individuals, companies, governments and international organisations, if we really want to make a difference.
As chair of sustainability at Benetton, one of the things I can do is mobilise the resources and voice of a powerful global brand. Benetton has a history of speaking out on social issues extending back over 50 years. This shows that powerful campaigns can influence attitudes. And Benetton has developed a real centre of expertise when it comes to this kind of campaigning at Fabrica - a crucible where, with Benetton's backing, young creatives from all over the world come together and use their skills to address major social issues.
This is now the third year in which Benetton has supported the United Nations' Orange Days, with a global campaign - created by Fabrica - calling on people everywhere to end the scourge of violence against women and fight gender-based violence in every form.
The new campaign features images and a video in which a mother-daughter duo performs a powerful dance, seeking to visualise how women have always been subject to violence and the need to act together to stop this injustice.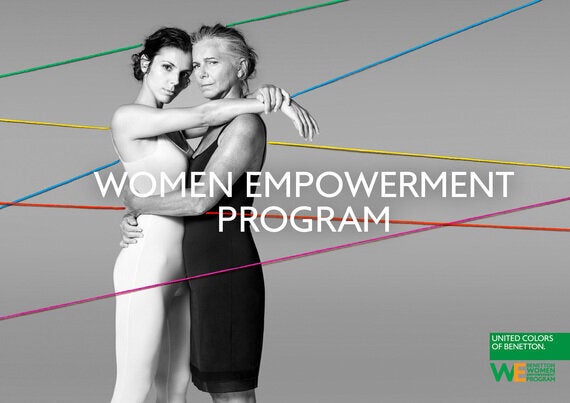 In the words from the video, "We'll interlace our arms to embrace and protect each other."
The idea of working together in fact follows on from our campaign in support of the Orange Days last year. That focused on three young women, each poised to move into occupations - from doctor to artist, from student to athlete, from soldier to mother- with the idea being that all women should be able to do any of these things, supporting another of the UN's priorities to help women, namely equality of opportunity.
But since there can be no opportunity without freedom from violence, this is at the core and was the focus of our original, and arguably most powerful, original campaign for the Orange Days in 2014.
That focused around images and video of a woman up to her neck in sand in the desert, being metaphorically "stoned" by men throwing orange petals.
With passion and a bit of poetry, this called for an end to discrimination and abuse whilst reminding the world that women continue to suffer appalling violence and are often unable to make the most basic choices for themselves in their lives.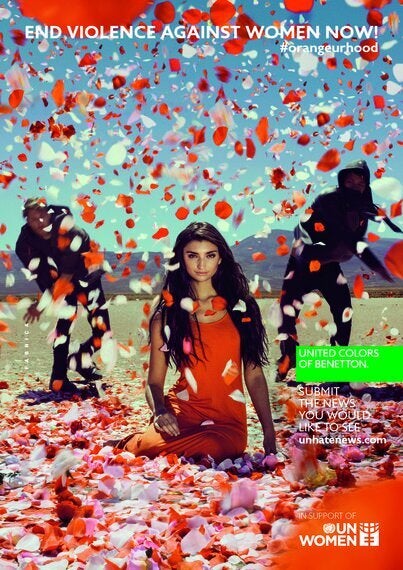 In promoting these campaigns I hope we can raise awareness, but we need real engagement to change behaviours. With this in mind last year Benetton said that it would focus all its social sustainability work on women, through a broadly-based initiative we call Women Empowerment. I very much hope this will help us move from talk to action on the social issue which is closest to the heart of our brand, namely improving lives of women.
We are meantime building engagement by taking this and other social issues campaigns much more directly to our customers around the world, online and through our stores. The video for the new Orange Days campaign, for instance, is being shown in Benetton stores worldwide during the 16 days of the UN initiative - and we have introduced a "magalog" which explains Benetton's social commitment to customers alongside its new collections.
At the same time we are working very actively with external partners - including the United Nations - on very tangible projects on the ground to help improve women's lives. In Bangladesh, for example, Benetton is collaborating with UN Women to increase the safety of female workers employed in the ready-made garments sector, both in their workplaces and home surroundings, which includes training courses to build their professional and financial skills. In Pakistan, we will be supporting around 1,500 women currently at home, helping them to find reputable and safe employment.
I realise none of these projects or initiatives alone is enough given the scale of the challenge to make the world happier and safer for millions of women. But, if more of us lend active support, we can do this together. So, please, become "Orange" and join the fight.
https://gb.benetton.com/identity/social-commitment/