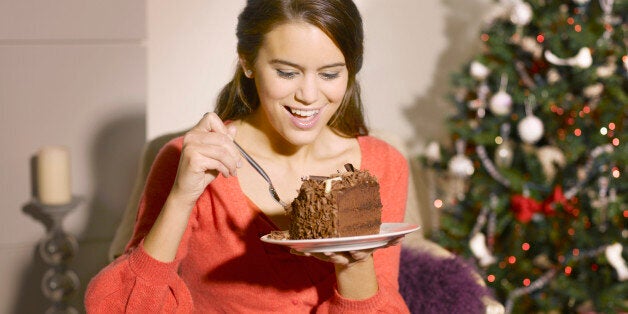 As a dietitian I know there is undoubtedly no other word in the English language that instils more fear in the 'dieter' than Christmas. However it need not. Turn off that Christmas eating auto pilot and follow these 10 simple principles so you can literally have your fruit cake and eat it too.
1) Christmas Day has not arrived yet.
Yes mince pies have been in supermarkets since September and the Christmas markets have been eagerly selling mulled wine and german sausage since early November but this doesn't mean the excess calories have to start now. Embrace this exciting time of year by all means but if the feast on December 25th truly is a 'treat' I promise it will taste better and look better on your hips.
2) Christmas does not extend into January.
Yes the festivities may but the overeating doesn't have to. In addition to your normal diet, if you ate 1 generous slice of iced leftover Christmas cake or 2 mince pies everyday after Christmas until the 15th of Jan you will put on a cosy 3 pounds and that's not including the month preceding this. It is unavoidably a social time of year but if you exhibit that little bit of self-control you can look back on it more fondly than you will if you're struggling to do up your new jeans come February.
3) Don't be a Christmas couch potato.
Indeed it is cold and the likelihood of you going for a jog on Christmas morning is next to none (not to mention slightly mad) but FYI the footpaths, parks and gyms don't close for all of December and January so aim to maintain your exercise routine as much as possible either side of Christmas Day and you'll be surprised at the results. The bottom line is that weight gain results from us putting more calories in our bodies than we are putting out, therefore exercise of any kind is our friend at this time of year. Walking that extra bus stop with an armful of shopping is a generous calorie burn.
'But Christmas is all about excess' you may say. And I ask honestly how many of us truly 'need' that box of chocolates and that tray of gingerbread next to the mince pies next to the pudding with cream and ice-cream on the dessert table? And who cannot say they don't end up resenting their leftovers and anything resembling a stuffing sandwich come the 27th December? Plus, at this expensive time of year, a few quid saved from the food bill is no doubt very welcome in most households.
5) Beat the office bulge.
'But my colleagues are sabotaging me!?'. Boxes of chocolates, home-baked goods and super-size panettones in the office haunt us for the month leading to Christmas. My answer is planning ahead and removing yourself from the situation. Ensure you have adequate food with you for the day so that 3.30-itis doesn't result in a shortbread binge, and if the treats are within eyeshot of your desk well that's just a recipe for failure- all goodies belong in the staff kitchen not your desk.
Going to parties with an empty stomach is a no-no. This works particularly well for finger food and buffet-style parties, as does eating off a smaller plate. Of course if you pre-paid for your 3-course meal in October and you want your money's worth make sure to utilise having access to the menu in advance by choosing wisely. Soups, salads and your seafood are smart options.
7) Don't deprive yourself.
The rule I use for any type of 'dietiting' or weight management attempt. If you tell yourself you are not going to lay a fork on any form of potato ALL Christmas then the next minute a ravenous roast spud monster will have taken over your hands and mouth and you'll have devoured yours and your Aunt Betty's serving before you can say love handles. Set boundaries, but ones that are achievable and realistic.
Christmas is not actually just about the food believe it or not (don't worry I need reminding of this too!). Enjoy the company and conversation of your loved ones, and if that is a struggle at least try to distance yourself from the snack table and/or kitchen in the hours leading up to your Christmas feed. Those generous slabs of Camembert, pate and oat cakes could easily be as many calories as your Yorkshire puds, roast vegetables and gravy.
9) Alcohol is calories too.
An awful lot in fact. Unfortunately the liquid contribution of calories in the festive season can be significant so keep in mind your light coloured spirits with diet mixers are generally going to be your lowest calorie options whilst the darker ales and anything remotely creamy are the ones to watch. Keep the water flowing in between drinks and you will not only be limiting the calories but will no doubt wake up with a clearer head to watch the Boxing Day Ashes Test on replay.
10) It'll be back again before you know it.
And guess what- you can buy turkey all year round funnily enough. Nothing beats the magic of this time of year and I'm in no ways a grinch wishing it away, but imagine next Christmas approaching with a much smaller cloud of dieting dread knowing that this year you defied that ingrained mentality of Christmas and weight gain going hand in hand.