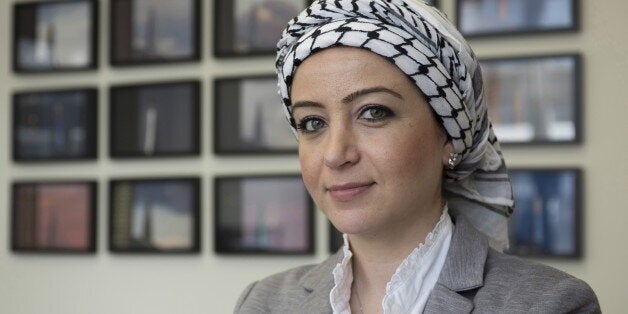 The UK just confiscated a passport. Why? Because Syrian regime claimed it was stolen.
The ability of foreign powers to intimidate their critics in other states is well documented. Some even have carried out assassinations against opponents overseas, including of course Russia under Vladimir Putin in the Litvinenko affair.
But it also appears that foreign powers, including those with the most appalling human rights records, can demand that passports of their citizens can be confiscated by foreign powers. The question is why is the British government going along with this?
Amazingly enough despite all the heated condemnatory language, the British government has done just that on behalf of the Assad regime.
The wonderful Syrian journalist and critic of the Syrian regime, Zaina Erhaim has been a frequent visitor to Britain where she has spoken with passion and dignity about life in Aleppo and the impact of the war. Her courageous work earned her Index on Cesnorship's Freedom of Expression Journalism Award only last April. In all the talk about how extreme the Syrian opposition may or may not be, one thing is for sure, Zaina is very much at the heart of the pluralist, democratic opposition that led the peace protests in 2011; in other words precisely the sort of opposition the British government should be working with, not against.
However, her Syrian passport was confiscated at Heathrow airport on 22 September as she was coming to speak at the Kew literary festival. This story was covered in the Guardian but since then nothing has happened and the government has yet to change its stance. Perhaps her passport is already back in the hands of the Syrian regime in Damascus. It was seized solely on the basis that the Syrian government had declared it was stolen.
To top it all, Zaina was advised by a British official to raise the issue with her government.
The precedent set by this turn of events and the message it sends to oppressive governments around the world is alarming. In theory, any vicious regime could demand the return of a passport from any government merely by fraudulently claiming that the passport is stolen. It is important to note here that the British authorities have allowed Zaina into the country so have accepted that she is who she says she is and so by extension know that the claims about the passport being stolen are false.
But imagine if China did this or Russia or Iran.
Here is a situation of a Syrian, who has studied in Britain, works for a British NGO, has received a distinguished award from another, who visited on the same passport only a few months ago and who has indeed worked on FCO funded projects - having her passport taken from her has massive ramifications for her ability to continue this important work.
Almost certainly Zaina is not the only person. I understand that at least one other Syrian has had his passport taken in Turkey by British authorities on a similar basis.
To my mind, one of the few viable options that this situation has created might be for Zeina to claim asylum. By allowing this to happen, British authorities have created a situation where asylum is almost the only path whereby she can reclaim an identity. I doubt that is a scenario the Home Office wants to see, even if those who know Zaina would welcome her warmly to these shores.
And imagine if this went to judicial review. The British government would have to line up alongside a Syrian regime that is barrel bombing and starving its people into submission against one of its most eloquent and principled critics. Embarrassing doesn't even begin to describe it.
Zaina has a blog: http://zaina-erhaim.com/
She Tweets at @ZainaErhaim