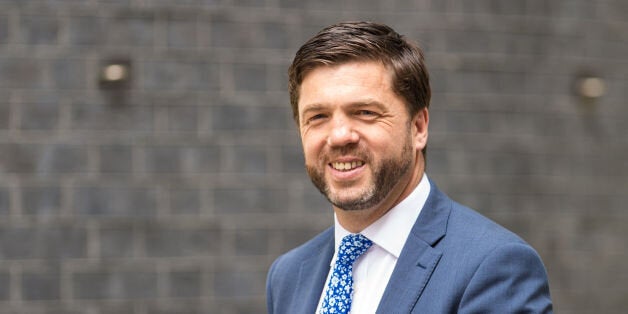 I've been a Conservative MP for six years, but today is the first time that I've been able to cast a vote for the shortlist of the Conservative leadership - and ultimately to decide who should be our next Prime Minister.
Eleven years ago, as a member of the party, I remember that there was no doubt in my mind that I wanted David Cameron to become our next leader, in the hope that he would be the man to modernise the party and take us into government.
Thirty-eight, untried and untested yes, David Cameron seemed a gamble compared to his more experienced rivals. But I was desperate to try anything to help the party I loved back into power.
Then I was just twenty four, and was starting out in politics, dipping my toe in as an activist and association Chairman. But I'd grown up with a party that had fallen out of touch with areas such as where I grew up in, Kingswood, near Bristol. Once a Conservative seat until 1992, by 2001, Labour had amassed a majority of over 14,000.
As a party, we needed to step up and recognise that unless we met the challenges, hopes and aspirations of people in areas such as Kingswood, we would never get back into power. David Cameron understood this - by focusing on issues such as education, health, public services, issues that matter every day to hard working voters, and not just Europe, I was fortunate to be involved in a journey that took the Conservative party from the fringes of oblivion to the moderate, compassionate party that it is now, at the mainstream of British politics.
And in doing so, I was lucky enough to get elected as the Member of Parliament to the constituency where I was born and grew up. I managed it by a whisker, on a 9.4% swing from Labour. But in 2015, we had managed to push Labour back further, increasing the majority to over 9,000.
Eleven years on, today I am voting to decide who should replace David Cameron as Prime Minister. And there is no doubt in my mind who would be the best candidate to understand how to win a marginal seat. Like myself, Stephen Crabb was born and grew up in his constituency, which he won off Labour, holding the seat in subsequent elections. He knows what it is like to fight for something you want, when at times it seems hopelessly out of reach. He recognises that without understanding the concerns of voters on everyday issues in marginal seats, that once again the Conservative party could be out of power once again.
I have spent my entire young adult life devoted to serving my local area and my country, fighting for the return of a Conservative government; something that can only be achieved if we win in the old industrial heartlands that have been let down by Labour. We must continue to speak to them, to stand up for them, and to recognise that we cannot assume that the 326 seats we hold now can be taken for granted simply because of the current state of the Labour party.
I was fortunate enough in the last Parliament to know Stephen first as my whip, but then as a friend; it says something about the man that I defy anyone to find an MP who has a bad word to say about Stephen Crabb. But it's not just his personality that will win over the areas we need to hold. Stephen understands that the beating heart of Conservatism must be to help those who wish to make a better life for themselves, to be there for people when they need help the most, and to stand back and allow people to flourish.
Brexit has shown us that once again at Westminster the political class need to recognise that there are swathes of the electorate who feel unrepresented, and want change. It wasn't by citing the actions of the barons at the fields of Runnymede that Brexit was won: it was by focusing on public services, the NHS, issues that we need to recognise must be addressed. Once again, as a party, we face the same choice as we did in 2005: change for the better, or continue along the same lines, watching the divisions in society grow ever greater. For me, Stephen Crabb understands just as David Cameron did eleven years ago, that we cannot retreat to the hills of stability and comfort; we must change if we wish to continue as a party of government.
Chris Skidmore is the Conservative MP for Kingswood