MPs are set to debate sentencing for dog thieves in the House of Commons today - and it's about time...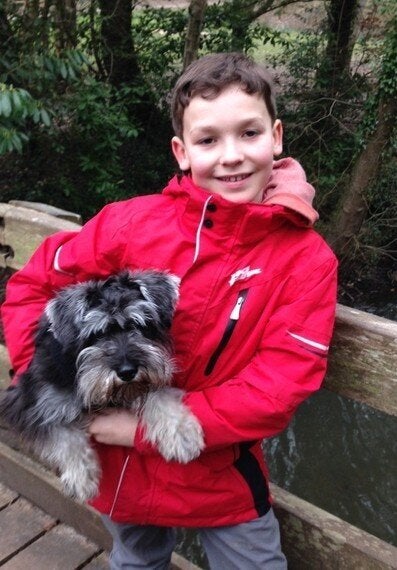 Liam is 10 years old. His best friend is Lola, a miniature schnauzer.
The photo above shows the two together - best mates hanging out. But Liam doesn't know where his canine playmate is right now because she was snatched by dog thieves last year.
All he wants is for her to come back home, back where she belongs.
"We're devastated by the loss of Lola and are desperate to get her back."
Shortly before Christmas, another 10-year-old boy was left distraught after a man stole his beloved pet.
The child was waiting for his mum and younger siblings outside a supermarket with Yorkshire terrier
Jessie, when the man approached them, pretending to want to pet the puppy.
But instead of saying a quick hello to the much-loved pet, who had been bought by the family to help their youngest son recover from heart surgery, the man took the dog from the boy and ran off.
Sadly, according to data pet charity Blue Cross collected from police forces across the UK, pet theft is on the rise.
Figures for 2014 showed 1,567 cats and dogs were reported stolen across the UK, compared with 1,150 in 2012; an increase of almost 40 per cent in two years.
Pets are part of the family, and current legislation does not recognise the suffering owners face if their pet is pinched. The emotional toll can be hard for owners to bear, and those whose dogs, cats, horses and other pets are missing experience feelings of grief and worry, worsened by the fact they just do not know what has happened to them.
The law fails too to recognise the welfare impact on the stolen pets.
Unlike in France, where the National Assembly voted in January to reclassify animals as 'living beings gifted with sentience', here they are 'chattels', or property, and stolen pets have the same legal standing as items such as TVs and laptops.
Because 'pet theft' and 'petnapping' are not specific crimes in their own right, it's impossible to get consistent recording of pet theft across the country because police forces are not given specific requirements about how to note down details of the crime. The true number of pet thefts is likely to be higher than our figures suggest.
Penalties need to be tougher for those committing these crimes to act as a deterrent to others, so we're really pleased that MP Gareth Johnson has tabled an adjournment debate on sentencing in cases of dog theft today (Wednesday 2 March), and would like members to consider other species too.
We believe the government should provide police forces with the training and resources necessary to deal with these sensitive cases, and to be able to highlight to bereft owners where they can go for support.
Today's debate is a real opportunity for the government to promise to do more to deal with this increasing and devastating problem, and we hope members will do the right thing.
Bereft owners of stolen pets, including Gemma, Liam and their family, are backing our calls for tougher sentences for those who commit the crime, and hope this will stop other families going through the nightmare they are currently living.
If you know where Lola or Jessie are, please get in touch with the police so they can be reunited with their families.
Blue Cross runs a free and confidential support line and email service for anyone who is grieving for the loss of a pet, whether through theft, separation or death. If you're struggling to cope or need somebody to talk to, our Pet Bereavement Support Service is here to listen.