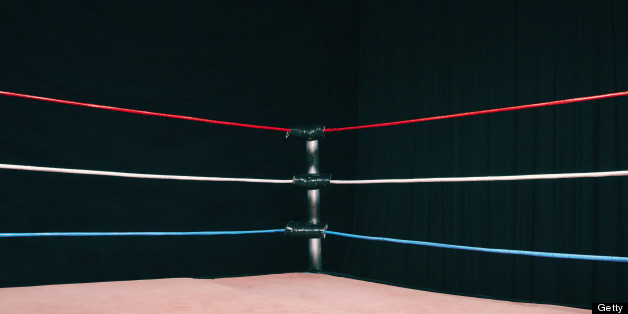 Getty
The London wrestling scene is on a bit of a high right now.
Most people who lived through the 60s, 70s and 80s remember the likes of Big Daddy, Giant Haystacks, Mick McManus, Klondyke Kate and Kendo Nagasaki through the World Of Sport on ITV.
World Of Sport was a show that put wrestling alongside football, horse racing, snooker amongst others. It was ITV's version of Grandstand and lots of people watched it; 10 million at its peak in fact. That was until 1988 when ITV's new head of sport Greg Dyke cancelled the wrestling. He wanted to make the channel more upmarket and saw wrestling as a thing of the past.
From that point - and with no television deal - the golden age of British wrestling was effectively over and events were restricted to holiday camps and leisure centres. The UK scene was losing popularity and meanwhile, in America, the WWF (now WWE) was growing and filled that gap.
It may seem odd now but, at the time, these British wrestlers were household names. And the British crowds were raucous too. Klondyke Kate, one of the stars of the World Of Sport, says "it was like they were baying for your blood. I've got more injuries from the crowd than I ever got from being in the ring."
Jayne Porter, who played Klondyke Kate, recounted tales of getting stabbed in the hand, injected by a farmer with a foot-and-mouth injection and getting hit by a brick inside a handbag by a Grandma.
"A lot of ladies used to come and just scream and get it all out their system," she says. "And it was the only place they wouldn't cart them off in a wagon and take them to be sectioned, you know, because they could shout and yell and do what they want, nobody took any notice."
In subsequent years the crowds have changed. You'd be unlikely to see grandmas and farmers scaling the barriers these days and, in recent times, wrestling has got cool again. Events are selling out in venues like the Electric Ballroom in Camden, Brixton Academy and Alexandra Palace and all of a sudden Londoners are queuing around the block once more.
Due to the surge in popularity, ITV revamped World of Sport as a New Year's Eve special and planned a ten part series and, with its market share suddenly at risk, the WWE reacted. At a press conference at the O2 Arena last December, WWE announced a significant move into the UK; a UK champion and a weekly series on their network featuring British wrestlers.
Paul Levesque, WWE's Executive Vice President and 14-time World Champion Triple H, said the independent scene here has really flourished. "We've always wanted to put a bigger footprint in the UK and to be more on the ground here," he told me.
But was it due to ITV planning to relaunch World Of Sport? "No," says Levesque. "Did it change our timing a little bit because of when they positioned their show? Yeah, but we are talking by maybe months or something not speeding up the process in terms of getting it done. We've been working on this for a long time. Any other show aside, if they are successful I'm happy for them. And, at the end of the day, it all helps the industry so we just do what we do. And I think we do it better than anyone else on the planet."
Court Bauer, a former WWE writer, is concerned about the fragile ecosystem in the London wrestling scene. "UK really was an amazing region for pro wrestling," says Court. "And then there was a scorched earth effect for many years and it's revived itself in more modern times. When you have something as big as WWE hovering over you like a death star, you know, this could go two different ways. Fans might win, but also that might just be a short term position if you look at the large term something like ITV doing World Of Sport truly could really help sustain and stabilise this regeneration of pro-wrestling. So that's my concern."
But with UK talent being quickly signed to WWE contracts, ITV's World Of Sport plans have now been indefinitely postponed. And with their toes firmly out of the water, WWE seem to have claimed the audience.
But what of the people underneath the death star? The people standing on the planet with the laser ray aimed right at them? What do they think about it all? Andy Quildan is the founder and promoter of Revolution Pro Wrestling, one of the London promotions that have come to the fore in recent years. Rev Pro runs shows out of York Hall in Bethnal Green.
"Worrying about what everyone else is doing and trying to get into pretend wrestling wars with people is just ridiculous," says Quildan. "The fact of the matter is if WWE want to come over and takeover UK wrestling, they're going to do it. It is what it is. Let's continue to do what we do in the highest level possible."
"I can see people's mentality with 'they're trying to take over British wrestling' and my argument is if you look at for example theatre, look at the West End. How many different theatrical productions are going on in the West End every single night. All at the same time. All competing with one another... I'm not phased by it. It's a very interesting time and certainly a lot of stuff's changing but at the same time it's nice for British wrestling not to be an afterthought for once."
The British wrestling scene is looked at in depth on The World According To Wrestling podcast, available on iTunes now.