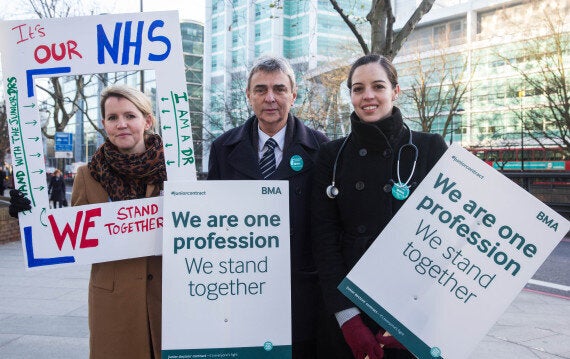 This morning I went to see striking junior doctors on a rather chilly picket line outside University College Hospital in London's Euston. Commuters rushing to their offices were keen to show their support for this, their first strike in four decades.
Essentially today's strike is all about the government's plans for a seven-day NHS. This isn't a new concept - every week junior doctors, along with their nurse, midwife and healthcare assistant colleagues, already work shifts both during the week, and at weekends.
We all want an NHS that provides the same high quality care, regardless of when a patient goes into hospital. The day of the week or the time of day someone is admitted should never be a factor in determining how well - or even if - that person recovers. But unfortunately it is.
What would make a difference to patient care would be to ensure that the same NHS services are available at weekends as at all other times. But this will cost money, and this is where the problem lies.
Jeremy Hunt wants to improve services but rather than invest in the NHS, he seems to think he can offer more to patients by paying dedicated healthcare professionals much less.
That's why he's now in a dispute with the junior doctors. It's all come about because the Health Secretary thought he could impose a new way of working on junior medics. This contract would slash the extra payments they get for late night and weekend shifts - those times when most of us are either sleeping, relaxing, or enjoying leisure time with family and friends.
At hospitals across England today, NHS workers have been using their breaks and lunchtimes to join their junior doctor colleagues on picket lines. Not just because they want to show their support, but also because they fear that the dispute is just the dry run for a much bigger confrontation.
NHS workers suspect they may be next on the government's hit list because ministers are likely to try to axe the unsocial hours payments they get for working nights and weekends.
Jeremy Hunt may see these additional payments as 'outdated', but working extra night and weekend shifts has helped many health staff just about survive the government's harsh and ongoing pay freeze.
The average pay of a nurse in the UK is £30,948 per annum, but this includes an average of £3,901 in non-basic pay, which is for overtime and unsocial hours. Any cut in this would make pay in the NHS unattractive and uncompetitive.
A Newsnight/Health Service Journal poll suggests that today's industrial action has the support of two-thirds of the public. That's because most people accept that NHS staff doing demanding jobs at night and at weekends should receive pay that recognises and fairly rewards them.
Last summer the independent body that advises the government on NHS pay said that cutting payments for those staff already working over seven days would not just hit their take-home pay, and damage their goodwill, but also make them less willing to work unsocial hours.
The NHS pay review body also said that a seven-day service would need more resources, more staff, and that a lack of trained health workers was a significant barrier. Making changes without investing in new staff could result in a huge increase in agency costs for hospital trusts.
The government keeps saying that any change to a seven-day NHS should be 'cost neutral'. But if Jeremy Hunt wants more services to run over seven days, with more staff working unsocial hours, the only way this can happen is to cut unsocial hours payments for existing staff. Junior doctors clearly don't feel terribly 'neutral' about this, nor I suspect will other NHS staff.
Dave Prentis is general secretary of UNISON
Related