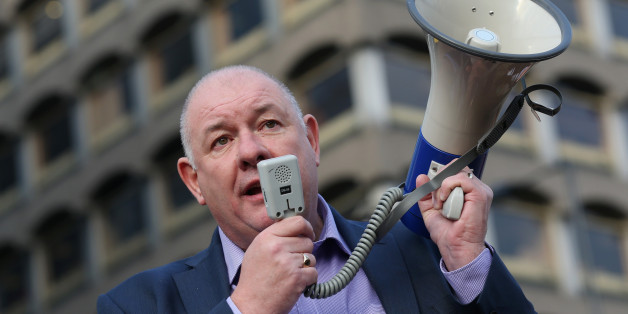 Oli Scarff via Getty Images
For workers across the UK the labour market is like the Wild West. Exploitation is exploitation whether it's in a sweat shop or at the end of an iPhone, and the Taylor Review falls way short of addressing the problems workers face. 
With six million people earning less than a genuine living wage, it is astonishing that this review is watering down workers' rights to the minimum wage. Far from creating a country that works for everyone, Theresa May is creating a country in which we work until we drop.
However, there is no doubt the Taylor review is another wakeup call for trade unions including my own and the crucial question facing all union leaders is what are we going to do about it?
In recent years, trade unions have rightfully focused on what Labour needed to do to get back to representing working people. Thankfully, under Corbyn's leadership and with a transformative manifesto - Labour has responded.
Now the spotlight must shift to what action unions collectively must take to reassert our values and organisation across UK society. This is a huge issue - not just about what is happening today - but also about the massive impact the gig economy will have on jobs and living standards in the future.
As general secretary of the CWU, I fully accept our own union must do more in the industries and sectors where we organise. But I also know no union can win by acting alone. This is why the CWU has consistently called for a concerted campaign to shift the balance of forces in the world of work and bring an end to insecure employment models and in-work poverty. Specifically, we say this means unions must come together like never before to deliver a new model of trade unionism.
The TUC and all affiliated unions should prioritise and agree a common bargaining agenda, publish a trade union manifesto on what constitutes a new deal for workers and construct a proper plan - including deliverable action - to achieve it.
I am not talking about us all putting our heads down and running at them. The labour movement has to learn the lessons of the past. What we need is a well thought out position that all unions can rally behind.
This is a defining moment for the trade union movement and to face the future we must be prepared for a fresh debate on what model of trade unionism can support workers everywhere.
This is exactly the right moment for us all to take bold steps forward.
Dave Ward is general secretary of the CWU