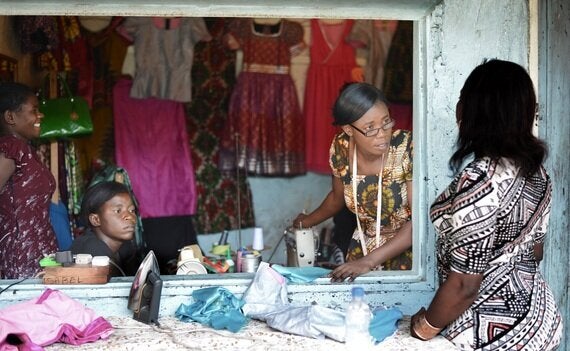 Isobel takes an order at her shop © Unicef/ Francois D'Elbee
The world is facing a worsening youth unemployment crisis with almost 73 million young people across the world now looking for work. It's a huge problem, particularly in the developing world where much of the world's youth population lives. Young people without jobs can't provide for themselves or their families, they can't educate themselves, learn new skills, buy food or medicine. This keeps families trapped in cycles of poverty and is an impediment to progress and economic growth.
Building Young Futures, a programme run in partnership by UNICEF and Barclays, was started in response to the problem of global youth unemployment. It's aim was to bring together civil society, Unicef, the private sector, Barclays and governments, to pioneer sustainable ways of addressing global youth unemployment and then to advocate with governments for these solutions to be taken to scale. The programme combined Barclays' business skills, expertise and networks with UNICEF's global reach, high-level access to governments, and local knowledge to deliver in-depth employability, enterprise and financial skills training to hard to reach young people in Brazil, India, Egypt, Pakistan, Uganda and Zambia.
Building Young Futures is now coming to a close having reached more than 90,000 young people across six countries in the last three years. Almost 20,000 of those young people have come together to create 11,000 new businesses, 10,000 have secured employment so far and the numbers are continuing to grow. In two of the programme countries, India and Egypt, governments have made specific commitments to scale up the programme. Positive long term changes in other programme countries are in train and the networks set up across all the countries including youth groups, career guidance centres and ongoing mentorship services will ensure the success of the programme lives on.
I am incredibly proud of everything Building Young Futures has achieved and I will never forget some of the young people I have met whose lives have been transformed because of it. Young people like Isobel, a remarkable young woman from Zambia who after entrepreneurship training spotted an opportunity for a tailoring business and was helped to write a business plan. Once she was established as a tailor, Isobel linked up with local schools, demonstrated her work and was awarded the contracts to make their school uniforms. She was then able to employ and train other young people and as well as supporting herself she is now paying her brother's school fees so that he too can get a better chance in life.
Because of the programme and the work that UNICEF and Barclays have put into it thousands of young people like Isobel from impoverished communities have been given a second chance in life and now have the skills and knowledge they need to secure bright futures for themselves.
Popular in the Community