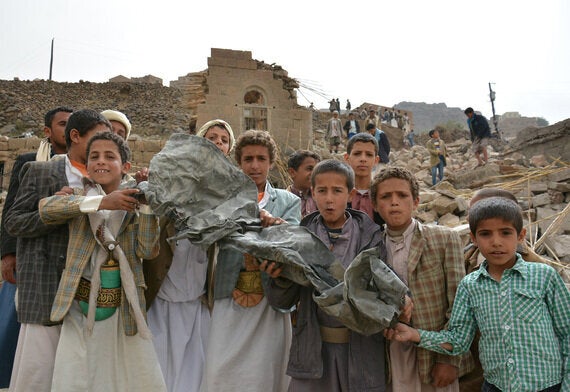 Boys hold a large piece of twisted metal near homes that were destroyed in an air strike, in Okash Village, near Sana'a, the capital. ©Unicef/Hamoud
"Abdul was killed by a sniper. I do not want to die like him."
These are the words of seven-year-old Nada Nussir from Sana'a Yemen. The friend she speaks of, Abdul Rahman, was just four years old.
With street fighting, canon shelling and aerial bombardments now happening every day in Yemen, life for children like Nada is almost unimaginable in its brutality. Children are on the sharp end of the country's escalating conflict which deepened in March and shows no signs of abating. Too many children in Yemen are frightened, hungry, at risk of disease and violence. Hundreds have lost lives, family members, schools and homes to the bombs and bullets. Some children are even being recruited into armed factions when they should be in school and having a decent childhood.
The conflict in Yemen is a tragedy for the country's children. I wish I could make it stop. Despite the dangers and difficulties, Unicef staff are in the country and working day and night delivering vital, life-saving supplies, immunising children, providing emergency nutrition and clean water, and helping children wherever we can. Unicef only have a fraction of the funds we need and are stretched thin. We can help more children but only with your support.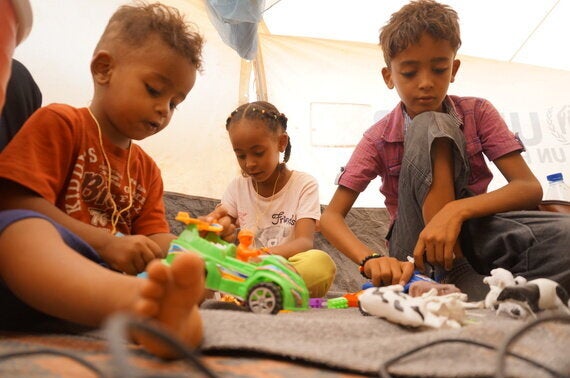 Nada, 7 years old (middle) and other children play with toys at a child friendly space at the Marakazi refugee camp for Yemeni refugees in Obock, Djibouti. ©Unicef/Rita
The facts are chilling. Since the conflict intensified earlier this year at least 398 children have been reported killed and over 605 injured. To put that more bluntly nearly three children are being killed every day and another five injured. That's more than four times the number of children killed in Yemen in the whole of 2014. One child killed is too many.
The recruitment and use of child soldiers has also increased sharply. At least 377 children have been recruited to armed groups so far this year - more than double the total in 2014.
Unsurprisingly, recent assessments by Unicef child protection teams show that most children are living under enormous stress.- Almost four out of five affected children said they fear playing out in the open.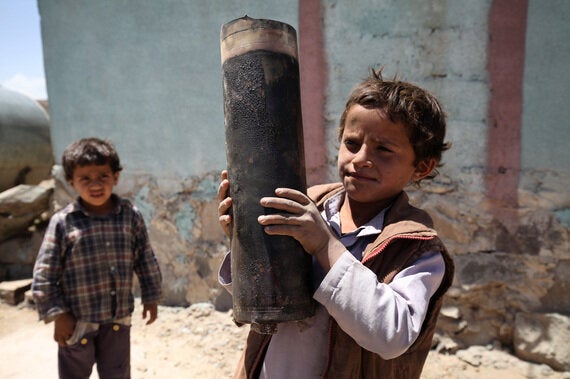 A boy holds a large piece of exploded artillery shell, which landed in the area during a blast, in the village of Al Mahjar, a suburb of Sana'a. ©Unicef/Hamoud
Indeed, children are in danger in the very places that they should be safe. Seven-year-old Nada did not just lose her friend Abdul, she also lost her school. Ibn Sina School, where she and 1,500 girls studied in primary and secondary classes, is now closed indefinitely. An air strike hit the building next to the school and left classrooms covered in rubble and broken glass.
Nearly 400 schools have been damaged due to shelling or airstrikes since the end of March. 95 of those were completely destroyed. At least 3,600 schools have closed across the country, leaving millions of children without an education, and threatening their future..
11-year-old Nabila from Aden is another one of those children. "I promised my father I'd be an engineer when I grow up - but now I've missed the final exam", she told Unicef, "I am so scared. The sound of the rockets frightens me."
A boy carrying a book makes his way through rubble from homes destroyed during an air strike, in Okash Village. ©Unicef/Hamoud
But as well as bullets and bombs, Yemen's children are threatened by growing disease and malnutrition as Yemen's health services collapse and food shortages make it harder for families to survive.
Overall around 1.8million children are likely to suffer from some form of malnutrition this year alone - an increase of almost one million children since 2014. Over half a million of these children will be at risk of severe acute malnutrition in 2015.
18-month Faisal is currently being treated at Al-Sabeen hospital. He was born a healthy baby at 2.7 kilos. At the age of one he was 12 kilos. He is now just five kilos - less than half the average weight for a child his age. His mother says she couldn't afford enough food and has now decided to sell her only piece of land to ensure her family can eat.
"I would sell everything I have to ensure my children's wellbeing. What really disturbs me is how difficult it has become is to get medical treatment. The hospitals are no longer what they used to be. The conflict has made all things worse, everything has got more expensive, nowhere is safe - even here at the hospital as it's near a military base. I just hope my son gets better soon so I can return home" she told Unicef.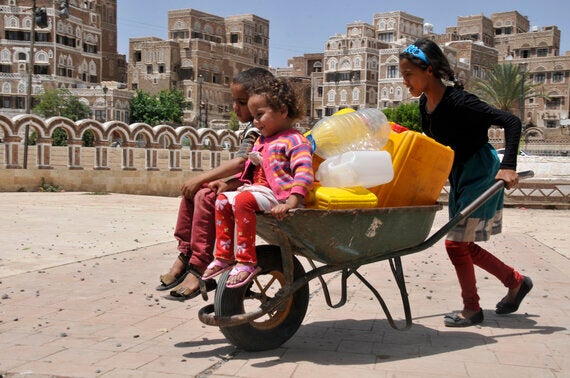 A girl pushes two younger children - a boy and a girl - in a wheelbarrow that also bears several jerrycans in Sana'a. ©Unicef/Hamoud
According to reports on the ground, 15.2million people currently lack access to basic healthcare, with 900 health facilities closed since 26 March, when the conflict escalated.
With the situation deteriorating rapidly, Unicef's work in Yemen is more vital than ever. Nearly 10 million children require humanitarian aid. Unicef staff across the country are providing safe water, education and immunisations and are treating children battling malnutrition. We have so far helped 2.8million people access safe water, provided psychological support to more than 150,000 children, and are supporting catch-up classes for over 200,000 students.
Yemen's children did not start this war, but are bearing the worst of its terrible impact. Despite the grave needs, our response is woefully underfunded. We have only 16% of the funds we require - and need more than that if we are to keep the hopes of Yemen's children's alive. We desperately need generous members of the UK public to contribute to our appeal at this critical time. Just £5 could provide vaccines to protect 50 children from polio in Yemen. We need to do what we can to lessen the suffering of children in Yemen and prevent their situation getting worse.
£50 could provide a two month supply of life-saving peanut paste - enough to bring two severely malnourished children back to health.
£15 could provide exercise books for a whole class of children
£5 could provide vaccines to protect 50 children from polio in Yemen
Related