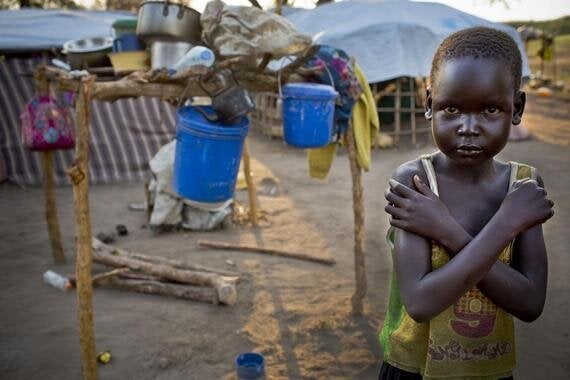 A boy displaced by fighting in South Sudan stands near makeshift shelters
Unicef launches its largest ever appeal
As the world faces a growing number of increasingly complex emergencies, over 60million children are in danger from natural disasters and conflicts. From the large scale displacement of families affected by the fighting in Syria, to the 638,000 people affected by severe flooding in Malawi today, and the devastating impact of the Ebola epidemic, more and more children are in urgent need.
More than one in 10 of the world's children - a staggering 230million - live in countries and areas affected by armed conflicts. Too many of these children are missing out on their one chance at childhood. They are being robbed of their basic rights to health, shelter, education and protection and growing up with the daily reality of violence and fear.
In Syria 1.7million children have been forced to flee their country and live as refugees, and over 5.6million children still inside Syria need urgent support. In South Sudan as many as 12,000 children may have been recruited by armed forces and groups in the ongoing civil war. Earlier this week Unicef successfully secured the release of 3,000 child soldiers, with the first group of 280 children surrendering their weapons.
This shows that, even in the midst of suffering, change can happen and hope can be real. I have seen this for myself in many emergencies from Kosovo to Darfur, from Somalia to The Philippines, from tsunamis to earthquakes to wars I know we can make a difference, but the challenges today are greater than ever and much more needs to be done. We can only do it with the help of people, Governments and organisations across the world.
That is why today Unicef launches the largest humanitarian appeal in its history, aiming to help 62million children around the world in 2015.
Unicef is calling for $3.1billion (£2.04billion) as part of its unprecedented Humanitarian Action for Children appeal. The vital funds will protect and support those living through humanitarian crises and aims to help 98million people, around two thirds of whom are children, across 71 countries.
Reflecting on the growing emergencies that are putting increasing numbers of children in danger, the appeal marks a dramatic increase of $1billion (£0.6billion) in funding needs since last year's appeal.
Unicef's 2015 global emergency response aims to help treat 2.7million children for severe acute malnutrition, immunise 13.6million children against measles, provide 34.3million people with safe water and protect 2.3million children with psychosocial support to cope with the emotional and psychological trauma and violence they have experienced.
We have the chance to make this year a crucial year for children and Unicef urges governments and donors around the world to support the appeal. But for 2015 to be truly historic, as well as vital humanitarian funding, we will also need firm commitments from governments to keep more children safe, which can be realised through the new Sustainable Development Goals. We need to act to help communities to build resilience, to support authorities to be well prepared for disasters when they strike, and to ensure that our responses are also building back better for the future. A vital part of this is to build the peaceful societies in which children can grow up free from the threat of violence, exploitation and abuse.
Unicef UK is calling for a specific target to end violence against children, which kills one child every five minutes. We know that unless we tackle violence against children head on, even our best efforts to eliminate poverty and suffering cannot succeed.
This year the world has the opportunity to keep more children safe. Together we can help children realise their rights, fulfil their potential and protect them from violence and danger. How the world looks tomorrow is dependent on how children grow up today - and the time to act is now, we haven't a moment to lose.
Related