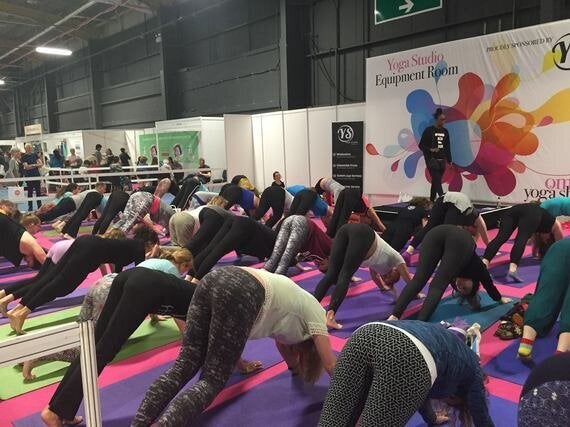 It was a wonderful experience, being able to connect with yogis from all over the UK. I was surprised at how many yogis travelled up from London. I am not entirely surprised as there is such a cool vibe in Manchester.
It was like coming home again seeing the familiar faces of the Om Yoga show (OYS) team. I had a bit of a joke with Natasha, as each time I've been to the OYS there's been some sort of incident the last time my flight got cancelled. This time it was lost credit cards, and then Black Cab Driver taking me to the entirely wrong Travel Lodge (and me having to pay for the pleasure). There was also the mercury retrograde at play.
So I was not off to a brilliant start. However this was very quickly turned around - in the second taxi. The driver was so friendly and gave me a mini tour, although he was a Man City supporter, he kindly stopped and took some photos of the infamous Manchester United Football ground. It had to be done!
He cheekily informed me that this was only being entertained as I was a tourist and if I were local this would not be happening. This kind act was added to my gratitude list.
First day of the Show consisted of the 'every body is a yoga body workshop'. Pleased to say that this was well attended a good representation of yogis. Covered wide range of topics from Body image to the current image of yoga. We also had a mini classes and Q & A session.
There was one yogi, who was not able to grab her feet in bow pose. I offered her some modifications and told advised some props to use and that one-day this pose will be accessible for her.
However after the workshop we got talking and I was horrified to find out that she had done 100 classes and no one had offered her any modifications or offered her alternative options. What was even more concerning was when she approached the teacher and enquired that if certain poses were not accessible because of her size and the answer was YES. I was so horrified to hear this but was so glad that she had continued with her practice and I was able to correct this misconception.
Here's the feedback she left on FB page:
"Fantastic session at the yoga show Manchester with Donna - thank you for your compassion, humour and advice - I will be able to do Dancer and Bow poses one day soon!! Thank you xx"
I so can't wait to hear about here progress.
We as teachers have to try to be inclusive in our classes and continue to develop so that we are able to help every body with their yoga journey.
This has been the best show for me this year. The yogis of Manchester are supper chilled and welcoming they made time to stop and chat. I had so much fun teaching all the classes and meeting Yogis and vendors alike.
I even got to experience a little bit of the Manchester social scene and relax - so it was not all yoga.
The Manchester show is a lot more intimate when compared to London. Although smaller I saw a more diverse representations of yogis in terms of body types and age.
So many inspiring yoga stories where shared with me, and meeting so many fantastic yogis. Seeing a more diverse yoga community is a goal and it is happening.
Thanks to everyone I met for making this a wonderful experience.
Also I would like to thank Om Yoga Show http://www.omyogashow.com for allowing me to show that every body is a yoga body...
In the words of Arnie I'll be back.