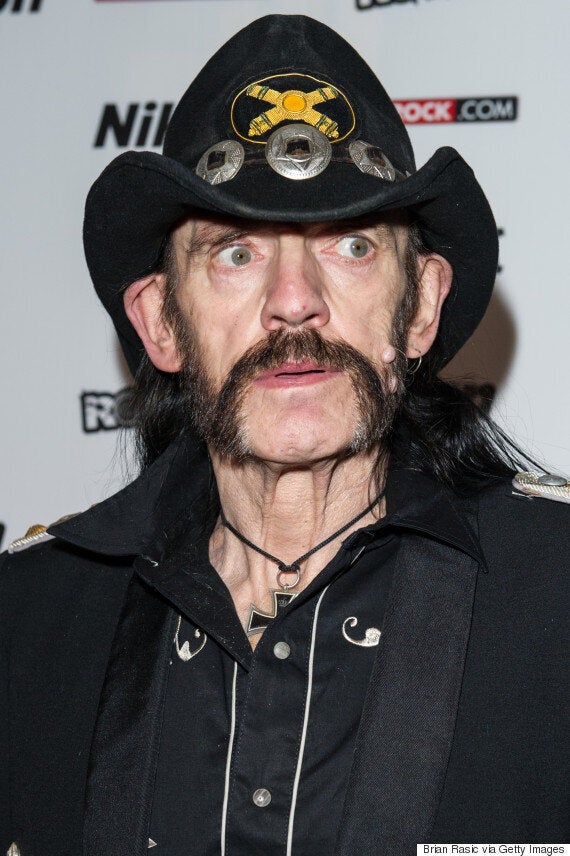 Words don't come easy, especially when you know Lemmy would have laughed at us all trying to say dignified things about him being a hero. Any time I attempted to say anything complimentary to Lemmy to his face, he would fix me with a kind of amused, contemptuous stare. But a kind of hero he certainly was.
Unique in just about every way imaginable. He was a living mismatch of personality types. His music was roaring, abrasive, uncompromising, and his lyrics mostly deliberately gave no hint of sensitivity. Yet as a person he was a pacifist, a deep thinker, and a man who cared profoundly about his friends. I was never in his closest circle of pals, but we bumped into each other often and he always managed to say something shockingly respectful to me, leaving me disarmed, because he hated being praised himself. Or so it seemed.
One of my dearest friends lived with Lemmy for 10 years and she always spoke of him as a tender man, very different from his public face, which never deviated from his tough gaze on the world. Lemmy was a highly cultured and well-read man - yet to see him glued to a fruit machine most of a night in the Rainbow Bar and Grill on Sunset Strip you would never have guessed it. In fact, that hallowed place, steeped in rock and roll history, will always bear his spiritual mark.
We all come into this world as babies, and mould ourselves into what we want to be. Lemmy - as a product of his own will, has to be the original mould of a Hard Rock Icon which defines the term. Lemmy lived his music and his persona within his music 100% to the full. Motörhead has been for most of its history a three-piece outfit - again leaving no room for frills - and the three pieces (or sometimes four) were always frenetically at max. I remember guesting with them at the Brixton Academy, and it was possibly the most ear-splitting experience of my life. Most bands - while the back line is arranged to look mean and powerful, actually keep the on-stage volume to a controlled maximum, the real volume for the audience being supplied by miking everything into a large PA system.
Not so Motörhead (with the umlaut on the 'o' of course). The giant piles of speaker cabinets behind them were all live and all turned up to 10. ( OK - 11 ! ) The sound of Lemmy's bass was like being inside a giant pulverising machine, a whole frequency spectrum thing. It wasn't a conventional bass sound at all. Even if no other instrument was playing for a moment, Lemmy's bass was deafening you from 50 cycles to 10K. And he was hammering (and I choose my words carefully) round about 200 notes a minute for a lot of the time. It was, and is, unique. And on top of this monumental noise sat his highly distinctive throaty tobacco-soaked growl of a vocal.
It's hard to recognise Lemmy in his early work as the monster he became, but he was still pretty awesome in the psychedelic Hawkwind, when we (Queen) played with them at Epsom Baths (was it?) around 1970. Then Lemmy left to form his own band with a much tougher style, the antithesis of Flower Power. I don't remember the first incarnation of the band, but I knew Fast (appropriately nicknamed) Eddie Clarke as Lemmy's guitarist in the early days, and Philthy Animal as drummer, and the band had enormous primitive manic energy. I remember Wurzel too, a legendary force. But for more years than I can remember subsequently, the outstanding Phil Campbell was Lemmy's foil on guitar, no less wild and dangerous, but also bringing great technical skills to the mix.
I could go on. About Lemmy's skills at embarrassing people (including me), and about his ability to soak up substances in quantities that would have anaesthetised a rhinoceros. But it's enough. All the most important stuff is in his music. Phil roped me in to play on the most recent Motörhead album, an honour which I will now treasure more than ever. It's a track called The Devil. If there's any justice, Lemmy will be in some celestial rock and roll bar, knocking back Jack Daniels with the Devil at his side, the two of them quietly chuckling at the oddities of life.
This post first appeared here.
Related