It's the fourteenth consecutive hottest month on record. The Louvre Museum of Art in Paris was recently forced to defend its collection from abnormal flooding. And in that same city, at the end of last year, world leaders agreed a deal on climate change with the hope of protecting people, ecosystems and cities at risk of sinking in the future.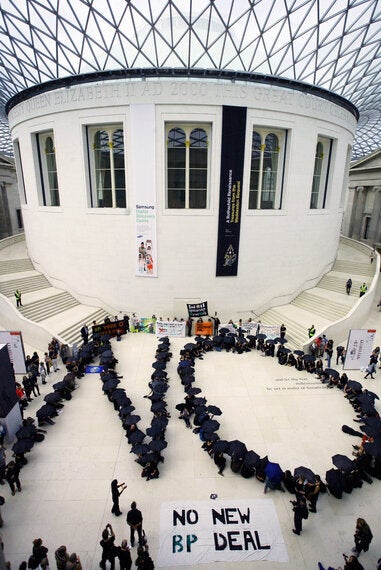 Campaigners hold a "protest festival" inside the British Museum. Photo by Anna Branthwaite.
It is against this backdrop that, in May, the British Museum launched its new 'Sunken Cities' exhibition, sponsored by BP. Now, not content with the irony of a fossil fuel company sponsoring sunken cities, the museum has doubled down. Last week, alongside the Royal Opera House, National Portrait Gallery and Royal Shakespeare Company, it was announced that the British Museum would be renewing its sponsorship deal with BP for a further five years. Many were taken aback by a decision so out of step with the growing mood across the cultural sector that oil companies - like arms and tobacco companies - do not make ethical sponsors.
In today's Times, over 200 artists, authors, actors, musicians, scientists, researchers and campaigners have demanded that the new deal 'must be dropped', and that museums and galleries 'must play a positive role in taking urgent climate action and defending human rights.'
Alongside renowned figures in the arts world, such as Oscar-winning actor Mark Rylance and respected composer Matthew Herbert, the 200 signatories include those from frontline and Indigenous peoples' struggles against BP around the world, from Canada to Australia, the Gulf Coast to Colombia. One of the signatories, Benny Wenda, is the exiled West Papuan independence leader and part of a campaign running a global boycott of BP over its collusion with the repressive Indonesian regime. BP's corporate crimes and rights abuses have been raised time and time again inside these sponsored institutions through creative protest, by groups such as Liberate Tate, Platform and BP or not BP?
But the British Museum has once again turned a blind eye and decided to take BP's cash regardless. And by claiming that BP's money is too important to turn down, the British Museum has made a bold statement: that the museum's version of culture is more important to defend than those defending their cultures against its sponsor.
We should not allow these cultural institutions to just 'take the money and run'. The widely held view that BP is not an appropriate sponsor is not just a matter of opinion. The British Museum's own Sustainable Development policy states that the museum will 'endeavour to incorporate sustainable development issues into future policy decision making at all levels'. But BP's business plans are wildly out of step with the consensus on climate change. Most of the oil and gas on BP's books cannot be burned, but the company continues to explore, drill and act counter to the UN Paris Climate deal, being the most effective lobbyist against climate action in the whole of Europe. In reality, the British Museum has incorporated unsustainable fossil fuel use into its policy decisions for well into the 2020s.
BP's sponsorship has only ever made up a small proportion of museum and gallery budgets - less than 1%. And - in direct contradiction to BP's claims - despite arts funding cuts, free entry to our biggest national museums and galleries is protected by the government. BP and other corporate sponsors are nevertheless keen to claim the credit and link themselves to this commitment to accessibility.
In reality, BP has just slashed the size of its payments to cultural institutions by a quarter. The company blames this cut - and its decision to pull out of sponsoring the Tate and Edinburgh International Festival earlier this year - on the low oil price and a 'challenging business environment'. To trot out this lie again, when it still made £550m in profit last quarter, and just months ago gave its CEO a pay rise much higher than all of its arts sponsorship put together, is a reflection of a failed PR strategy. There is no question that this is cheap advertising for BP, and that publicly funded cultural institutions are sustained not by corporate sponsors but by taxpayers.
By renewing its arts sponsorship, BP is attempting to renew its 'social license to operate' - its appearance as a socially responsible company in the eyes of the public and policy-makers. But fundamentally, the debate around oil sponsorship is about asking who our publicly funded museums and galleries are for.
It also forces us to ask questions about cuts to the arts. Unsurprisingly, last week's sponsorship announcement was celebrated as 'excellent news' on Twitter by the new culture minister Matthew Hancock. But he is part of a government that has made excessive cuts to the arts budget while failing to clamp down on the tax avoidance of companies like BP. Instead, the government have offered up billions of public funds in subsidies and tax breaks to oil companies.
We should not accept corporate sponsorship or privatisation in the arts as a given, and be short-changed on the values that should be at the heart of our art-making. Starting today, it's time we made these museums and galleries properly accountable to the public, and not to BP.