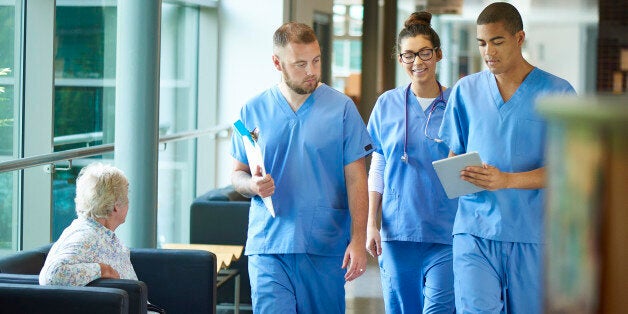 The Channel 4 series Confessions of a Junior Doctor gripped the nation when it aired earlier this year, following a group of junior doctors on the wards of Northampton General Hospital. It took a politically charged topic and stripped it right back to the human story; we could see and at times feel the weight of challenges and decisions faced by these young doctors.
The stresses and pressures of the doctors on screen took me back to my own experience of being a put upon junior doctor. Despite the years which have passed I can recall vividly the patients I cared for and the team I worked with so closely. While those memories are fond, it is the sheer dedication and determination which got us through those challenging times. I learnt from experiences, good and bad, and know that the resilience I built up has made me a stronger person and empathetic to my colleagues who I help in my new career as a medicolegal adviser.
At the Medical Protection Society (MPS), we support thousands of newly qualified doctors at the start of and right throughout their careers. We provide ethical and medicolegal advice, education tools and support with complaints if they receive criticism about the care they have provided.
While the challenges I experienced over a decade ago are consistent with those junior doctor face today, the context and environment are very different. Medicine has advanced yet further, creating more ethical problems. Patient expectations have also risen, and resources are under immense pressure. The Channel 4 series was largely applauded by the public and media for shining a light on that in a fresh way, but what did the junior doctors think about it?
As a cohort of new junior doctors step out on the wards, MPS surveyed nearly 450 of our junior doctor members who have now been in training for one year, to find out about their experiences and reflections, along with their views on the Channel 4 series.
After the bitter dispute over junior doctor contracts and the consequent low morale within the profession, perhaps unsurprisingly nearly all surveyed - 98% - said the series was important, as it raised awareness of the real challenges junior doctors face. 82% said it also made them feel proud to be a junior doctor.
But there were some concerns too. While 55% said the series would give people more confidence in junior doctors, over a third - 35% - were worried it would make people feel less confident when dealing with a junior doctor. When asked if they felt the series would encourage more people to become doctors, 88% disagreed.
This is of course worrying, but was this series really aimed at inspiring the next generation of doctors? Probably not. It was a stark but real depiction of life as a junior doctor - both the heart wrenchingly difficult and frustrating times when you question your career choice, and those moments when you know that despite the challenges, you've made a difference and becoming a doctor was the best decision you ever made.
What was also strikingly clear from the programme is that junior doctors need a huge amount of support as they embark on their career in the profession. Not only to tackle stress, long hours, isolation and increasingly heavy workloads, but in tackling other day to day challenges.
When we asked junior doctors what they found most challenging in dealing with patients in our survey, the results highlighted the sheer breadth of emotional, psychological and professional support they require.
73% said they found managing unrealistic expectations most challenging, 27% said it was the fear of being complained about or sued, 26% said it was dealing with aggressive or abusive patients, 26% also said it was having difficult conversations, such as informing relatives of bad news or the death of a loved one, and 13% said it was competing with 'Dr Google', or patients self-diagnosing online.
So let's spare a thought for the thousands of young doctors who have embarked on a lifetime of dedicated hard work, and in the coming weeks, will need to put all their training into practice. We must all do more to support junior doctors.