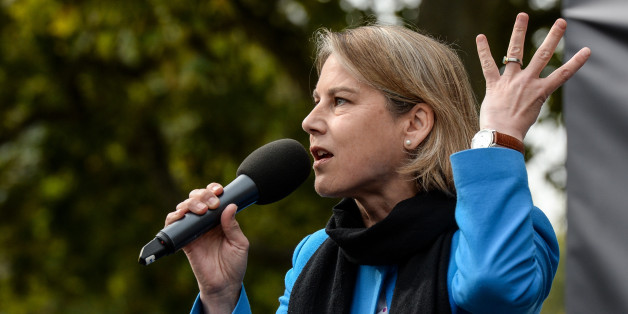 Chris Ratcliffe via Getty Images
There were over two hundred attempted amendments, covering every aspect of our relationship with the EU, to the very short Bill on triggering Article 50, which cleared its final parliamentary stages yesterday. Of all the amendments, the one that was clearest and most needed at this early stage was the one on the rights of EU nationals living in the UK. Why? Because this issue is worrying our friends and neighbours right now.
The Government has said that it fully intends to grant EU nationals living here the permanent right to remain in UK but will only guarantee this when it has received a reciprocal offer from all 27 other EU member states on the rights of UK nationals living in the EU. Ministers have made concerted and commendable efforts to secure such a deal in advance of the formal negotiations, but have sadly been rebuffed by other EU governments.
The Government's position is a sincere and reasonable one, but I believe it is the wrong approach. We can and we should act now, with or without the agreement of the other EU member states.
Much has been made of the need to avoid EU nationals living here being seen as "bargaining chips" in negotiations - I do not believe that this is the Government's intention, but it is an inevitable consequence of wanting to strike a reciprocal deal on this with the EU that those who are affected will feel like they are part of a trade-off, and that strikes the wrong tone.
EU nationals make a huge contribution to our economy and our public services, but let us not ignore the number of EU nationals that see the UK as more than that: this is their home. We have a duty to them to ensure that they continue to feel welcome here and failure to provide a unilateral guarantee of their continued right to live and work here undermines that.
We should also not ignore the self-inflicted damage we may be doing to the country by not guaranteeing EU nationals' rights now. The uncertainty that so many feel - and I for one have heard from several constituents in this position - has led many to wonder whether they will be allowed to stay and they have started looking to move overseas. What damage would it do to our NHS, our universities and our businesses if delaying this commitment to those people made them want to leave?
If the Prime Minister or the Home Secretary stood up today and gave a guarantee to any EU nationals living here already that they will be able to stay, this would bring two significant advantages. Firstly, it would allow the Home Office to commence work immediately on what will be a major administrative task of granting permanent residence to so many people. But it would also be a major statement of the UK's intent in advance of the Brexit negotiations with the EU. We would be seen to be acting in good faith and not playing games.
I have no doubt that the Government will eventually secure the deal it wants, but that could still be months away. And even if some EU Member States continued to refuse to provide an equivalent guarantee to UK nationals in the EU, are we really going to punish EU nationals living here for the intransigence of other governments? We should be acting now. We do not need legislation to do this, and the passing of the EU Notification of Withdrawal Bill provides an opportunity to make a positive and worthwhile commitment that would mean so much to so many people and be of considerable benefit to the Government too.
Dr Tania Mathias is the Conservative MP for Twickenham