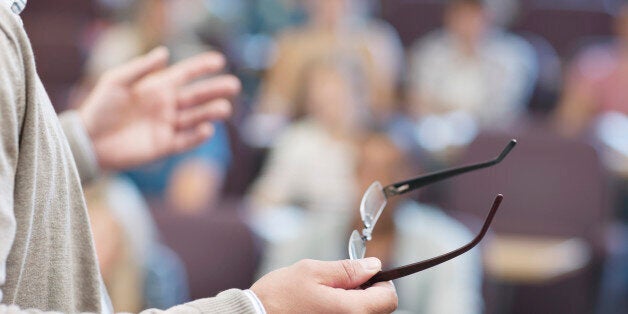 The latest findings by the Guardian on the prevalence of allegations of staff sexual misconduct in UK universities are starting to shed light on something many current and former university students have known for a long time: that the UK higher education sector has a serious sexual harassment problem.
We began working on this issue as part of wider group of PhD students whose studies had been both severely disrupted and halted by the sexual misconduct of academic staff members. This was in 2012. Over the next few years we had to juggle working on our research, making complaints against staff, and holding the university accountable. Fast-forward to 2017 and it appears that the sector is finally on the cusp of having a national conversation on the impact of staff sexual misconduct and why it must be addressed.
The latest Guardian investigation has reported 'epidemic levels' of sexual harassment in UK universities. Freedom of information (FoI) requests found that students made at least 169 such allegations against academic and non-academic staff over a six-year period. Colleagues made at least another 127 allegations about staff. What do these figures mean, and how do we begin to make sense of them? How does staff sexual misconduct occur and what can be done to prevent it? While this has similarities to workplace sexual harassment - where an employee is creating a hostile and uncomfortable environment for others within that workplace -- there are important differences when this harassment occurs between a student and university staff member.
We use the term 'sexual misconduct' to describe forms of power enacted by academic and professional staff in their relations with students. Sexual harassment is one of a number of behaviours encompassed by misconduct, which can include assault, grooming, bullying, sexual invitations, comments, non-verbal communication, creation of atmospheres of discomfort and hostility, and promised resources in exchange for sexual access. While harassment certainly does occur, the term 'sexual harassment' captures only some of the possible abuses of power that may be enacted by staff in connection to students. According to research from the US, students identifying as women, trans and non-binary students are predominantly affected by sexual misconduct in higher education, however it is important to note that students across all gender identities are impacted. This misuse of power can also occur between staff members.
Staff sexual misconduct is a complex issue, connected tightly to the particular nature of the power relationship that exists between staff and students and the individual cultures that exist at each university, which, like any work organisation, cannot be controlled and regulated only through policy and training programmes. There is no quick fix to solving the problem of sexual misconduct. It requires long-term financial commitment from government, changes in legislation, enforceable codes of conduct, guidelines produced by national organisations such as Universities UK and the Equality Challenge Unit, and facing hard truths at a local level within each institution.
Staff and students are unequally protected when it comes to allegations of sexual misconduct. Staff are university employees, and are protected through employment contracts and, if they are University and College Union (UCU) members, they have union representation and access to legal services. Staff are also responsible, and at times singularly so, for the academic progress of students. University staff determine academic grades, access to and allocation of resources, provide academic references, and supervise research projects. Staff can also work to control and exclude students from classroom and social activities. Postgraduate students, especially PhD students, may have regular contact with only one or two staff members during their time of study, which makes the power dynamic particularly difficult to address. To make a complaint against your supervisor means potentially losing the only source of academic support that is available especially as it is often very difficult for PhD students to change supervisors.
Students are not afforded the same protections as staff. While students who enter university are usually over the age of 18 and determined to be adults, this does is not make for an even playing field. While arguments are made for staff and students as being "two consenting adults", the issue of consent is complicated by the uneven power relationship that exists.
The institution seldom employs students and even when it does, often as graduate students in short-term contract teaching roles, students do not have access to the same level of institutional support as permanent staff members. Students may rely on representation from the Students' Union, but have no access to legal services. To complain takes so much work and can take months (sometimes years) of very stressful interactions with the university, which students are ill-equipped to manage on their own. For postgraduate students, the experience of sexual misconduct from staff is particularly isolating. Even if students disclose their experiences to someone they trust they can be dissuaded from reporting sexual misconduct, both for reasons of protecting the perpetrator but also to protect the student from the very real harms that can occur to them in making a complaint.
Organisational culture plays a key role in allowing sexual misconduct to continue unchallenged. Each institution needs to have an in-depth understanding of how its cultures - for these are often multiple, and operate on official and unofficial levels--operate to enable forms of misconduct. Recent research by Changing University Cultures (CHUCL) investigating the culture at Imperial College points to how it is crucial to understand the differences between what policy dictates and how culture operates. Even when a university states that it has a zero tolerance policy towards sexual harassment (as several institutions have done so in the Guardian reporting), there may be a culture in place, either across the university or within individual departments, which supports and condones sexualized and abusive behaviours. The fear of speaking out, which would involve speaking out about how the dominant culture enables misconduct, is very real. For those that don't 'fit' the culture or the institution - the risks are heightened. This includes students who identify as women, students of colour, students with disabilities, and queer, trans and non-binary students. This can include staff members who are on short-term contracts or require institutional support for promotions and funding decisions. Reporting sexual misconduct can lead to students (and staff members) being subject to severe forms of bullying and harassment, making it unsafe for them to be on campus.
The Guardian investigation has shown how widespread this issue is. As the editorial has stated, now is the time to act. Based on the evidence of our own experiences, considerable case work, international research, and from partnering with sector experts, we have developed six strategic priorities for the higher education sector that need to be enacted together as part of an overall, wide-ranging and comprehensive approach to this issue. Universities UK recently stated that addressing staff sexual misconduct is a top priority for the sector. We are currently working with the Universities UK on developing research to understand better how current university policies are failing to stop sexual misconduct, and with specialist law firm McAllister Olivarius who will propose legal changes and best practice policy guidelines.
We are launching a national awareness campaign across all campuses in the UK later this year in partnership with the National Union of Students, which will include the first national survey of students and staff on this issue and result in a public report on this issue.
Nationally, we are calling for the establishment of a national office for the prevention of sexual misconduct in higher education and the provision of advocacy and support for students is needed. Each institution should have a designated, permanent officer on campus or based within a specialist sexual violence organisation locally who specifically supports both staff and students who need to report sexual assault, violence and forms of sexual misconduct. In order to start developing and storing data on sexual misconduct, this specialist office would hold all institutional data in this area including reports and complaints that are anonymous or even withdrawn.
Additionally, an independent trained specialist should support students going through the reporting and complaints process/es. That specialist should hold a permanent office linked to the university. Unlike the position of Title IX officers in the United States, this role is not designed to protect the institution; it is principally for student advocacy. There are current models such as Independent Sexual Violence Advocates within the criminal justice system that could be implemented across all universities.
Our priorities also include an enforceable national code of conduct for all university staff; a specific reporting and complaints process for sexual misconduct within all universities which addresses discriminatory issues of race, gender identity, sexuality, disability and disclosed and undisclosed mental health issues; and addressing the long-term impact of staff sexual misconduct on those who experience it. You can read more about each strategic priority here.
It is time the UK higher education sector and government acknowledged the problem and prevalence of staff sexual misconduct and its impact on students and began to act to eliminate staff sexual misconduct.
For more information or to be in contact: contact@1752group.com or 1752group.com