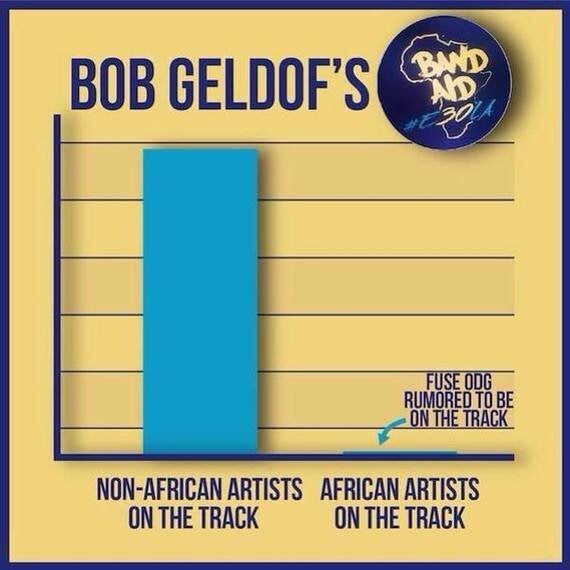 Okay so I am fully aware Sir Bob Geldof is doing a good cause helping to raise funds for Ebola with Band Aid 30 - 'Do They Know It's Christmas'. He has roped in some of the biggest names in pop music. But as the whole exercise was executed to raise money for Africa (similar concept to the original Band Aid) there are no African artists featured, well with the exception of Angelique Kidjo. In terms of BME (Black Minority Ethnic) representation it's severely lacking with token artists (Seal and Emeli Sande) placed just to tick boxes. I'm sure Sir Bob could have enlisted a stronger and dynamic force of talent.
The lyrical content has also been controversial and questioned by Damon Albarn and Fuse ODG who felt awkward and decided not to take part. Seal sings the rather patronising and unjust line: "Bring Peace and joy this Christmas to West Africa". Once again the media and music industry assume West Africa is just one big uncivilised mud hut plagued by Ebola.
Accra, the capital of Ghana resembles any western country with high end shopping malls, an integrated transport system, oil reserves, increased growth in housing with a booming economy. Far from the depicted ideal portrayed to the mainstream. Not every country in West Africa has been hit with the Ebola outbreak. So far only three countries (Guinea, Sierra Leone and Liberia) with Nigeria exempt and declared Ebola free. Yet references are made to the outbreak spreading across West Africa by commentators highlighting it has hit every country which has resulted in panic leading to a downturn in numbers for the tourist industry in those affected areas.
A comical Facebook poster appeared on my timeline which more or less highlighted what my friends and I were thinking with a graph indicating how many non African artists were featured and African artists not featured in general. The lack of ethnic representation does not bode well and the video premièred on Sunday night looked like a music industry pre Christmas get together in Notting Hill rather than a conscious charitable cause.
Things have changed since the last Band Aid track was released in 1984. The Berlin Wall was demolished; society's views on HIV/Aids were intense but have drastically changed for the better - not as ignorant or sterile; apartheid ended in South Africa resulting in Nelson Mandela freed and leading the country as ANC president and Barack Obama became the first US black president. In terms of integration we have come a long way but we are still struggling with BME representation on a Band Aid track which is quite worrying. Surely the talent placed need to have some sort of connection with African Culture and most importantly a greater understanding of Ebola? Apart from being told about the causes and key locations of where Ebola has been contracted, I am sure they are not directly affected.
The all star Band Aid 30 line up features Olly Murs, One Direction, Ellie Goulding and Rita Ora. I don't think anyone in Freetown has heard of them. What was Sir Bob thinking it's not X Factor? Have any of the artists been to see what has happened or met families who have become victims of the dreaded virus? The way we live, think and function has certainly changed for the better. We have moved on from those dreaded dark times. I am sure Sir Bob could have at least called Dizzee Rascal and Tinie Tempah who have Ghanaian and Nigerian roots. A reserve list was not even put in place. Sir Bob might be out of touch and should have been consulted on who to select from his controversial talent pool. We are at a crucial point where diversity is a major priority and talking point across all industries. This needs to be reflected across all sectors, especially for initiatives such as Band Aid 30 to ensure audiences are being served and not patronised with tokenistic gestures. Let's hope the money raised will eventually get over to those in need.