A pack of six luxury mince pies from Asda have been crowned the best on the high street thanks to their "subtle spicing" and tasty pastry. And they'll only set you back £1.50.
But after blind tasting more than 100 premium mince pies, Which? experts declared Asda's the top of the supermarkets category. Its Extra Special Mince Pies scored an impressive 71 per cent and the panel were particularly taken by the "lovely, buttery aroma" of pastry as they came out of the oven.
In second place were Lidl's Deluxe Luxury Mince Pies, which cost £1.79 for six, and were praised for their "pleasantly fruity taste". They came away with a commendable score of 69 per cent.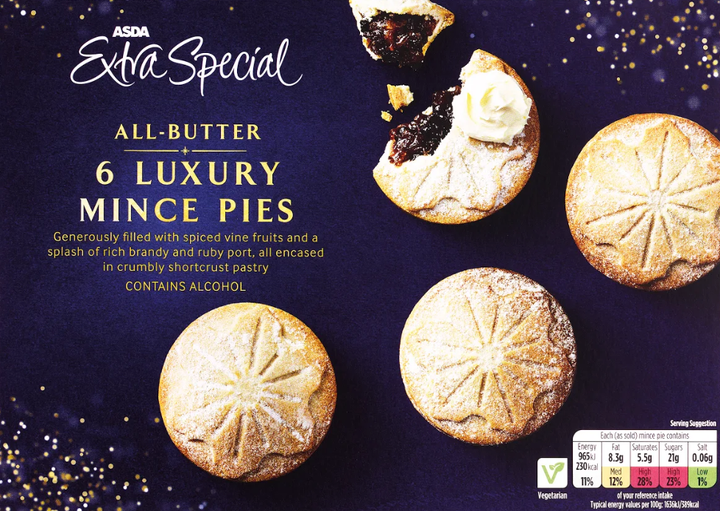 On the whole, the panel said the standard of mince pies has slipped in recent years. They blame the rising cost of food, including dried fruit and butter, which has led to many supermarkets using cheaper ingredients to keep prices low.
At the bottom of the supermarket ranking, with a score of only 51 per cent, was Waitrose, whose All Butter Mince Pies were described as "beige-tasting" and "devoid of any notable flavours". These were also the joint most-expensive pies in the test, retailing at £2.50 for six.
The panel also had the tough job of tasting posh mince pies from the likes of Fortnum & Mason and Harrods.
Despite coming at a hefty price, setting buyers back £10.95 for six pies, they were awarded the highest score in the entire test (74 per cent) and were described as a "sure fire winner".
Harrods mince pies on the other hand were found to be totally underwhelming. Described as "overly sweet" and having a "sour aftertaste", at £9.50 per pack, these "half-filled" pies disappointed the panel.
We all work hard to earn our money – so it shouldn't feel like hard work to spend it well. At HuffPost Finds we'll help you find the best stuff that deserves your cash, from the ultimate lipstick to a durable iron to replace the one that broke (RIP). All our choices are completely independent but we may earn a small commission if you click a link and make a purchase.