It's not the sort of creature you'd expect to see in the ocean - but scientists have developed a "robotic jellyfish" with hydraulic tentacles that can protect marine life by monitoring it.
The free-swimming soft robotic jellyfish can be deployed to spy on delicate marine ecosystems like coral reefs without damaging them because it's made of a soft material, scientists who developed it at Florida Atlantic University said.
They can swim "untethered" in the ocean, squeeze through orifices more narrow than the nominal diameter of a jellyfish, and steer from side to side to gather information from the sea bed which could help protect the oceans.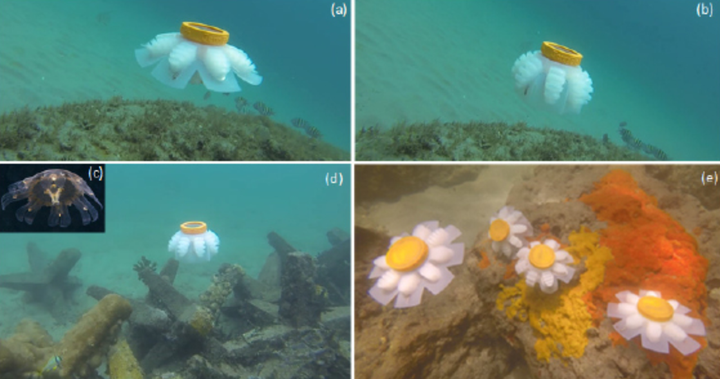 Because jellyfish are "highly efficient swimmers" they are an "excellent candidate for underwater robot design inspiration" the researchers - Jennifer Frame, Nick Lopez, Oscar Curet and Erik D Engeberg said in a paper.
"Soft robots have tremendous potential to explore and monitor delicate marine ecosystems like coral reefs without causing unintentional damage to fragile objects."
However, some scientists have expressed concern that because the equipment looks like marine life, other species might be endangered by mistaking them for food.
Prof John Turner, a marine biologist at Bangor University told the BBC:
"Of course one risk might be the drone being consumed by turtles, sea mammals and large fish," noting that the robot could have "a harmful effect on the unfortunate animal that swallowed it".
He suggested the designers might consider adding an acoustic warning device, or giving the jellyfish an "unpalatable taste".