Parents of more than 300,000 sixth form students will be supporting their teenagers as they collect their A level results on Thursday 18 August.
Record Number Of University Places
Many will be celebrating as a record number of A-level students have been accepted onto university degree courses in the UK, with 424,000 offers made so far - up 3% on last year, according to UCAS.
Young people from the UK are 4% more likely to have been placed in higher education than last year.
This is the highest number of A level results day university placements on record.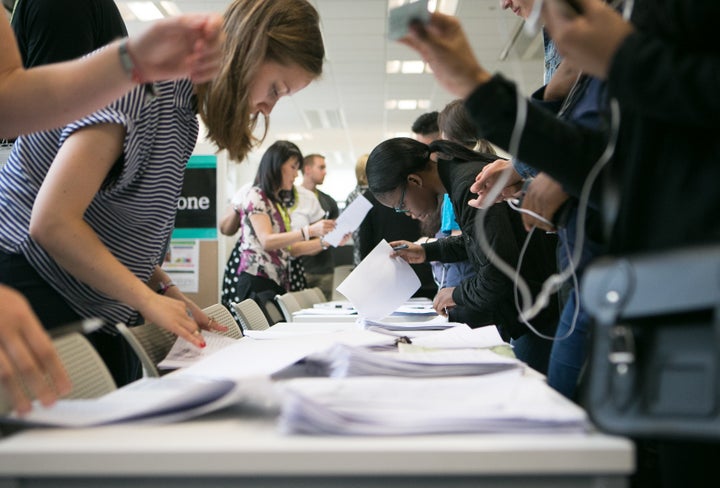 Across the UK, 18-year-olds from the least advantaged backgrounds are 7% more likely to be placed than last year, although the most advantaged young people are still 2.5 times more likely to be accepted to higher education.
The gender gap has also become slightly narrower than in 2015 with 3% more men placed in 2016 and 2% more women. However, the gap is still relatively large with over 27,400 more young women than men from the UK placed at university so far.
Mary Curnock Cook, UCAS Chief Executive, said: "This is a big day for hundreds of thousands of young people who have chosen to kick start their adult life with higher education – well done to all of them.
"I'm particularly pleased to see the first small signs of improvement for young men, although they are still too far behind."
How To Get A University Place Through Clearing
If your teen failed to get into their first or insurance choice university, try not to panic and reassure them that this doesn't mean they can't go to uni if they want to. More than 60,000 students got a place through Clearing last year, so they won't be going through this alone.
They should start researching courses this morning and can discuss their options with universities throughout the day. Courses with vacancies are listed on the UCAS website.
Students can make a formal Clearing choice from 3pm.
If your daughter or son needs further advice about their options they can call the Exam Results Helpline on 0808 100 8000 - and on Twitter.
A Level Results Statistics
The proportion of A*s being awarded at A-level in 2016 was 0.1 lower than in 2015 (8.1% compared to 8.2%), according to the Joint Council for Qualifications (JCQ).
At grades A* to A, there was also a 0.1% fall to 25.8%, and at A* to E the figure remained unchanged at 98.1%.
Top Grades Rise
The proportion of A*s awarded in French, German and Spanish all increased. In French, the figure rose 0.7% to 8.8%; in German it rose 1.3% to 9.6%; and in Spanish it was up 0.3% to 8.4%.
AS Level Results Statistics
The proportion of A grades increased by 1.1% to 21.3%. At A to E the increase is 0.7% to 90.1%.
Commenting on the results, director general of the JCQ, Michael Turner, said: "Students and teachers across the country should take time to celebrate their achievements. Whatever path students decide to take I would like to wish them all the very best of luck.
"The decoupling of AS and A level qualifications in England has brought about an expected reduction in the number of entries in AS subjects. The reason why some subjects have declined by a greater proportion than others cannot be explained fully by the data, but whether students have prior experience of a subject from having studied it at GCSE may be a factor.
It may also be influenced by the extent of emphasis that key stakeholders such as the higher education sector place on AS results. We will need data from future series to see what trends emerge."