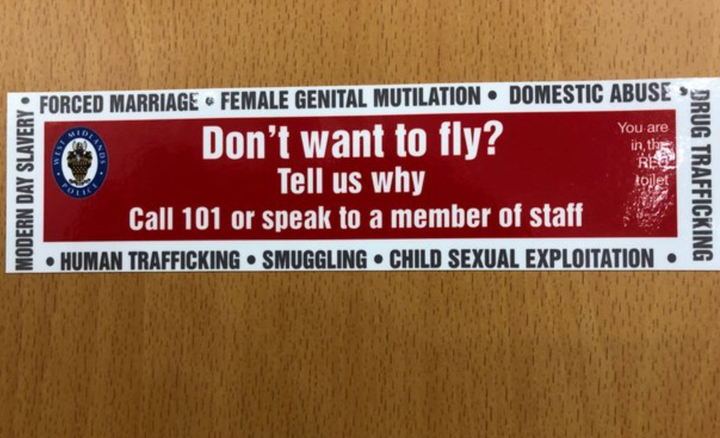 Passengers who fear they are about to be forcibly taken abroad can alert authorities from airport toilets by using a new colour-coded warning system installed in cubicle doors.
The scheme is aimed at helping potential victims of forced marriages and female genital mutilation (FGM), as well as those suffering domestic abuse or at risk of being trafficked.
Vulnerable passengers can walk into a toilet cubicle at Birmingham airport and call a number displayed on different coloured stickers pasted on the inside of male and female stalls.
The colour of the sticker instantly alerts authorities to the correct cubicle, where victims are told to sit and wait until help arrives.
It is not known how many times the number has been called or how many successful interventions have been made in the two years that the West Midlands Police initiative has been running.
A spokeswoman for the force said it had deliberately kept the scheme under wraps for fear of alerting traffickers, but that social media had made people aware of its existence.
She added: "This is the only scheme of its kind in the country and the stickers have been strategically placed mainly on male and female toilet cubicle doors that are airside, after people have passed security so that exit routes are blocked.
"It's been quite successful but we do not have the exact figures."
The discreetly-placed small rectangular stickers advise potential victims to call 101 and tell the operator what colour their notice is, so that they can direct help to the correct cubicle.
The scheme drew a mixed response from airport passengers yesterday, who were mainly supportive but questioned whether all victims would have access to a telephone.
Joanne Hayes, 43, from Wolverhampton, told HuffPost UK: "I think its a great idea but what if you don't have a phone to call the number? There should be a way you can call the authorities from inside the cubicle but I suppose this is better than nothing."
Alice Hughes, 20, from Stafford agreed. She said: "I suppose you could ask someone to call the number for you, but it's a smart way to discreetly let someone know you're in trouble."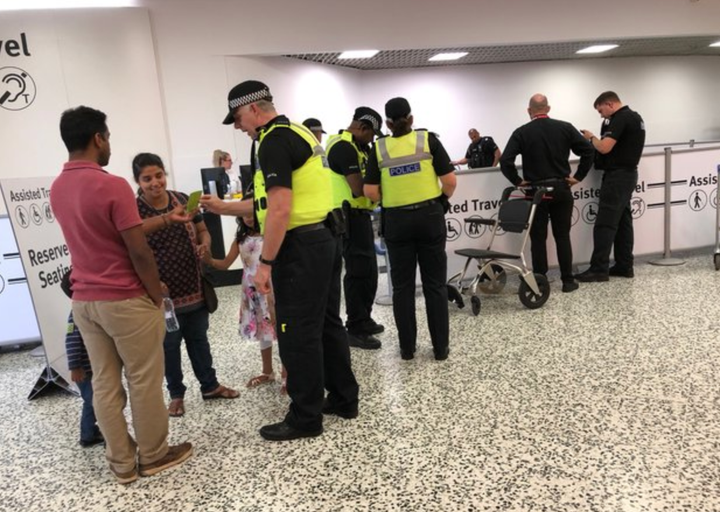 A Birmingham Airport spokeswoman said the scheme targeted those at risk of a forced marriage, human and drug trafficking, modern day slavery, child sex exploitation and FGM.
FGM involves removing part or all of a girl's outer sexual organs and is carried out in many African countries, as well as areas of the Middle East.
It has been illegal in the UK since 1985 and since October 2015 healthcare professionals, social care workers and teachers in England and Wales have been required to report cases of FGM in under-18s to the police.
Anyone who performs FGM can face up to 14 years in prison and a person found guilty of failing to protect a girl from FGM can face up to seven years behind bars.
The West Midlands region has some of the country's highest recorded figures of FGM.
A recent NHS Digital report revealed staff in the region attended 1,010 incidents last year where FGM was identified or a procedure for FGM was carried out.
A spokesperson from the Orchid Project, a charity working against female genital cutting, said: "Female genital cutting (FGC) impacts over 200 million women and girls globally, and at least 3.9 million girls are at risk of being cut each year around the world.
"The physical and psychological impacts of the practice are often devastating, and can last a lifetime.
"These impacts include pain, haemorrhage, HIV transmission due to unsterilised instruments, post-traumatic stress disorder, urine and menstrual fluid retention due to infibulation (Type III FGC), flashbacks, scarring and obstetric fistula."
The charity said there are an estimated 137,000 girls in the UK at risk of FGC, but said the extent of the number of girls at risk of undergoing the practice in this country or being taken overseas to be cut is not known.
News of the airport scheme comes after students at an academy in Leeds were all given their own metal spoon as part of a programme designed to raise awareness about "honour" based abuse and forced marriage.
According to Harinder Kaur, the social, culture and ethos leader at the Co-Operative Academy, a spoon can easily be hidden in underwear to trigger metal detectors at airports.
A Home Office spokesperson said: "The UK is a world leader in tackling the horrendous crime of forced marriage and FGM and work to tackle it is an integral part of our cross government violence against women and girls strategy.
"We continually work with charities and police to highlight this important issue to the public and the work being done to tackle it, via the media and community engagement.
"The Border Force, the police and other agencies also regularly work together to raise awareness of harmful practices through joint operations aimed at individuals travelling to or from the UK, to countries where these practices are prevalent."
The Home Office said it was aware the school holidays carried an increased risk of incidents and advised those seeking help to call its Forced Marriage Unit, which last year supported or advised on 1,196 possible forced marriage cases.
The Forced Marriage Unit's helpline number is 0207 008 0151.
Adults worried about a child can call the NSPCC helpline on 0808 800 5000 and children can call Childline on 0800 1111 to speak anonymously to a trained counsellor.
Related