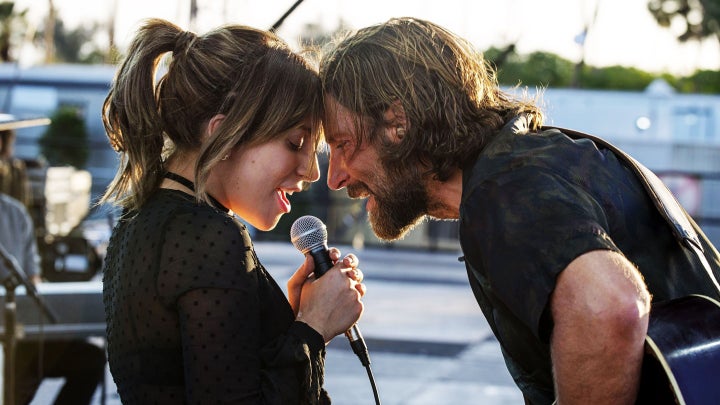 K E Y P O I N T S

Lady Gaga and Bradley Cooper take the lead in the latest remake of 'A Star Is Born'
The first version was released in 1937, starring Janet Gaynor and Fredric March
Subsequent remakes starred Judy Garland and James Mason (1954) and Barbra Streisand and Kris Kristofferson (1976)
This version sees Gaga starring as wannabe musician Ally, who is struggling to get her break until she is discovered by country rock star Jackson Maine, played by Bradley
The film is Bradley's directorial debut, and also serves as Gaga's first big screen role, after previously starring in 'American Horror Story'
Oscar buzz has surrounded the film in the lead up to release
S N A P V E R D I C T

'A Star Is Born' is already one of the most hyped films of the year, garnering five-star reviews, a hotly-tipped soundtrack and a huge global press run - but does the it live up to the huge anticipation? In short, yes it does, and then some.

Early trailers had painted this latest remake of the 1937 film as just another rehashed love story, but the tale of aspiring singer Ally's assent to global superstardom after being discovered by ailing rocker Jackson cuts deeper than most other girl-meets-boy yarns.

'A Star Is Born' is as tragic as it is heartwarming and as gritty as it is thrilling, owing in large part to how Bradley's direction continuously juxtaposes both sides of the fame game.

His own performance as Jack is also a revelation. It would have been easy to rely on the same tired clichés when depicting a drug-addicted rock star, but through his portrayal, the topics of addiction and mental health are approached in a humanising and brutal way, and are worthy of applause. In the final half hour, Bradley will break your heart into a million pieces, proving that this film is as much about him as it is Gaga, who has attracted much of the attention in the lead up to release.

While her commanding presence is crucial to the latter part of the film, it actually takes her a while to settle in to the role of Ally. When the unsigned musician is struggling to catch her break, Gaga portrays her in a way that lets too much of her own star-soaked swagger seep through, often making it hard to see her as anything other than the pop icon we already know and love.

But as Ally's fame grows alongside her relationship with Jack, so does Gaga's believability and she begins to hit her stride as she has some meatier topics to sink her teeth into. By the end, Gaga's able to deliver the film's biggest emotional sucker punch (during our screening, this heartbreaking scene reduced a room packed full of cynical journalists to a bunch of blubbering messes) - something that is all down to the power of her performance, voice and own song-writing skills.

On the topic of music, the soundtrack is the third star of this film, electrifying the festival scenes and causing Bradley and Gaga's chemistry to almost bubble over in places. But it is Gaga's rendition of 'I'll Never Love Again' that serves up a real Whitney/'Bodyguard' moment, and as such, is undoubtedly a serious contender for a plethora of Best Original Song plaudits.

For Gaga's army of Little Monsters, it's hugely exciting to think where her career goes from here. While critics had claimed her own star power was on the wane following the release of two tepidly-received albums, she's managed to reinvent herself once again - this time as a potential Oscar winner.
T A K E H O M E M E S S A G E

You're going to be hearing a lot more about 'A Star Is Born', Lady Gaga and Bradley Cooper as we gear up to next year's awards season.
However, we'd like to shout out the unsung heroes of the film - 'Drag Race' alumni Willam and Shangela, whose scene-stealing appearances are worthy of some Oscars Best Supporting Actress nominations. And we're only half-joking when we say that.
W A T C H T H E T R A I L E R

'A Star Is Born' is released in UK cinemas on 5 October with advanced screenings from 3 October.