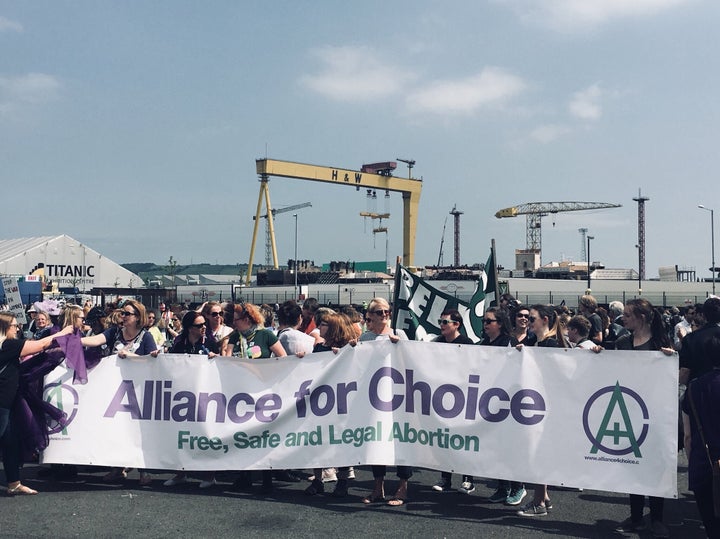 We did it! Although, there was a moment this Tuesday when a few of us activists chatting to each other online said, "wait, this might actually happen today?"
You may think our refusal to believe it is odd given we were in the midst of furious emailing, phoning and tweeting to MPs and supporters, but our hesitance has been moulded by decades of let downs; from governments, from local politicians, from the silence of the medical establishment, from the long finger of the Irish provision offered to us, from the vile comments of the anti-choice lobby left unchallenged by mainstream media. By having to travel or buy pills in secret.
This week, however, the years of building relationships and busting abortion stigma began to bear fruit. The relentless energy and eagle legislative eye of Labour MP Stella Creasy has seen the number of debates on abortion in Northern Ireland soar in the past few years. The London Irish Abortion Rights Campaign, when they formed, included members wanting to push change not just in Ireland but in the North as well. They all approached their local MPs and when Sarah Fox went to Stella, she grasped the issue with both hands and has remained dedicated ever since. Diana Johnson too, came on board and added Northern Ireland to her landmark Ten-Minute Rule Bill on decriminalisation in the UK.
The work we do would be meaningless if we didn't honour and thank the thousands of people who have had to travel, the thousands who have had to take pills from online, the hundreds of people who have told of their stories, including Ashleigh, Sarah, Denise, Kellie, Naomi, Rosa and many, many more who put their private lives in the public domain in the hopes of seeing some respite from the onslaught of mistreatment. This is yours.
Our activists are people who have had abortions or helped people access abortions, we know what it is like to have to book a last minute flight and hide morning sickness, or answer the phone to a woman in distress when her ex has destroyed all of her ID, we gladly do it but we hope we don't have to for much longer.
We know we have to steel ourselves to counter the misinformation of the DUP and the anti-choice lobby, there are already abortions that take place in Northern Ireland, just not very many, but it means we already have medical guidelines and regulations for medical staff, and when the legislation is passed there are regulations already in place across the NHS in England and Wales that can easily be adapted for the Health Trusts in Northern Ireland.
For the first time we have grassroots support from across the medical spectrum in NI, we have seen the recent formation of Doctors for Choice Northern Ireland, something unthinkable just a few years ago, Medical Students for Choice, as well have been busy fostering confident young medical professionals willing to stand up for our reproductive healthcare, we have support for decriminalisation from RCOG, RCM, RCGP and BMA in Northern Ireland. This means there is no so-called vacuum and no potential of abortion to term as it will remain legislated for under the Infant Life Preservation Act 1929 which limits it to 24weeks unless to save the life of the pregnant person. It DOES mean we will no longer be arrested for accessing pills when we are too poor or ill or otherwise unable to travel to England. That's worth everything to us.
As long-time campaigners on abortion rights, we almost couldn't let ourselves believe that the prospect of legislative change was even on the table, despite being in the eye of the storm. And yet, along with our allies, this week we finally got parliament to see sense.
Emma Campbell is an activist with abortion right campaign Alliance for Choice