The singer isn't happy with reports Channel 5 could drop the show, after negotiations between them and production company Fremantle Media broke down.
The always-outspoken singer and apparent 'Neighbours' devotee wasted no time in airing her thoughts on the matter as she played to a New Zealand crowd, as part of her ongoing world tour.
Speaking about her trip to Ramsay Street while in Melbourne earlier this week, she told the audience: "When we got down there, I was in my element.
"When I was younger it was on twice a day on the same day, the same episode... so if I was sick off school I got to watch it twice a day, that's how much of a fan I was.
"After I posted a picture of me on there, apparently it might be coming off UK television. How bad is that? Isn't that bad?!" she said.
When she asked the crowd if they were fans too, they began to boo.
After singing the theme tune, she proclaimed: "Oh I fucking love it."
Speaking about its rival Aussie soap, Adele continued: "I wasn't ever really a 'Home And Away' fan. 'Neighbours' was always my thing."
Realising the crowd were fans, she said: "Oh shit, you all like 'Home And Away'? What?! Who are you?! I can't believe you all like 'Home And Away'."
One of the soap's top bosses has said he is optimistic Channel 5 will keep the show, telling Ten News: "Every Australian drama needs substantial overseas interest to be financially viable, either through pre-sale or distribution, but 'Neighbours' continues to outperform 'Home And Away' twice a day in the UK so we have good reasons to be optimistic [contract negotiations] will be resolved."
He went on: "Reports of Neighbours' demise aren't new. It still has a substantial and dedicated viewership. Its national audience is up 9% this year."
Meanwhile, the cast of 'Neighbours' have been abuzz over news of Adele's visit to set, and recorded a special video to mark the occasion, which you can watch below...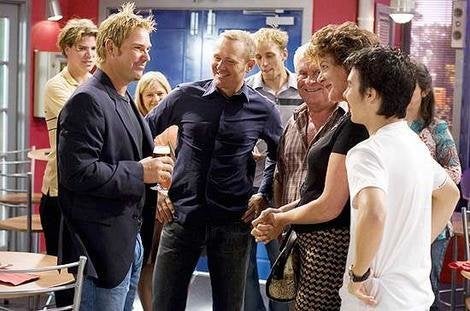 Stars You'd Forgotten Were In 'Neighbours'