An adoptive mother who was repeatedly attacked by her sons has told how she learned to de-escalate their anger so violent incidents are now 'very rare'.
The woman, who has spoken out under the pseudonym Lydia, to protect her adopted children's identities, said her sons used to "hit, bite and kick" her and her husband, and her 10-year-old once came at her with a knife.
"I'm quite embarrassed and ashamed about the idea that I get beat-up by a 10-year-old boy," said the mum from Cambridgeshire.
"It seems quite a pathetic situation to be in."
Her husband added: "I hate the fact my children, who are quite young, hurt my wife. "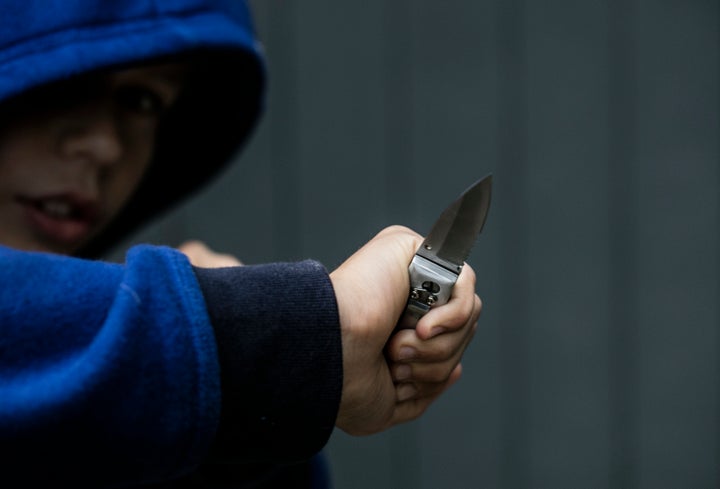 The family's situation is not unusual. They have shared their story to raise awareness of child-on-parent violence and the support available to families as part of National Adoption Week.
A report by the University of Bristol, called Beyond the Adoption Order, which looked at 390 adoptive parents, caring for 689 children, found that anger and aggression were major challenges for adoptive families.
The researchers found that child-on-parent violence was shown by 57% of the young people, and knives were used by 19 children to threaten, intimidate, or control others.
Almost half of all of the families who received peer support services from Adoption UK in 2015/16, did so because of significant physical and/or verbal aggression from child to parent.
Lydia said her situation has "transformed" over the last 18 months since she started attending Adoption UK's Non Violent Resistance (NVR) course in Birmingham.
"Far from daily occurrences, aggressive incidents are now rare in our family," she said.
"When we think about our boys' future now, it is with hope. They are growing up into strong and caring young men, and we are very grateful for the role that Adoption UK has played in helping them to get here."
In 2015 Adoption UK was awarded a government grant to deliver peer-to-peer support to adoptive families who were experiencing child-on-parent violence. At the end of its first year, the project, which was piloted over four regions in England, has helped 100 families.
The Welsh Government has also funded Adoption UK to deliver NVR training for adoptive parents and social workers.
Adoption UK's chief executive Hugh Thornbery said: "Parents and children both need skilled help and support so that we can help to reduce the adoption breakdown rate.
"For parents, it is just as important to know what not to do - i.e. actions that will escalate violent behaviours - as well as how best to manage both at the point of crisis and beyond.
"Children who have suffered the trauma of abuse or neglect respond differently to other children, they have experienced the world being an unsafe and dangerous place so what might be minor issues to others - such as mentioning homework or setting reasonable expectations on tidying up at home - will trigger violent responses.
"The child's violent behaviour reveals extreme distress and a need to feel safe and protected. These children need a particular style of parenting to overcome early childhood trauma.
"They need clear boundaries but they may reject any attempts of parental affection or management of their behaviour."
If you are experiencing difficulties related to adoption you can contact Adoption UK online or by calling their helpline on: 0844 848 7900.