Increasing numbers of women are being sent unsolicited penis photos from anonymous senders via Apple's AirDrop function.
She declined the request, but not before she took a screenshot of the preview image.
Regrettably her story isn't unique. The first reported case happened in London in 2015 and has since become increasingly popular, especially on New York and London public transport systems.
In light of the news, we spoke to experts about how to report the crime.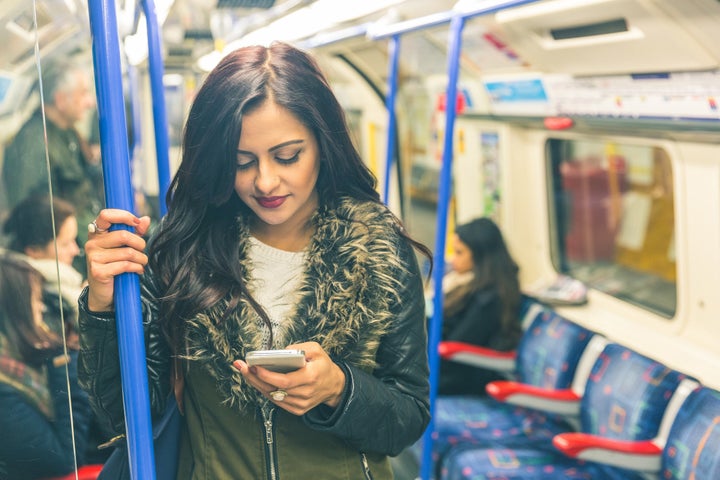 What is AirDrop?
AirDrop, available on Apple products, allows a person to instantly share photos, videos, locations, and more with other Apple devices nearby.
To share content, both devices should be running iOS 7 or later and have both Wifi and Bluetooth enabled.
You also need to be within 30 feet of the sender, according to Apple.
What kind of crime is AirDropping penis pictures?
Sending unsolicited images, also known as 'cyber-flashing', is a sexual offence. To put it bluntly: it is a crime and those who do it and are caught can be arrested and end up on the sex offenders register.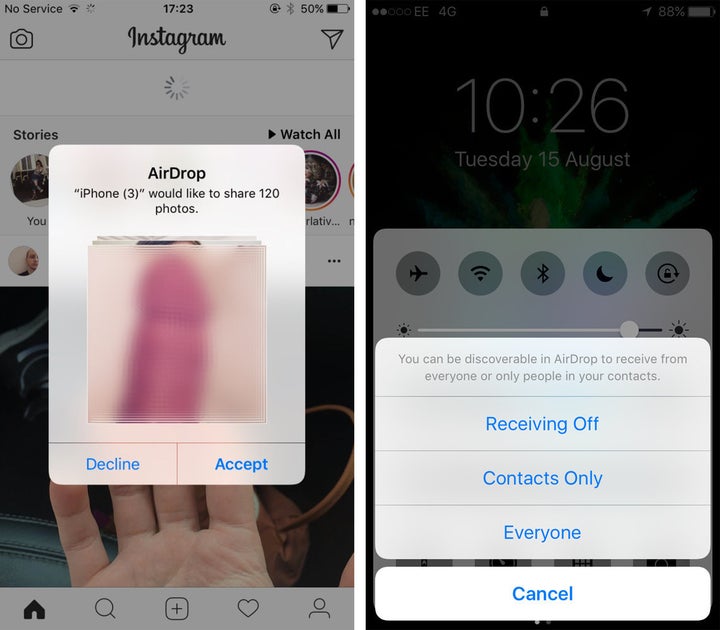 How do you report it?
Siwan Hayward, Transport for London (TfL)'s head of transport policing, urges people who receive unsolicited images to report them to the British Transport Police.
"All reports of unwanted sexual behaviour are taken extremely seriously and fully investigated so offenders can be caught and brought to justice," Hayward told HuffPost UK.
TfL has been working with the British Transport Police and Met Police to crack down on the issue. In April 2015, it launched 'Report it to stop it', a campaign encouraging people to report incidents of unwanted sexual behaviour experienced on the transport network.
Unwanted sexual behaviour is defined as anything that makes you feel uncomfortable, such as rubbing, groping, masturbation, leering, sexual comments, indecent acts, or someone taking photos or video footage of you without your consent.
Kate Forsyth, detective chief inspector for the British Transport Police (BTP), told HuffPost UK: "The public rightly expect to travel on public transport without experiencing unwanted sexual behaviour of any kind – be it verbal, physical or via technology. Receiving an indecent image from someone you don't know can be very distressing and something we take very seriously if reported to us.
"If it happens to you, our advice would be to remain calm, retain the image and report the matter to police as soon as possible."
If you are unable to call the police, you can text 61016 discreetly. It is important to offer as much detail as possible when reporting this kind of act to police - no incident or detail is too small or trivial.
"We will take you seriously and investigate what happened," added Forsyth.
How are perpetrators caught?
BTP has a dedicated Cyber Crime Unit which can analyse mobile phones and track data transfers back to suspects' devices.
In order to track this data, however, you will need to accept the request so your mobile receives the unsolicited images.
When asked whether this could transfer any viruses to a person's phone, a cyber security expert from BTP told HuffPost UK: "With an iPhone it's not very probable that malware would be passed over - we can't say impossible but highly improbable.
"In addition, with it being an image you're less likely to click on any executable link as you tend to view images rather than tap on something to open up, say, a URL link."
BTP can link information from the data transfer to physical evidence, such as CCTV footage or witness statements - all of which can be used to bring offenders to justice in court.
Forsyth concluded: "My message to offenders is clear, while you might think you can hide behind modern technology in order to carry out abuse, you leave a digital footprint and stand a very good chance of being caught, arrested and ending up on the sex offenders register."
How do you turn AirDrop off?
AirDrop is turned off by default. That means if this is the first you're hearing of it and you own an Apple device there's absolutely no way that anyone can try and send you an unwanted photo or video using it.
In addition, even if you have AirDrop on there's no way that a person can send a file to your device without you first accepting or declining it.
AirDrop has three settings: Off, Contacts Only and Everyone. We would recommend using the 'Contacts Only' setting, which makes your device visible only to people who are in your contacts list and have Apple devices.