As tributes were paid to Gérard – the former manager of Liverpool, Aston Villa and Paris Saint-Germain – Lord Sugar tweeted: "Sad news on Gérard Houlier. Nice fellow."
However, he came under fire as he added: "I can imagine that @piersmorgan will devote half @gmb show telling every one how he knew him so well and go back ages."
Suffice to say, Lord Sugar was not impressed with Dan's suggestion.
"May I suggest you get a life, chill out see the truth and irony in my comment and mind your own bloody business," he hit back.
Lord Sugar had previously responded to the news of the football manager's death with the comment: "Oh dear how terrible #RIPGerard"
Dan then responded: "You used a post about the death of a greatly respected and liked man to make a poorly-timed pantomime jab. That seems to be the truth. I'm struggling to see the irony.
"Maybe I should have kept my nose out. I think this whole thing is disrespectful so... I'm out."
"Sincerely pleased to hear you are negative," Lord Sugar wrote at the time. "However, why are you a govt essential worker? Have I missed something? Like the Govn 'Masochist bill' [sic]"
Lord Sugar continued: "According to @PiersMorgan he is a Govn- designated essential worker. Does he mean the Govn see him essential to slag them off every day. There are other presenters to step in @gmb he is certainly not essential.
"[There are] Nurses, Doctors, Police, Army, train and truck drivers. He deprived a real essential workers from a test."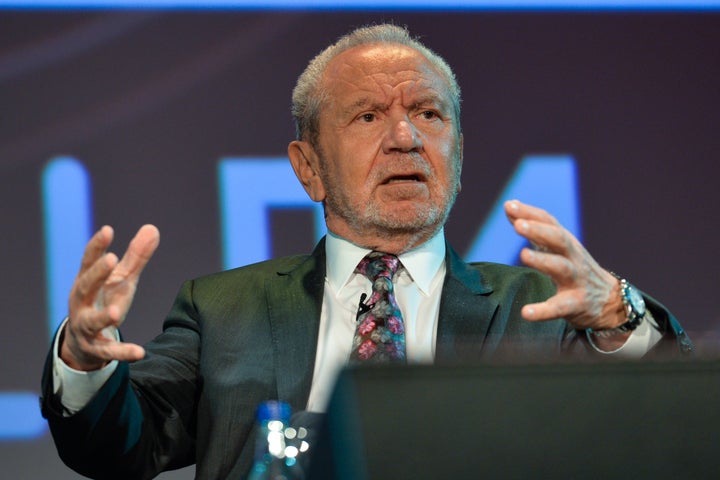 On Monday, he took another swipe at Piers, following the publication of photos of him not wearing a face covering while in a taxi.
"Can you imagine the noise he would have made on @gmb if it was Boris or some other MP in the same scenario," Lord Sugar wrote. "BRUSHED UNDER THE CARPET DUAL STANDARDS."
Responding to the photos over the weekend, Piers said: "I put my mask on seconds after this pic was taken, as the cab moved off. I should have done it before I got in but ironically, I was chatting to the paparazzi & I forgot."
In a series of follow-up tweets, Piers attempted to clarify his actions, admitting he was "guilty as charged".
"I haven't made an excuse," he added. "I just explained what happened. I'm guilty as charged. For a few seconds, I was a Covidiot & I deserve the full wrath of Twitter hell to now descend on me."