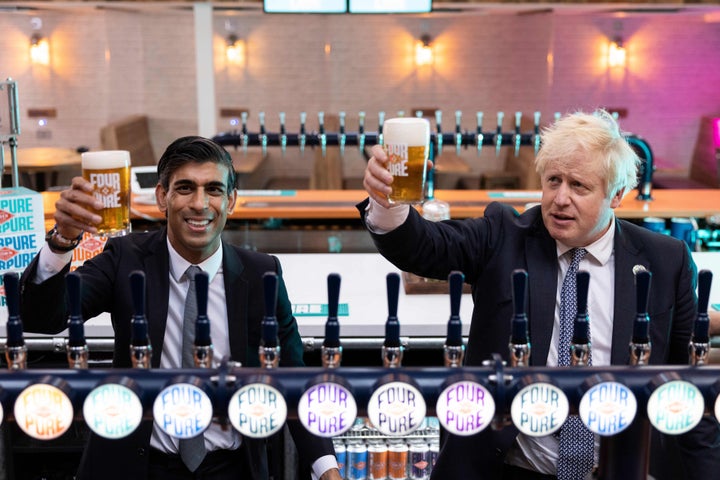 A £3bn tax giveaway is part of a huge overhaul of the UK's alcohol duty system introduced by Rishi Sunak under the principle of "the stronger the drink, the higher the rate".
The chancellor said in his budget this will include cutting the price of a pint in a pub by 3p as part of a new lower duty rate.
The Chancellor told MPs in his Budget speech that the planned increase in duty on spirits such as Scotch whisky, wine, cider and beer will be cancelled from midnight.
The new taxes based on the strength of the drink will see duties increase on some higher alcohol products, such as some red wine and white ciders.
However, consumers of some lower-strength products, such as fruit ciders, liqueurs, beers and wines, will pay less.
Sunak said this would result in the biggest beer tax cut in 50 years and the biggest cut on cider duty since 1923.
What is happening?
Sunak criticised the current system of alcohol taxes as outdated and too complicated, as he revealed a raft of changes.
The Treasury said it will slash the number of main duty rates from 15 to six as part of the sweeping changes.
As well as the "the stronger the drink, the higher the rate" policy, Sunak also specifically targeted the "irrational" duty level of 28% of sparkling wine, saying that the tax will be reduced on champagne, prosecco and other sparkling wines which are typically lower strength.
Pubs and bars will also benefit from a new "draught relief" which will cut duty on beer and cider sold in pubs by the most since 1923, the Treasury said.
A new Small Producer Relief was also announced, extending a similar tax subsidy to Small Brewers Relief across to those making cider and other alcoholic drinks of less than 8.5 ABV across the UK.
In his speech, Sunak claimed Brexit allowed him to make the sweeping changes.
"We are taking advantage of leaving the EU to announce the most radical simplification of alcohol duties for over 140 years," he said.
"We're taking five steps today to create a system that is simpler, fairer, and healthier."
What did critics say?
The cuts will spare voters another hit to their income at a time when inflation is the highest in almost a decade and some people have suffered lower wages as businesses were forced to close last year during the pandemic.
Labour MPs argued the cuts would mean little compared to loss of income caused by not continuing the uplift in the Universal Credit benefit.
Ian Mulheirn, executive director for UK policy at the Tony Blair Institute, said: "While the chancellor trumpeted newfound 'Brexit freedoms' to reform alcohol duties, what he didn't mention was that Brexit has cut annual tax revenues by around £30bn. This means that without the Brexit shock most of the past year's £40bn tax raid would have been unnecessary."
What does it actually mean for drinkers?
The Treasury produced a visual breakdown of what the reforms mean for beer, cider, wines, spirits and other beverages.
An £8.50 bottle of 11% ABV (alcohol by volume) Canti Prosecco would see its tax reduce by 87p, while a bottle of Chapel Down's 12% sparkling wine would see a 64p tax reduction for retail.
Rose wine drinkers are also due to benefit from the duty changes, which would make the tax on a bottle of Echo Falls Zinfandel roughly 23p lower.
Lower-strength spirits such as Baileys and Malibu will also benefit from the move, with their tax rates due to reduce by 41p and 50p per bottle respectively.
Pre-mixed cans of spirits and mixers sold in shops will also largely see lower rates of tax.
Brewers are among the big winners expected to benefit from changes, with many expecting lower duty in both retail stores and pubs as a result of the new "draught relief".
A pint of Guinness, Stella Artois or San Miguel in a pub will see its tax rate drop by 3p.
UK real-ale brewers making weaker drinks could substantially benefit, with beer such as Adnam's 3.4% Lighthouse due to see a 25p deduction in pubs.
Pubs as a whole were widely seen as a winner, with shares in JD Wetherspoon, Marston's and Mitchells & Butlers all moving more than 5% higher as investors cheered the Budget.
Some ciders, such as Magners and Strongbow, will also see a lower tax rate in pubs due to the draught relief.
These will see a drop of roughly 2p in tax at the pumps and 0.5p in shops.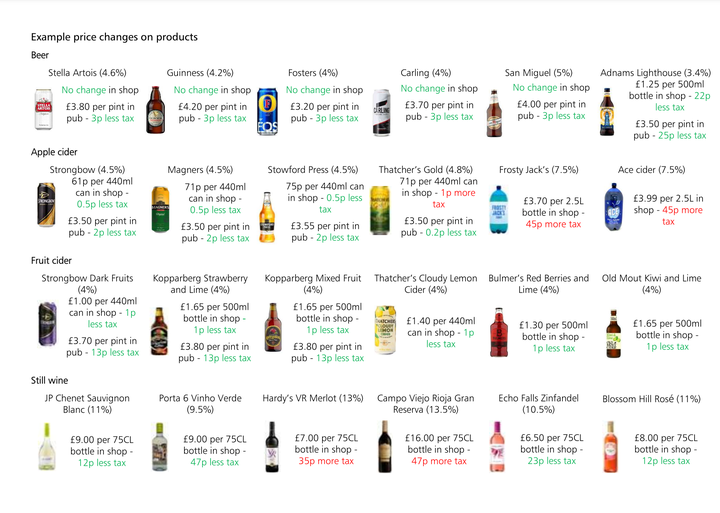 Red wine producers and drinkers are a significant loser as the changes have a detrimental effect on wines with strong alcohol levels.
The duty change will result in a bottle of £7 Hardy's VR merlot facing an increase of around 5%, with a tax hike of 35p.
A 75cl bottle of Campo Viejo Rioja Gran Reserva will see a tax rise of roughly 47p, the Treasury said.
The changes will also have a heavy impact on the price of popular fortified wines.
Port and madeira will be particularly hard hit, with typical bottles of 20% strength port likely to see increases of over £1 in their tax.
Sherry could also become more expensive, with documents showing that Croft sherry would see a 51p rise in duty.
Scottish favourite Buckfast, which is roughly 8.5%, will face an 81p tax increase on an £8.50 bottle.
The retail prices of some spirits such as vodka and whisky will be broadly unchanged.
However, one of the biggest losers of the changes will be the drinkers and manufacturers of strong "white cider" drinks.
Budget documents showed that a 2.5-litre bottle of Frosty Jack's, at around 7.5% ABV, will increase by 45p from £3.70, representing a roughly 12% increase.
Rival brand Ace will also be faced with an increase of roughly 45p per bottle, officials said, as stronger, cheaper drinks were hit hardest.
What did the industry say?
Pubs in Britain have faced some of the strictest restrictions of any industry during the pandemic, including months of mandatory closures, curfews, and a requirement that drinkers only be served if they have ordered a substantial meal.
Miles Beale, chief executive of the Wine & Spirit Trade Association, said: "The decision to freeze wine and spirit duty comes as a huge relief to British businesses, the hospitality sector – including its supply chain – and consumers, giving everyone a much-needed break to help them recover from the pandemic.
"Chancellor Rishi Sunak should be commended for listening to our calls for support and understanding that punishing tax hikes are not the best way to reinvigorate the sector.
"By offering continued respite to the UK wine and spirit sector his actions will help save jobs and – in time – replenish revenues to the Treasury through growth in our potential-filled sector."
Emma McClarkin, chief executive of the British Beer & Pub Association, said: "Pubs, brewers and beer drinkers will be toasting the Chancellor today for a range of business-boosting measures.
"Pub goers will also be toasting the Chancellor today for announcing a 5% lower duty rate on draught beer worth £62 million.
"This is great news for our local pubs and recognises the crucial role they play in our economy and society.
"However, the overall beer duty rate in the UK remains amongst the highest in Europe.
"It is vital for Britain's brewers, a world class homegrown manufacturing success story, that the overall beer duty burden is reduced – not just duty on draught beer in pubs."