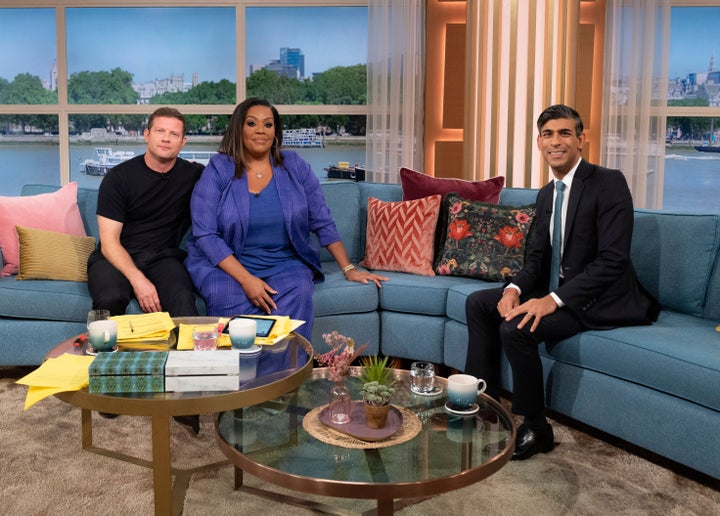 The Prime Minister appeared on ITV's This Morning after an incendiary weekend at the Tory Party Conference – and queer icon Alison Hammond is being criticised for "praising" him.
In case you missed it, Prime Minister Rishi Sunak had a very busy time at 2023's Tory Party Conference in Manchester.
"We shouldn't get bullied into believing that people can be any sex they want to be. They can't. A man is a man and a woman is a woman, that's just common sense," he said.
The comments followed the Conservative Party's Health Secretary, Steve Barclay, announcement that trans women were to be banned from all-female hospital wards.
Despite being met with outrage from members of the public and celebrities like Sam Smith, India Willoughby and Munroe Bergdorf alike, Sunak has doubled down on the Tory stance in the current culture war against trans individuals which is why many viewers were surprised when he was invited to sit opposite Dermot O'Leary and (queer icon) Alison Hammond on the ITV This Morning couch today (6 October).
Although Dermot attempted to press him on Suella's stance on immigration, asking whether he was "mortified" over recent comments, the internet has not taken all too kindly at Alison and co's approach to the rest of the interview.
Posted to Twitter by one expletive-fond user under the caption: "love waking up and seeing rishi sunak being praised on this morning.. after that sh*t show.. absolutely f*cking insane man," the clip of This Morning has prompted widespread backlash.
In it, Alison praises both the PM and an 'amazing' speech by his wife at the conference - and it's left many fans with a bad taste in their mouth.
"Actually sickening watching Alison Hammond be up his a*se after he pledged to make life harder for LGB and particularly T people - the very community who made Hammond into the camp icon she profits off being today," one user wrote.
Another viewer implied that Hammond's lack of interrogation has meant she is no longer an ally to the trans people, writing: "You can't be a gay icon when you have trans blood on your hands. We're a community and if you're not an ally to all you're an ally to none."
"I really like Alison Hammond like everyone else but there should be some briefing that you don't say that the Prime Minister's wife is 'wonderful and amazing' for giving a vapid tactical speech at a political conference," another added.
One shared that the interview was "one of the most cringe making displays of obsequiousness," that they had ever seen.
It's not just fans that haven't taken kindly to the interview; queens from Drag Race UK's fourth season, on which Hammond appeared as a guest judge, have expressed their disappointment.
Sminty Drop, who was sent home on the episode that Hammond guest judged, posted:
"Supporting Rishi Sunak AND sending me home on Drag Race!? Oh Alison Hammond it's over for you."
Just May - the season's first eliminated queen – wrote: "The LGBTQ+ people who have loved and supported your career have questions about how easy you were on the current PM.
"He has vocalised awful views on our trans siblings this week, and you didn't question him on it…"
The new Bake Off host is yet to publicly address the backlash to her interview with the Prime Minister.