All households in England will now follow consistent recycling schemes in an bid by the government to drive up recycling rates and ease of collection.
You might previously have noticed that friends and family might have completely different coloured bins (some collect paper, some won't do plastic) even if they live in the same town or city as you, but all that is about to change.
A new nationwide scheme will ask everyone to recycle in the same way.
The changes come as part of a wider government overhaul to waste management procedures, which will also see businesses footing the bill for the cost of disposing their waste packaging, and the electronic tracking of waste to stop fly-tipping and illegal movement abroad.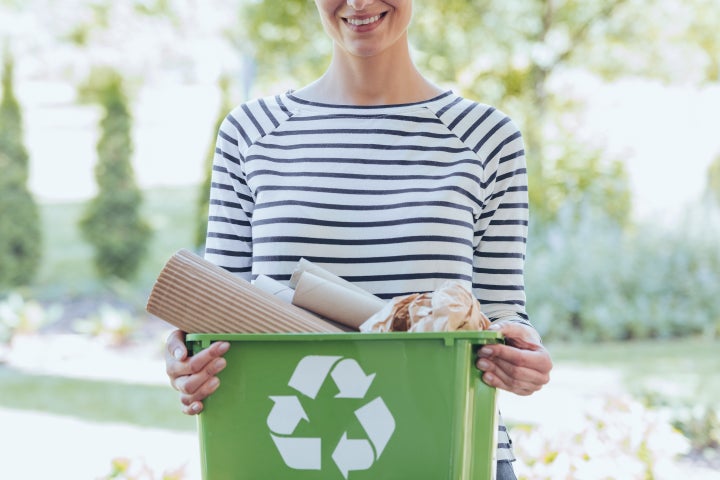 The move, announced by environment secretary Michael Gove at the Veolia recycling plant in Southwark, south London, is the first update to policy in more than a decade and will put a legal onus on those responsible for producing damaging waste.
Producers will also be expected to take more responsibility for items that can be harder or costly to recycle including cars, electrical goods and batteries. And they will be subject to additional taxes if packaging does not meet a minimum threshold of at least 30% recycled content from April 2022.
As well as changing the colours of your bins, the plans will also see labelling on products that clearly indicate to consumers whether packaging can be recycled – hoping to encourage participation in nationwide recycling schemes.
The strategy will mandate weekly collections of food waste, which is often smelly and unpleasant, for every household in England – something only certain local authorities have been doing up to this point.
Subject to consultation, the government hopes to introduce a deposit return scheme to increase the recycling of single-use drinks containers including bottles, cans and disposable cups filled at the point of sale.
Michael Gove said: "We will cut our reliance on single-use plastics, end confusion over household recycling, tackle the problem of packaging by making polluters pay, and end the economic, environmental and moral scandal that is food waste.
"Our strategy sets out how we will go further and faster to reduce, reuse and recycle. Together we can move away from being a 'throw-away' society, to one that looks at waste as a valuable resource."
The plans will also explore mandatory guarantees and extended warranties on products to encourage manufacturers to design products that last longer and drive up the levels of repair and re-use, as well as annual reporting of food surplus and waste by food businesses.
Speaking at Veolia Southwark's Integrated Waste Management Facility in London, Richard Kirkman, Veolia's chief technology and innovation officer, said: "It's the direction we have been hoping and waiting for, and with the public and businesses playing their part the UK can build a sustainable future."