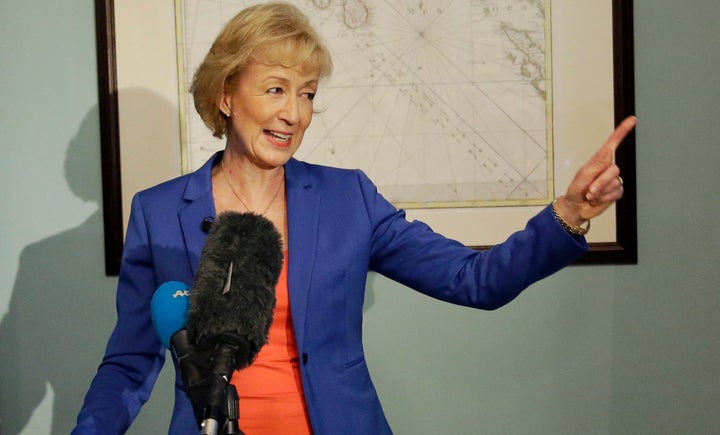 A group of Conservative MPs have reacted with uproar to one of the two women vying to become prime minister suggesting she had an advantage over her rival because she was a mother.
Incensed MPs blasted Andrea Leadsom for the comments that came in an interview that appeared in Saturday's Times newspaper.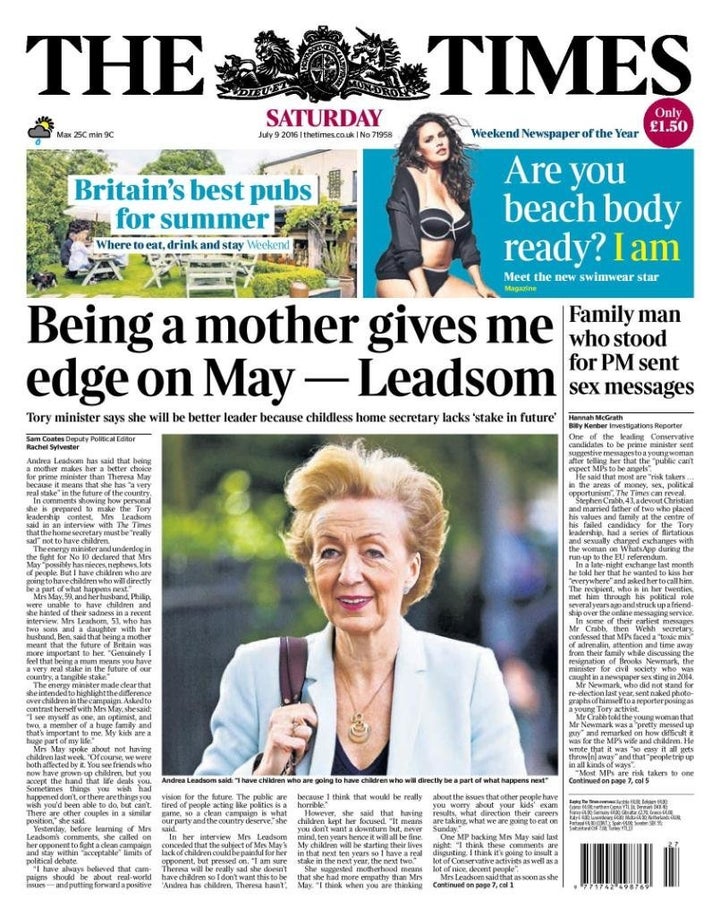 But several senior figures from her own party clearly took issue with the outburst, and derided Leadsom for her comments.
Here are their reactions:
1. Alan Duncan
Gay MP Duncan admitted he had no children of his own but ten nieces and nephews, a reference to Leadsom saying May "possibly has nieces, nephews, lots of people. But I have children."
Duncan branded her comments "vile".
2. Anna Soubry
Defence Minister Soubry said the remarks showed Leadsom was not "PM material" and called on her to stand down from the leadership contest.
3. Sarah Wollaston
Dr. Wollaston claimed a series of incidents had proved Leadsom "lacks judgement" and that she was an unsuitable candidate to become both leader of the Conservative Party and the country.
"She should withdraw now," the MP said.
4. David Gauke
Financial Secretary to the Treasury Gauke said when the news broke of Leadsom's remarks on Friday night that he hoped her words were "verbal clumsiness not calculation".
5. Sir Eric Pickles
A former senior cabinet minister, Sir Eric Pickles also weighed into the debate on Saturday.
He claimed Leadsom, an energy minister for two years and an MP for six, was an "amateur who has already failed".
6. Theresa May
Leadsom's rival in the leadership race also subtly aired her views on the matter on Saturday.
Home Secretary Theresa May posted a picture of her five-point "clean campaign pledge", which includes a call to keep campaigning "within the acceptable limits of political debate".
She posted a picture of the pledge card with her signature on, writing that she would "invite Andrea Leadsom to join me in signing it".
7. Ruth Davidson
Not herself an MP but the leader of the Conservatives in Scotland and tipped as a future fronter of the national party, Davidson used May's clean campaign pledge to highlight the difference between her and her opponent.
"Spot the difference," the MSP wrote, posting a picture of a news article announcing May's plea for a 'clean fight' alongside a screengrab of the Times' Saturday front page, headlined: "Being a mother gives me edge on May - Leadsom."
8. Michael Fabricant
Fabricant said Leadsom's comments were "vile", albeit "unintentional". "Her inexperience shows she isn't ready for PM," he added.
9. Guy Opperman
Posting a full transcript of the section of the interview Leadsom took contention with the reporting of, Opperman said the comments were "depressing and divisive".
He called them "utterly wrong".
Leadsom spoke out after the row about her comments broke out. The South Northamptonshire MP said she was "disgusted" at the allegations by the Times of what she said in an interview with one of the paper's journalists.
Despite full quotes and an audio clip of her speaking out being published, Leadsom said the reporting of her comments was "beneath contempt".
In a statement, she said: "I am beyond anger and disgust. The reporting of what I said is beneath contempt.
"In front of The Times correspondent and photographer, I made clear repeatedly that nothing I said should be used in any way to suggest that Theresa May not having children had any bearing whatever on the leadership election.
"I expect The Times to retract the article and the accompanying headline."
Several politicians have defended Leadsom in the wake of the controversy.
Nadine Dories accused journalists of following instruction to "get Andrea".
She added that Leadsom had "talked about being a mum", adding: "It gives her a holistic perspective. She should talk about it more."
Ukip's former deputy chair and head of policy Suzanne Evans also said "the knives are out for Leadsom" and accused the media of "willfully ignoring" PM-hopeful May's "failures".
NOW READ:
Related