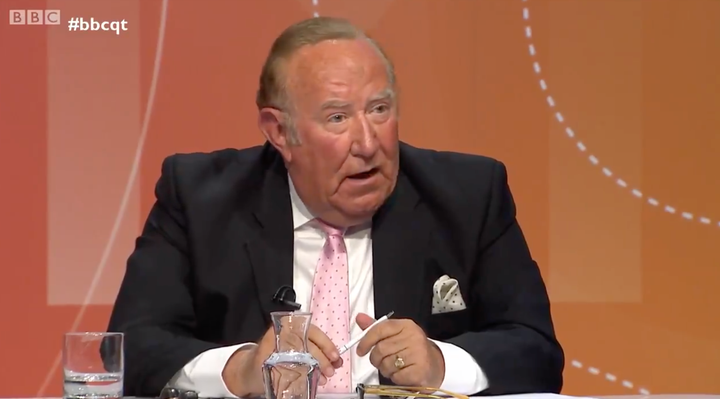 Andrew Neil has hinted that he quit GB News over his concerns about the direction the channel was taking – but refused to say if he felt the station had lurched to the right.
The veteran broadcaster this week stood down as chairman and presenter of the troubled outlet after taking a lengthy break just two weeks after the station was launched this summer.
On Thursday, Neil appeared on BBC Question Time, where he was probed about his departure for the first time.
Quizzed by presenter Fiona Bruce, the journalist said he had "always made it clear it wouldn't be a British Fox News" – a reference to the highly partisan American cable news channel.
He said: "I think you could make it something different without going anywhere near Fox. Fox deals in untruths, it deals with conspiracy theories, and it deals in fake news. And that's not my kind of journalism, and I would never have set out to do that."
When Bruce asked whether that was why he left, Neil replied: "I'll let you draw your own conclusions as to why I'm here tonight and not with GB News."
Admitting the launch of the station "could not be filed under startling success", he added "more and more differences" emerged between himself and the leadership team and that it was "not the direction he had outlined" – conceding he was in a "minority of one" over that position.
Neil would not be drawn on whether the "direction" was too far to the right-wing, saying only "people should make up their own minds on that".
In the lead-up to Neil's exit, there had been multiple reports about Neil's disquiet and the channel being plagued by technical problems and errors, poor ratings and unease among other senior journalists.
Neil was also challenged by a panellist, writer Nels Abbey, who accused the ex-BBC inquisitor of knowing what was going on "from the beginning".
Abbey: "GB News was set up, as it says over here in black and white as a channel that was intended to not be 'woke'. It was going to be a channel that was going to fight the 'culture wars'.

"I posit it to you, Andrew, that you actually knew exactly what you guys were setting up. When you use a term like woke as a pejorative, I put it to you that you knew exactly who the dog was who you were blowing that whistle at."

Neil: "So why am I not still there?"

Abbey: "Well, why were you there at the beginning?"

Neil: "If you're saying that what's happened is what I wanted, why would I be here tonight and not still there?"



Abbey: "I'll give you my view..."

Neil: "You don't know me. You're assuming knowledge of things of which you have no knowledge whatsoever."

Abbey: "…I think GB news when it launched was actually a very, very shoddy platform. It came out, it was embarrassing to watch. It's not going to be Fox News, it's not Fox News, by any means. Fox News actually has very, very decent production values, and very well fought through programming. GB News is by no means whatsoever Fox News. It's actually a very inferior product to almost anything on the market.

"But what we actually had, what GB News did represent is the exact same thing that Fox News represented, which was for the purpose of mainstreaming and maintaining a cocktail of bigotries within our nation, under the term 'woke', and it's good to see the hundreds left it, but it's sad to see that Andrew has thrown his considerable pearl to this swine of an outfit.

"It really breaks my heart to see one of our most prominent and popular and powerful journalists in this society really broken down and traduced by his own means."