A 42-year-old has revealed he's preparing to lose his virginity now that he's been fitted with a bionic penis.
Andrew Wardle, from Greater Manchester, was born with bladder exstrophy which meant that he had no penis.
"It's when your bladder is on the outside of your body," he explained on ITV's 'This Morning'.
"Things don't fuse in the middle, you have a lot of operations and you're either born with bits of penis or none."
Having undergone more than 100 operations throughout his life, surgeons have recently fitted Wardle with a penis made from skin taken from his arm.
He's now preparing to "turn it on" for the first time, allowing him to lose his virginity to girlfriend Fedra Fabian.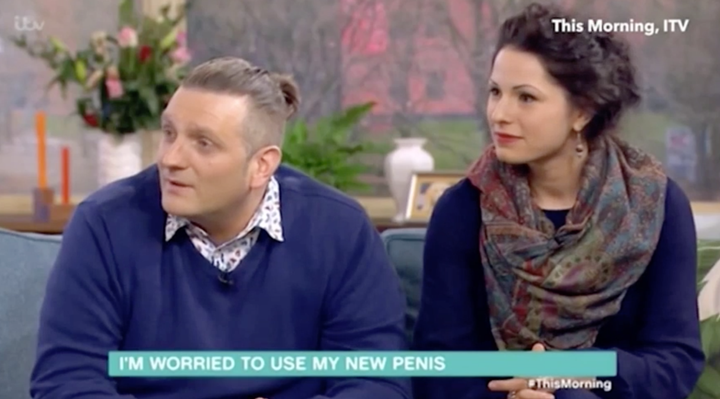 "They've built completely what any man's got now. They've done an amazing job, to see what these surgeons on the NHS can do," he said.
He's now waiting to have one more operation where surgeons will fit the penis with the mechanics it needs in order for Wardle to get an erection.
"They have to basically turn it on, it's a three day stint in hospital," he said, before adding that he'll have an erection for two weeks after the operation.
"I'm not looking forward to that - I've got to get a train home from London that day!" he joked.
He met his girlfriend in 2013 while she was working at a summer camp in the UK and when she returned to her native Budapest they remained in contact via Skype for months. She later moved to England to be with him.
During this time, he had shared his story with news organisations around the country and only told his girlfriend about his condition the day before the articles were due to be published.
Speaking on 'This Morning', Fabian said it took a while to get over the shock, but the couple are now stronger than ever.
Although Wardle has had intimate relationships with women in the past, he admitted that having penetrative sex for the first time is something he feels unsure about.
He's talked about the emotional implications of losing his virginity with doctors and psychologists and said he'll continue to have therapy to ensure he's mentally prepared for everything yet to come.
He added that he's yet to look into whether he can have children with the new penis, but it isn't high on his or Fabian's priorities.
"If I can, I can. If I can't, we'll just adopt," he said. "We're really happy with how things are going."
He ended his interview by telling anyone living with a rare medical condition that they do not need to suffer in silence.
"To people who are going to be sat at home with really rare conditions, just get up, do something about it, go and see your GP," he said.
"Do not sit at home thinking nothing is going to change because I am proof that everything can change."