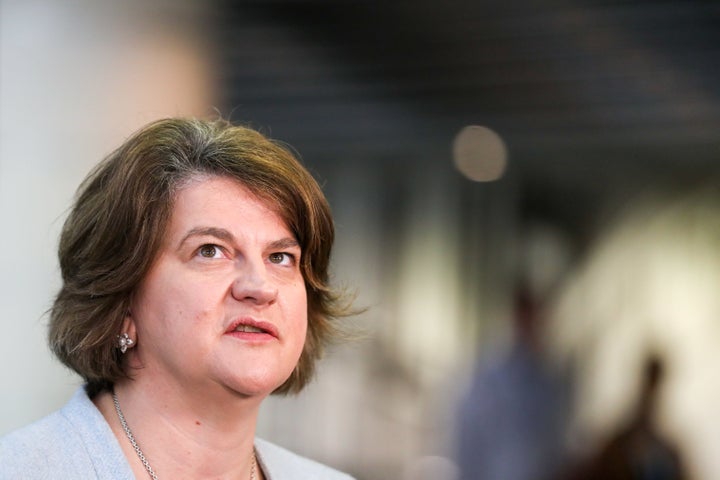 DUP leader Arlene Foster says her party draws a "blood red" line on any Irish border that separates Northern Ireland from the rest of the UK in Theresa May's Brexit deal.
The border between Ireland and Northern Ireland is one of the biggest sticking points in EU negotiations, but ahead of a meeting with the Prime Minister on the subject of the talks, Foster said her party will not soften its stance.
She told the BBC's Radio 4 Today programme: "This is too important for us to be playing around with things, because this is the union. This is what brought me into politics.
"It's very important for us that we get this right."
Asked how strong the DUP's opposition was, Foster replied: "The red line is blood red. It's very red."
Foster has also said she has "concerns" over the Chancellor's claim that there may have to be a hard border in Ireland in the event of no deal.
Philip Hammond is reported to have told a Tory conference fringe event that in the event of no deal, London, under World Trade Organisation rules, would have to reinstate checks.
The EU originally proposed drawing an east-west border in the Irish Sea, but the PM has ruled that out, leaving the matter unresolved.
Speaking at a DUP fringe event on Tuesday night, Foster said any extra checks would cause "difficulty" and added that she would be "reiterating" her position to the PM.
The DUP event, held inside the main conference centre in Birmingham, was attended by dozens of Tory members and by Defence Secretary Gavin Williamson, Northern Ireland Secretary Karen Bradley and Chief Whip Julian Smith.
Foster was greeted with applause after telling the crowd she would not allow Northern Ireland to become a "semi-detached" part of the UK.
She said: "We are not going to allow the United Kingdom to be broken up by Brussels or by anybody else, Northern Ireland is not about to become a semi-detached part of the United Kingdom.
"We are not bluffing on this issue, we are very clear, our job is to protect the union, our job is to do what is right for Northern Ireland and you can be assured that we will do that."
Asked about the Chancellor's reported remarks that if the UK operates on World Trade Organisation terms, checks at the border will be required, Foster said: "I have concerns."
She added: "That's news, because of course up until now we have been saying that it will not be the UK that will be enforcing any borders. If the European Union feel that they need to have a border in Ireland that's a matter for them, if they feel they have to protect their single market in a particular way.
"So Philip Hammond talking about a border is something new, something we want to explore as well, because certainly that's not my understanding."
Foster was also asked about negotiations with the EU, and said: "I would welcome clarity. We wait to see the text, words on a piece of paper, in relation to any proposals that are being put forward. I think it's important we see that because we do remember what happened last December when we hadn't seen the text."
Foster was later asked if she would like to see a change in Prime Minister, in light of Boris Johnson's sustained attack on Theresa May's Brexit plan.
She said: "I have said very clearly, it is a matter for the Conservative Party. I wouldn't take very kindly to people coming to my party and saying who they wanted to be leader.
"In our confidence and supply agreement it is between the two parties, not reliant on any particular leader."
Later at the fringe event DUP chief whip Sir Jeffrey Donaldson gave tongue-in-cheek approval of Johnson's Brexit bridge plan.
He said: "Brexit shouldn't be about a border in the Irish Sea but I'd quite like a bridge in the Irish Sea."
DUP deputy leader Nigel Dodds wound the event up with a stern message that he and his party would not be "signing up to any backstop" arrangement.
He said: "The danger of this Irish backstop has the potential to not only separate Northern Ireland from the rest of the United Kingdom and any future diversion there may be from it, but it also has the potential to shackle the United Kingdom for generations to come in its relationship with Europe.
"The DUP will not be signing up to any backstop unless we ensure that every line of it complies with our requirements."
He also took a pot shot at the Chancellor, revealing he had told the government that Hammond's next Budget needed to "reflect optimism", adding: "We have had enough doom and gloom."