The UK is set to be hit by various travel disruptions this weekend as millions of Britons flee town and cities for a long weekend away, coinciding with a slew of closures, strikes and roadworks which may hamper train, plane and road trips.
From ongoing problems with Northern Rail to airport closures, here is everything we know about the disruptions likely to occur between Friday and Monday:
Northern Rail Strikes
Northern Rail will be operating a limited service between 7am and 7pm on Saturday, when a staff walkout takes place.
The company has been unable to reach an agreement with the RMT union, in a long-running dispute over many issues, including the proposed introduction of driver-operated doors.
It is estimated that Northern Rail will run just under 30% of its normal Saturday service, with very few trains running before 9am and after 6pm. Routes affected include those between Blackpool and Manchester Airport, Liverpool and Manchester, and York to Bradford.
Revised timetables for all affected routes can be accessed here.
London Euston Station Closure
Due to extensive work being carried out on the West Coast mainline, Euston station will be closed from Saturday 25 August to Monday 27 August.
This will cause disruption for people travelling between places in the north of the UK – including Manchester, Liverpool, Newcastle and Edinburgh – and London.
During this time, Virgin Trains will be running services north from Milton Keynes Central but there will be no southbound trains into London.
Passengers are being advised to travel on Friday if possible.
Replacement Buses
Running between Coventry, Leamington Spa and Birmingham International. This will affect Birmingham Airport passengers, from Saturday until 12pm on Monday.
Replacement buses will also run between Crewe and Liverpool South Parkway from Saturday until Monday.
Busier Train Services
Reading and Leeds Festival will take place across the whole weekend, along with Creamfields.
Network Rail are warning passengers planning to travel on routes surrounding Reading, Leeds and Warrington Central to expect extra passengers.
Liverpool John Lennon Airport strike
Eighty workers at the Liverpool airport have voted to strike and the walkout will last 36 hours, beginning at 7pm on Thursday and ending at 7am on Saturday.
Flights will still be operating but passengers are being urged to check with their airline before making their way to the airport.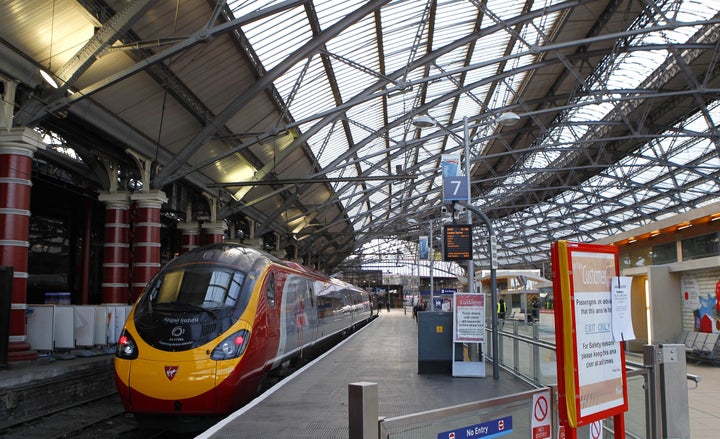 'Gridlock' On Major Roads
With so many rail strikes, improvements and closures planned, it's no wonder an estimated 14.4 million Britons will travel by car this weekend.
In order to ease the congestion, Highways England have lifted and completed more than 300 miles of roadworks, meaning 97% of the country's motorways and A roads will be clear this weekend.
However, the RAC are still warning drivers that there is a "huge potential" for gridlock as people hit the roads for a short staycation.
Friday and Saturday will be the busiest days on the road and drivers are being urged to travel "as early or as late in the day as possible in an effort to avoid the worst traffic" on every day except Friday, when you should aim to be on the move "between 10:00 and 13:00 to avoid clashing with commuters".
A map of the likely "major hotspots" has been released: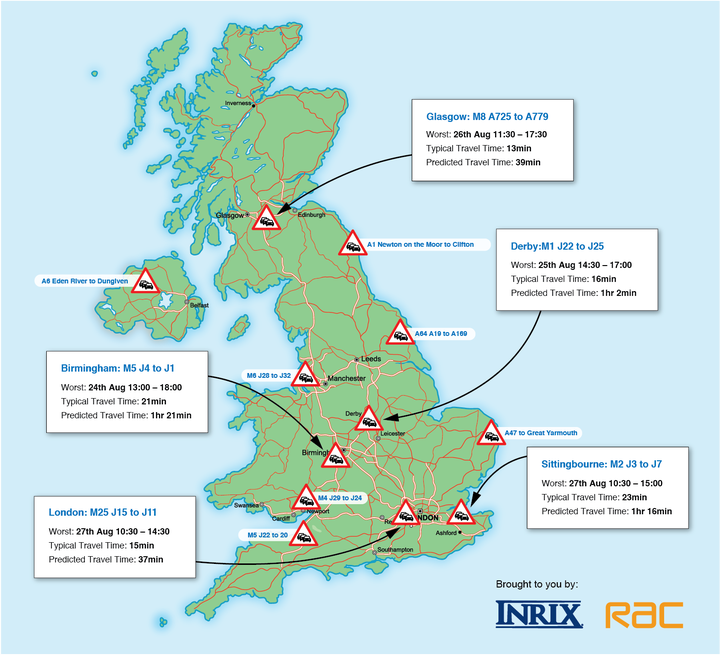 A list of the roadworks that will remain in place can be seen below:
M20 jct 10 (near Ashford)
Junction improvement
1.55 miles of roadworks
A2070 (near Ashford)
New junction link road
Contraflow in place on northbound carriageway - 0.6 miles of roadworks
M20 jct 9 (near Ashford)
Road surface repairs
Narrow lanes - 0.5 miles of roadworks
M23 jct 8 (near Copthorne)
Upgrade to smart motorway
20 miles of roadworks
M20 jct 3 (near Addington)
Upgrade to smart motorway
15 miles of roadworks
A453/M1/A50 East Midlands Gateway Railway Interchange (near Derby)
New junction
1.5 miles of roadworks
A45 Chowns Mill - Irchester (near Wellingborough)
Structure protection barrier works
2.5 miles of roadworks
A14 jct 31-28 (near Cambridge)
Road construction
11 miles of roadworks
A428 Madingley to Girton (eastbound) (near Cambridge)
Drainage and bridge construction
1 mile of roadworks
A428 Girton to Madingley (westbound) (near Cambridge)
Drainage and bridge construction
1 miles of roadworks
A1M jct 15 to A1 Buckden (near Huntingdon)
Verge and central reserve works
6 miles of roadworks
A14 jct 32-34 (near Cambridge)
Verge or central reserve works
5 miles of roadworks
A14 jct 21-20 (near Huntingdon)
Verge or central reserve works
2 miles of roadworks
M49 linking M5 jct 18A to M4 jct 2 to the north (near Severn Beach)
New grade separated junction
1 miles of roadworks
M20 jct 10 (near Ashford)
Junction improvement
1.5 miles of roadworks
A2070 (near Ashford)
New junction link road
0.6 miles of roadworks
M6 jct 13 (near Stafford)
Parapet strengthening
1.6 miles of roadworks
M6 jct 13 to14 (near Stafford)
Parapet strengthening
2 miles of roadworks
M6 jct 14 - 15 (near Stafford)
Parapet strengthening, slip road construction and central reserve hardening
7.5 miles of roadworks
M23 jct 8-10 (near Crawley)
Upgrading to smart motorway
20 miles of roadworks
M20 jct 3-5 (near Jct 5 Aylesford / jct 3 Wrotham )
Upgrading to smart motorway
15 miles of roadworks
M1 jct 13-14 (near Milton Keynes)
Upgrading to smart motorway
Narrow lanes - 10.6 miles of roadworks
M6 jct 16-19 (near Crewe)
Upgrading to smart motorway
20 miles of roadworks
M1 jct 23a-25 (near Nottingham)
Upgrading to smart motorway
8 miles of roadworks - Moderate
M62 jct 10-12 Smart Motorway (near Warrington)
Upgrading existing motorway to Smart Motorway
6.5 miles of roadworks
M6 jct 2-4 (near Coventry)
Upgrading existing motorway to Smart Motorway
14 miles of roadworks
M4 jct 8/9-10 (near Wokingham)
Upgrading to smart motorway
3 miles of roadworks
A19/A1058 Coast Road junction (near Newcastle)
Junction improvement
1 mile of roadworks
M6 (near Kendal)
Drainage and barrier replacement works to the central reserve
3 miles of roadworks
M56 jct 1 - 3 (near Wythenshawe)
Replacement and upgrade of existing barriers
2 miles of roadworks
M6 jct 20 (near Lymm)
Re-strengthening weak bridge
0.8 miles of roadworks
A5036 (near Aintree)
Gantry installation to the central reserve
0.2 miles of roadworks
M3 Jct 14 (near Eastleigh)
Re-painting of bridge beam
Hard shoulder closure to protect temporary site. 0.5 miles of roadworks
A47 Guyhirn (near Wisbech)
Carriageway repairs
0.5 miles of roadworks
M11 jct 7 northbound (near Harlow)
Carriageway repairs
0.75 miles of roadworks
A120/Harwich Road (near Colchester)
Construction of new roundabout on A120
1.5 miles of roadworks
A12 jct 27 off slip (near Colchester)
Concrete repairs to bridge
0.6 miles of roadworks
M6 jct 8 to M5 jct 3 (near Oldbury (Birmingham)
Major structural repairs
7 miles of roadworks
M5 jct 5-4a northbound (near Bromsgrove)
Carriageway repair scheme
2.6 miles of roadworks
M42 Westbound Link to M5 jct 4a northbound (near Bromsgrove)
Carriageway repair scheme
0.7 miles of roadworks
M5 jct 6 (near Worcester)
Widening of roundabout, widening slip roads and approach roads
1.1 miles of roadworks
M180
jct 1-2 (near Scunthorpe)
Concrete safety barrier renewal
4 miles of roadworks
A631/M1 jct 34 (near Sheffield)
Carriageway repairs
0.65 miles of roadworks
A162 Ferrybridge (near Pontefract)
Barrier repairs
1.5 miles of roadworks
A1(M) jct 50- 51 (near Ripon)
Resurfacing works to lanes 1,2 3 & hard shoulder
4.5 miles of roadworks
A1M jct 59 (Aycliffe) to 60 (Bradbury) (near Newton Aycliffe/Coatham Munderville)
Central reserve drainage works
3.5 miles of roadworks