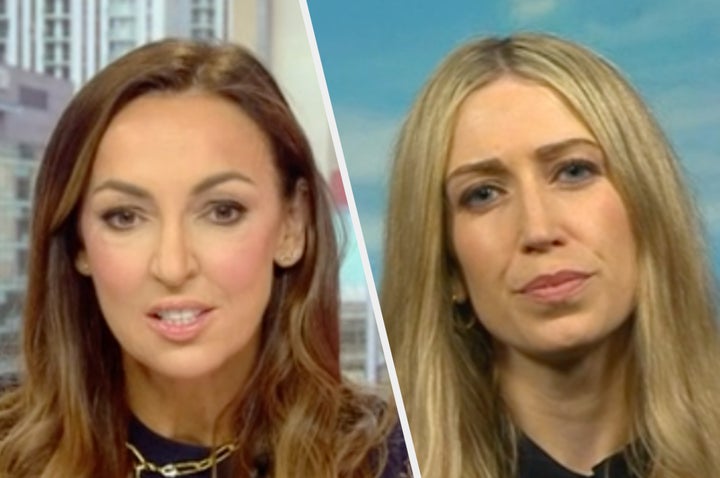 Pensions minister Laura Trott was on the media round this morning to explain the government's plan to increase the amount people get in their private pensions, as well as in their state pensions.
The triple lock means the state pension increases each year in line with whichever is the highest – average earnings, inflation or 2.5%.
Trott maintained that the government is "committed" to the triple lock.
However, she refused to actually promise the Conservatives would be sticking to it at the next general election, claiming she couldn't do so as the Tory's next manifesto is not written yet.
Even so, presenter Sally Nugent was quick to point out that it is "going to cost tens of billion of pounds to commit to the triple lock".
She continued: "Are you concerned at all that it looks a little extravagant, guaranteeing it, committing to it – yet you know that you may lose votes if you don't?"
The lock currently means state pensions could increase from £10,600 to £11,500 by 2024, in line with the 8.5% wage growth seen in the three months to July.
It already increased by 10.1% in 2023, in line with inflation at the time – a much higher rate than in previous years.
That would cost the government £2 billion more than budgeted in 2024-2025, taking total costs to £10 billion, the think tank predicted.
Trott replied: "Look, this is about taking pensioners out of poverty, about giving people a really good retirement that they deserved and that they worked their [whole] lives for."
She said the Tories have taken 200,000 pensioners out of poverty since 2010 – although she admitted there are still nearly a million pensioner still in poverty.
She added: "I know it's annoying for me right now not to be able to say exactly what we're going to do, but it is a legal process."
Nugent replied: "Trust me, this is not annoying – I know a lot of people will be listening to this and will be concerned about their pensions."
But, Trott still refused to be drawn on whether the pension would increase in line with benefits, which will increase in line with the inflation figure seen in September.
Instead, Trott called on the audience to look at her party's "track record" when it was "taking steps to protect the poorest".
It's worth noting that 2.5 million food bank packages were distributed in Britain in 2021, compared to 60,000 in 2010, when the Conservatives got into government via a coalition with the Liberal Democrats.
A UN report into poverty in the UK back in 2019 also claimed the government had "systematically and starkly eroded" the social safety net for the country, ia reforms to benefit and cuts to local government.
The UN said this meant it was "deliberately removed and replaced with a harsh and uncaring ethos".