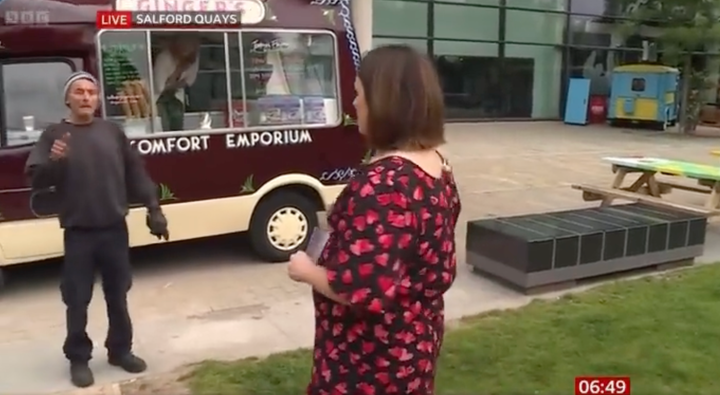 BBC Breakfast presenter Nina Warhurst had to think on her feet during Tuesday's show, when her live broadcast was interrupted by a disgruntled protester.
Early on in the live show, Nina was seen presenting from outside an ice cream van in Salford Quays, where she was supposed to have been discussing a news story about the rising price of certain food in the UK.
However, as she began speaking to Jon Kay and Sally Nugent via video-link, the broadcast was crashed by a heckler, shouting off-screen about the "anti-British BBC" and the "licence fee" before making his way into view.
"Excuse us for one moment," Nina began, before moving away from the scene and introducing a colleague.
"There is a lot of demand for ice cream!" Jon joked when BBC Breakfast returned to the studio, while Sally insisted that you "don't mess with our Nina".
"Nina is not alone, she has company with her, she will be completely fine," Sally then added.
Later that morning, Nina tweeted: "Thanks for the messages you lovely lot. I am fine. Just gutted I didn't have time for an ice cream."
But this isn't Nina's first time at the rodeo when it comes to dealing with uninvited guests while presenting live to the nation.
BBC Breakfast airs every morning from 6am on BBC One.