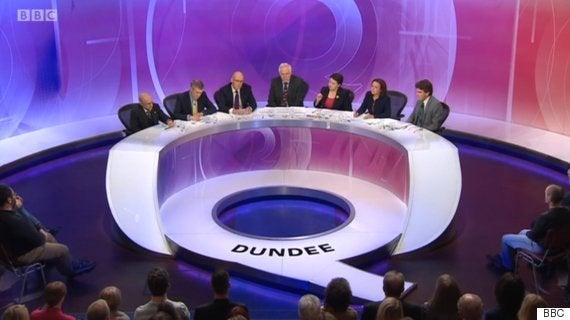 'Question Time' bosses have been forced to defend the handpicked audience who featured in Thursday night's episode after claims by one MP they were overwhelmingly Tory and pro-Brexit.
Producers of the show, which was held in Dundee last night, rebuked Pete Whisart, an SNP MP who said attendees were severely biased.
In a post on Twitter, the Scottish politician wrote: "Hi #bbcqt are you sure you're in Dundee? You've managed to find an incredible number of Tories and Brexiteers for your audience."
Others suggested the audience might not have been Dundee natives, given Scotland's significant lack of support for the Conservatives, evidenced by it returning a single MP from the party in 2015, and being largely pro-EU.
The BBC issued a strong rebuke in response, insisting a wide range of political views were represented and that each attendee was from Dundee. The corporation said:
"Question Time audiences are always selected in accordance with our guidelines on fairness and impartiality, and this week was no different.

"We are careful to select audiences which are politically balanced and reflect a range of political views.

"Every member of this audience was a Scottish resident and from Dundee or the surrounding area.

"They are chosen because they hold a spectrum of views on a number of topics, including the EU referendum and Scottish independence.
A Conservative MP also leapt to 'Question Time's' defence, reminding critics that 43% of Dundee's residents voted against independence in the 2014 referendum.
The audience was made up of 150 people and featured leader of the Scottish Conservatives, Ruth Davidson MSP; deputy first minister of Scotland, John Swinney MSP; and Labour's health spokeswoman Jenny Marra MSP.
Alongside were leader of the Scottish Liberal Democrats, Willie Rennie MSP; co-convener of the Scottish Greens, Patrick Harvie MSP; and Daily Telegraph columnist Tim Stanley.
Popular in the Community