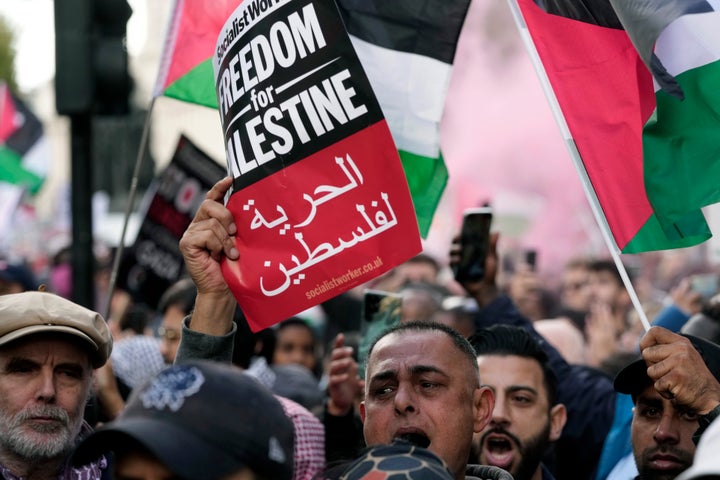 The BBC has released a statement about their "poorly phrased" coverage of the pro-Palestinian marches which took place across the UK at the weekend.
Thousands took to the streets on Saturday chants of "free, free Palestine" while setting off flares in the colours of the national flag.
The Metropolitan Police warned anyone who supported Hamas – the Palestinian militant group who have killed more than 1,400 Israelis in the last 10 days, and taken more than 100 people hostage – would be arrested.
Hamas is a designated terror organisation in the UK, and more than 1,000 officers were deployed to watch over the march.
The support for Palestine comes after Tel Aviv declared war on Hamas, following the massacre, and then killed more than 2,700 people in the Palestinian territory of Gaza. Israel has also put the area under complete siege.
During a news bulletin on Monday, the BBC presenter Maryam Moshiri explained how PM Rishi Sunak had visited a Jewish school in London – and ""The visit followed several demonstrations across Britain during which people voiced their backing for Hamas".
Moshiri later apologised on X (formerly Twitter), saying: "We accept this was poorly phrased and was a misleading description of the demonstration."
Several hours later, a different new anchor read out a similar message, saying: "Earlier on BBC News, we reported on some of the pro-Palestinians demonstrations at the weekend.
"We spoke about several demonstrations across Britain during which people voiced their backing for Hamas.
"We accept that this was a poorly phrased, and was a misleading description of the pro-Palestinian demonstrations."
Since Hamas' massacre in Israel earlier this month, the broadcaster has faced extensive backlash over its coverage of the war.
The broadcaster's head of editorial policy and standards, David Jordan, then spoke to BBC media editor Katie Razzell, and explained why they didn't want to use the word "terrorist".
"This is a very long-standing policy of the BBC which in our view has stood the test of time," Jordan said.
"It's a policy that's been applied to conflicts around the world and indeed conflicts in our own country.
"We didn't have a policy of describing the IRA as terrorists throughout the Troubles in Northern Ireland. To this day, we don't call republican splinter groups, for example, and others terrorists in that context."
The Financial Times also reported on Monday that the BBC had taken six reporters in the Middle East off air and launched an investigation into social media posts which allegedly supported Hamas' activities against Tel Aviv.
Reporters are meant to remain impartial, including on their social media accounts, but the BBC News Arabic reporters reportedly liked or posted messages supporting Palestine or criticising Israel.
The BBC's statement read: "We are urgently investigating this matter.
"We take allegations of breaches of our editorial and social media guidelines with the utmost seriousness, and if and when we find breaches we will act, including taking disciplinary action."
A pro-Palestinian protest group, Palestine Action, also threw red paint on the cooperation's building on Saturday, accusing the BBC of having "blood on its hands".