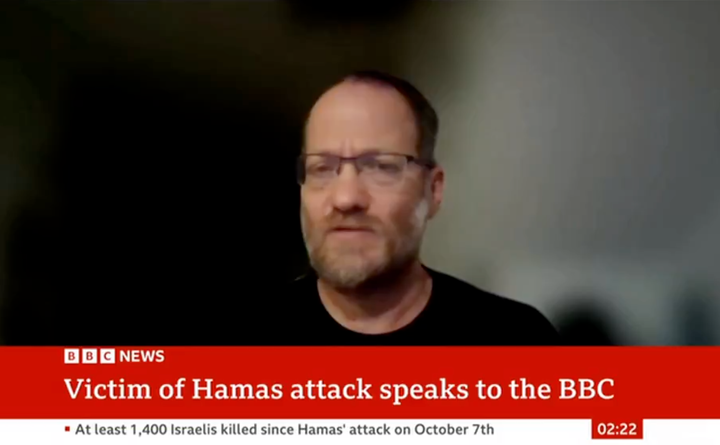 An Israeli peace activist has called for the Israel-Hamas war to stop, a week after his parents were killed by the Palestinian militants in a massacre.
Hamas has killed 1,400 people since launching an unexpected attack on Israel earlier this month. The group also took more than 100 people hostage.
Israel then declared war on Hamas and has been conducting air strikes on the Gaza Strip, where the militants are based, in the days since the massacre.
It has also ordered a complete siege of the Palestinian territory, and advised 1.1 million residents in north Gaza to evacuate for their own safety.
Local authorities say more than 2,700 people have been killed in Gaza since earlier this month.
Campaigner for peace, Maoz Inon, lost both of his parents Bilha and Yakovi Inon, on the first day of that Hamas attacks.
They were murdered when in their farming collective in Netiv Ha'Asara, just north of Gaza, according to the New York Times.
Inon told BBC News in the early hours of Monday morning: "I'm not crying for my parents. I am crying for those who will lose their lives in this war. We must stop the war.
″The war.... is not the answer."
He continued: "I beg you, I beg all the viewers and listeners, to do all the things in their power to put pressure over everyone that is relevant, to stop the war immediately, to freeze the situation."
He continued: "As a family, we are not seeking revenge. Revenge will just lead to more suffering, to more casualties. Even though it is the most horrible day, it was the most horrible loss for life in Israel since the foundation of the country, I am afraid that the numbers can be much bigger."
Inon repeated that "we must do everything to stop the war," adding that he was afraid for the "soldiers, the civilians, on both sides – Gaza and Israel – who will pay in their lives".
He said: "This is why I am crying and why it was very important to me, in this very hard time, to go to these interviews, to cry to the world, 'Stop the war. Please. Just stop the war.'"