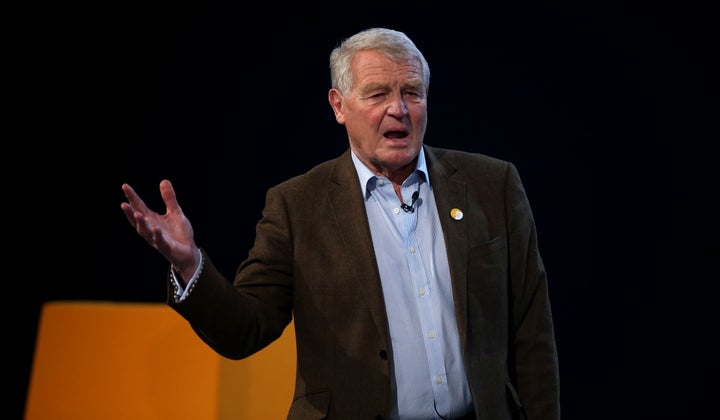 Paddy Ashdown has delivered a blazing rant against Conservative ministers, accusing them of trying to "run the BBC" and compromise its independence.
The former Liberal Democrat leader laid into an overhaul of how the corporation is governed after a long-awaited White Paper into its future was published on Wednesday.
He told audience members at Radio 4's 'Any Questions' that were the Conservatives still in coalition with his party they would "never have gotten away" with changing the BBC's governance rules that meant they could appoint the new executive's Chair and deputy.
Ashdown warned that letting the government oversee the two most important positions would risk compromising on the BBC's impartiality.
To rapturous applause, he argued: "The BBC is listened to with respect all the way round the world because it is known to be impartial, that's why it has the standing that it does.
"But the BBC should be run independently and not by the government and I can tell you very straightforwardly if we Lib Dems had stayed in they'd have never got away with putting a board in there, many of whom - slightly less than 50% - are going to be appointed by the government.
"I'm with Norman Fowler, the ex-Chairman of the Conservative party, who said none of them should be appointed by the government - they should all be independent...
"The best protection of the licence payer and the best protection for the BBC valued across the world is that it stays indy and the gov lays no finger upon it."
Key round-up of Wednesday's White Paper:

The licence fee, currently £145.50 a year, will run for another 11 years and rise in line with inflation from 2017 until 2022

All stars earning over £450,000 will be forced to reveal their salaries

A new governing board to replace the Trust, with over half of its members appointed by the broadcaster

Ofcom will become BBC's new regulator
But Whittingdale's White Paper claimed the move to consolidate the two top bodies - the Trust and the Executive - into a unitary one would address problems with clarity and division of governance.
"Both the government and the BBC should have a role in appointing members to the board, with all appointments following a robust and transparent process," it said...
"This means that for the first time the BBC itself will be empowered to appoint members to its sovereign board.
"It also ensures that the BBC board will always have at least 50 per cent of its members appointed by the BBC itself, compared to the current Trust model which is entirely appointed by government via a Public Appointments process.
"This will strengthen the independence of the BBC for the future."