Bedfordshire Police were forced to delete social media posts aimed at combating Islamophobia after being told the logo they were using looked similar to a gesture made by Islamic State (Isis) militants.
English Defence League founder Tommy Robinson, who himself is often accused of being Islamophobic, was one of the most vocal opponents to the logo being used for the campaign.
Robinson, now the leader of Pegida UK, linked the graphic to terror groups whose fighters are often pictured making the gesture before missions.
The force said on Wednesday that it used the logo, which features a pointing finger, "in good faith" to illustrate posts about Islamophobia Awareness Month (IAM). It said it had since deleted the posts to "avoid offence".
Rita Katz of SITE added to the Mirror: "The gesture has been used by jihadis for years, including high profile ones like Osama bin Laden.
"Within the jihadi context, the raised index finger takes on political meaning as well, widely rejecting any form of government not under Shariah law."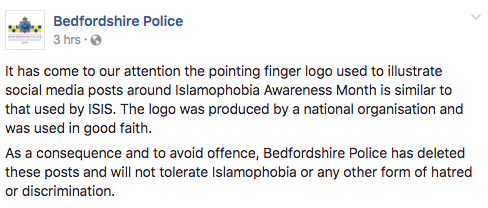 Mend said the awareness month predates the emergence of Isis and "plays a vital role in highlighting the many positive contributions of British Muslims alongside exhibiting the scale of Islamophobia in the UK".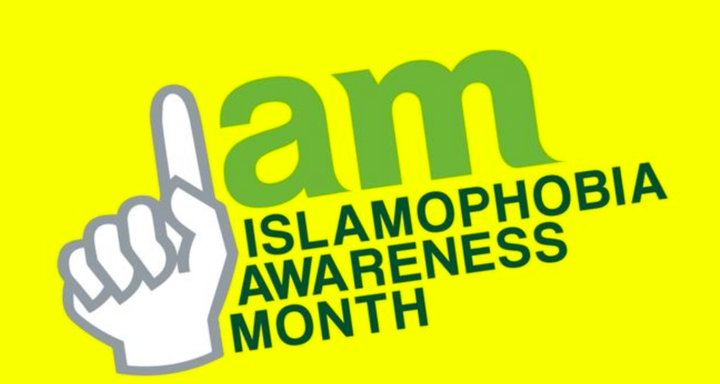 Mend said in a statement: "Mend and IAM totally abhor the murderous cult of Da'esh (Isis) and their actions have no place in Islam.
"It makes no sense that the IAM campaign logo be dropped by a police force because it purports to resemble a symbol of Da'esh.
"The use of the finger as part of the logo is a common symbol for the letter "I" which represents Islamophobia.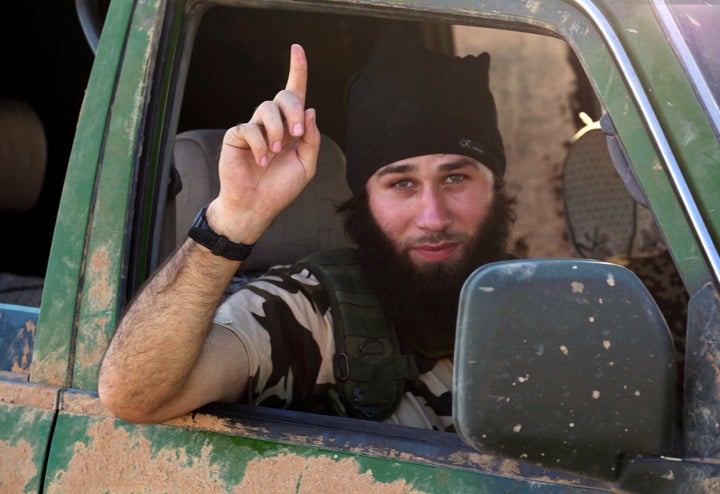 "We would not consider removing symbols such as the crucifix or St George's cross from use in national campaigns simply because they are frequently abused by far right and Neo Nazi movements.
"We are disappointed that a campaign supported by thousands of British Muslims is being sullied in this way.
"We would strongly urge Bedfordshire Police to reconsider."
Mend shared the support they had received on social media from people who agree that the logo should not have been removed.
When Isis militants hold up their index finger it is believed that they are reaffirming their dedication to their ideology.